Eichler Front Door Escutcheon Kit Restoration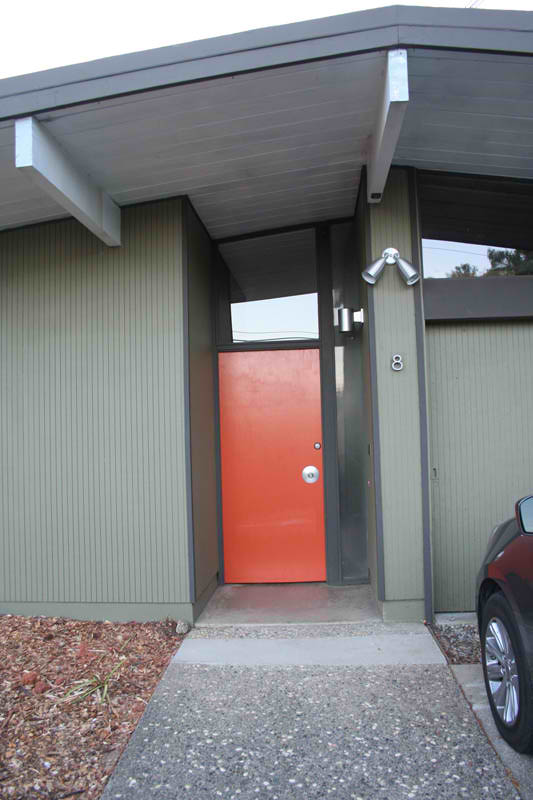 The large round disc behind the front door handle (escutcheon plate) that is a hallmark of the Eichler entryway is difficult if not impossible to locate for retail purchase (someone please prove me wrong) – however there is one person, Jonathan Jarrett, who's hobby is creating these kits that include the door handle and escutcheon plate made to order.
He is out of stock at the time I am posting this, 9/11/09, but asked that I contact him again in the future as he plans to build more of these kits when he is able to.
Below is his description of his kit and a few pictures that he provided w/ permission to post here:
"I have one escutcheon plate design in my kit currently. This one closely resembles the original one manufactured by Sargent, so commonly found in the Eichler tracts.
The plate becomes an integral part of the door set assembly itself, thus the plates are not sold separately. I do plan on developing different plate designs in the future. (This is just a hobby so far….not really a business!)
I don't really have a website yet…. so far I've relied on others who've promoted it themselves.
The thickness of the slab door should be the standard 1-3/4″. Width and height of the door is a non-issue.
The door's thru-hole for the knob assy. requires a 5″ offset from the edge of the door, to the center of the knob.
Installation is a snap…for either you, or a handyman/contractor.
Delivery times are typically 2-3 days, depending on my backlog.
The kit includes: Front/Rear doorknob assy. w/ 1 integrated 6″ dia. "Eichler" escutcheon plate, 5″ extension latchbolt, Strikeplate, Fasteners, Keys, factory Kwikset installation instructions.
The kit is based a round Kwikset hardware only, in a Satin Chrome finish.
You have 2 different knob styles to choose from. I use Kwikset's Mdl. 400P (Polo), or, 400T (Tylo) knob styles. I refer to these as the "Globe" and the "Cone", respectively."
Price for the kit is currently $200.
Jonathan's email is: thinkmat@aol.com
Update: I received the globe kit from Jonathan (thanks!) a couple months ago and now have a new solid core door that I've primed and will be painting orange this weekend. The kit looks and feels very solid and well made.
Update: I have completed the replacement and restoration of our front door back to what it might have looked like originally.
I started with a blank 'slab' door from Home Depot since the door handle is offset deeper from the edge than standard doors.
I used a hole saw and wood chisel to install the new Escutcheon, dead bolt, and hinges.
I have attached some pictures showing the process and finished installation.