Easy Santa Rosa Plum Jelly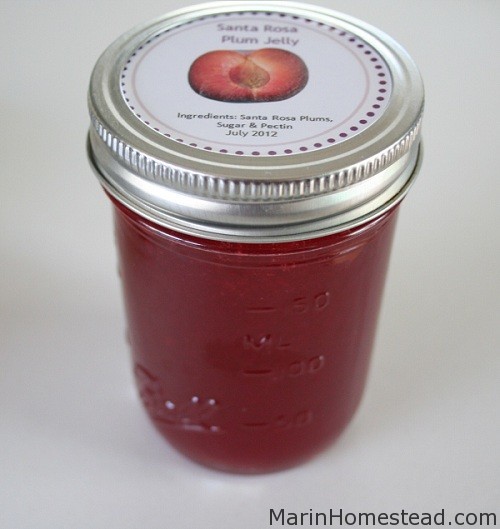 If you have not tried plum jelly, you MUST!  It is one of my favorite jam/jelly.  It is sweet but has great aromatic, floral notes.  It is the end of plum season but there is still time to get the last plums of the season and make some jam or jelly.
This is how I make an easy plum jelly.  I do not strain it, just puree it until it is almost liquefied, then cook it.
I have made almost 3 dozen jars of this jelly but cannot keep it on my shelf.  Everyone that has tried it asks for more!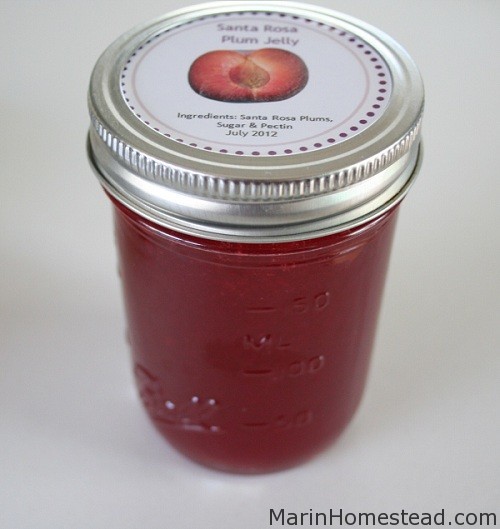 Santa Rosa Plum Jelly
Makes about 6 8-oz jars
4 cups of pureed santa rosa plums (include skin. gives it some tang).
1/2 cup of water
4 cups of sugar
1 packet of liquid pectin (or 5 TB Real Fruit Classic Pectin)
1. Cook plum puree, water and sugar over medium heat until it reaches a hard boil that is hard to stir down. Turn down the heat a little and cook 2-3 more minutes.
2. Add liquid pectin and bring back to a hard boil and cook 1 minute more.
3. Remove from heat.
4. Skim foam off with a metal spoon.
5. Quickly ladle into steilized jars being sure to leave about 1/2 inch from the top.
6. Clean off top of jars, put on lid and rings until sealed. Put back into a hot water bath and boil for 5 more minutes. When you take that jars out of the hot water you may hear a popping noise as the jars seal.
* If after a few minutes your lid in not concave and pops up when you press on the top it means that the seal did not take. This just means that you are going to need to refrigerate this jam and use it right away.