Frangipane Pear Tarte (with Phyllo Crust or Pate Brisee)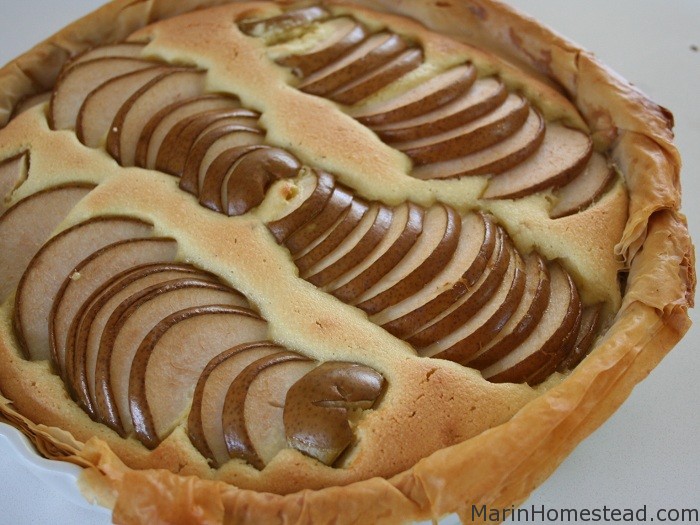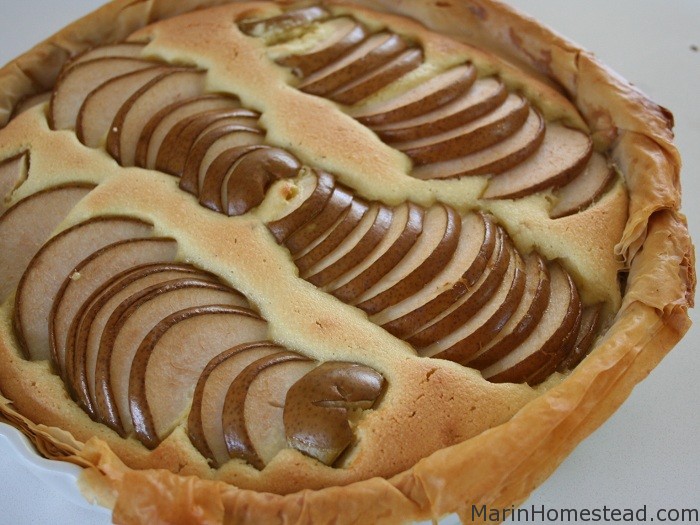 It has been so busy here over at our little homestead and I have not had a chance to update with any recipes lately.
A couple of weeks ago, we had a company meeting here at my house.  I had a delicious lunch catered.  The chef, Tiffany Friedman, make an amazing meal that knocked our socks off.  The piece de resistence (at least for me) was her frangipane pear tarte.  She made it with a crispy, buttery phyllo crust.  The tarte looked so underwhelming at first.  It was beautiful but there was no chocolate, or caramel sauce so I was expecting much.
One bite and I was in love!  I was hoping my family would skip this dessert for the chocolate cupcakes but once they had a bite, they were hooked as well.
I knew I had to learn how to make this dessert.  That weekend I made it for my parent's potluck and it was the first thing to go and everyone wanted the recipe.
Here you go…I have made 2 versions.  1 with Phyllo and 1 with Patee Brisee.
Slice of Frangipane Tart with Patee Brisee.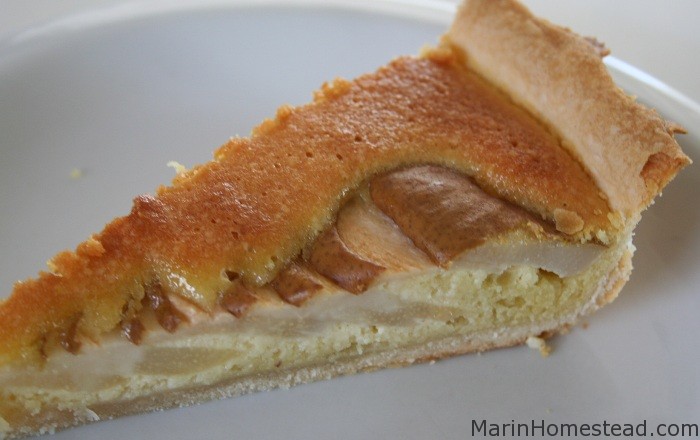 Frangipane Pear Tarte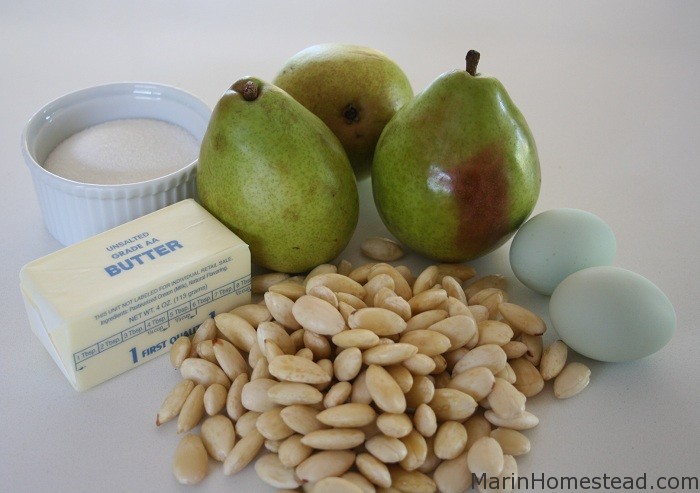 Frangipane (Almond Cream)
1 cup of chopped blanched almonds (see below for how to blanch your own almonds)
2 TB all purpose flour
2/3 cup granulated white sugar
1/4 tsp salt
6 TB unsalted butter
2 large eggs
1.5 tsp vanilla extract
Directions for Frangipane (Almond Cream):
In a food processor, place almonds, flour, sugar, salt and blend until almonds are finely ground. Will resemble fine sand.
Add butter, eggs and vanilla extract and blend until smooth. Will resemble yellow cake batter.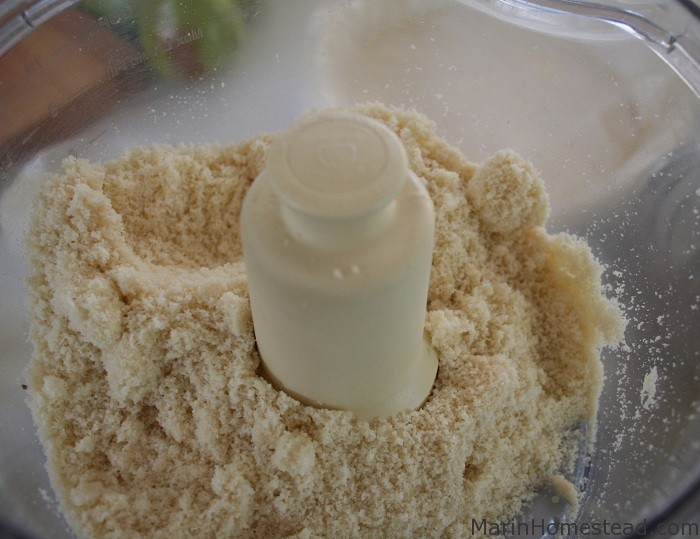 Tarte Shell:
1 pkg of phyllo dough (A box of phyllo usually comes with 2 packages inside.  I only use 1/2 of one package so you can use the other 1/2 for spaanikopita, or Baklava)
1/4 cup of butter (melted)
2-3 anjou pears
2 TB apricot jelly for glaze (optional)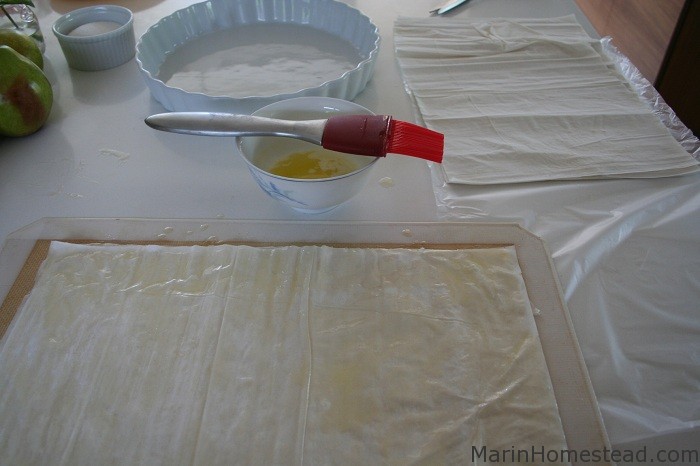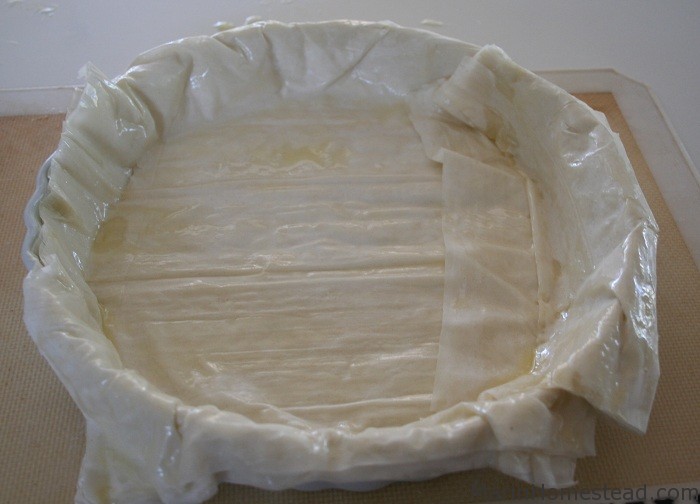 Directions for assembly and baking:
Preheat oven to 375 degree.
Take 2 sheets of phyllo dough and brush melted butter on top to cover. Add 2 more sheets of phyllo dough and butter again. Repeat until you have 10 sheets.  Note: phyllo dries out very fast so work quickly.
Place layered and buttered phyllo into butter tarte pan (best if it has removeable bottom).
Spread frangipane mixture evenly into tarte pan.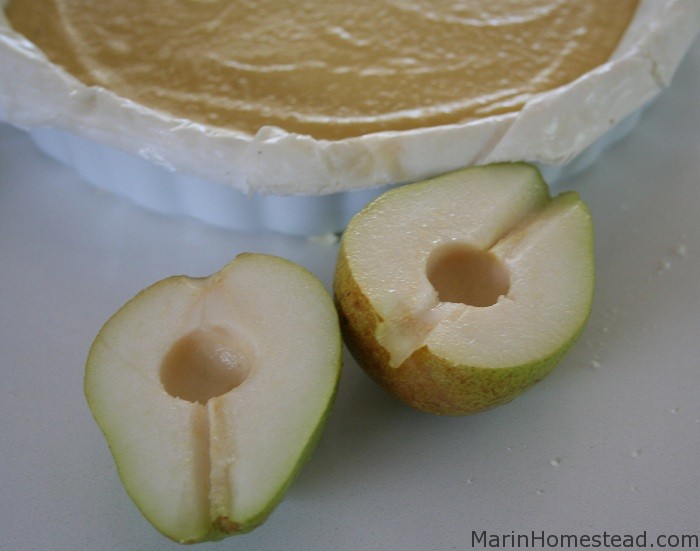 Slice pears and arrange on top.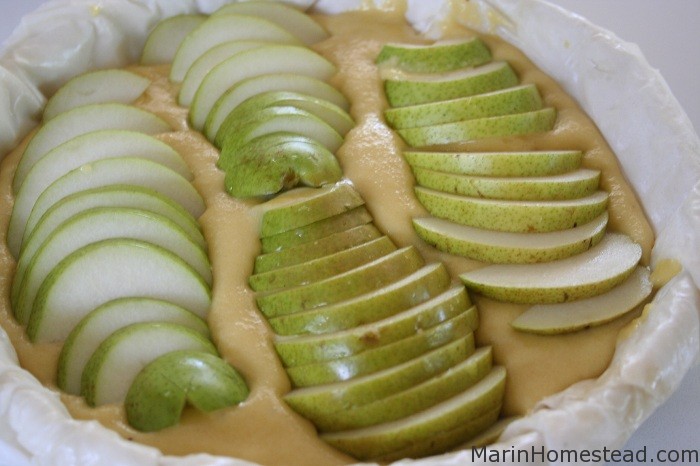 Bake for 50-60 minutes until top has browned and pears cooked through.  If you are using the glaze, microwave fruit preserves for 30 seconds and brush onto tarte.
——————————
How to Blanch Almonds:
In a bowl or glass pyrex, cover almonds with boiling hot water and let sit for approx. 2 mins. The almonds skins will look warped and the almonds should slip out when squeezed.
Dry almonds thoroughly before putting in food processor. I usually blanch and skin almonds in the morning, spread out in one layer and let them dry for a few hours before making the frangipane.
———————————————–
Tip: Instead of Phyllo dough, you can also use a Pate Brisee (buttery, sweet pie crust). Recipe to follow.
Pate Brisee Recipe
1 1/4 cups of All-purpose Flour
1/2 tsp salt
3 TB granulated white sugar
1/2 cup unsalted butter
1/4 cup of ice water
1. Place flour, salt, and sugar in a food processor and pulse for a few seconds to combine. Add the butter and process until the mixture resembles course sand. With the machine running, add ice water in a slow, steady stream until the dough just comes together. Be sure not to over process or this will make the dough tough.
2. Form dough into a disk, cover with plastic wrap and refrigerate for at least 1 hour before using.
3. Take out of the refrigerator and roll out into a circle large enough to overlap tarte pan slightly then trim off the excess.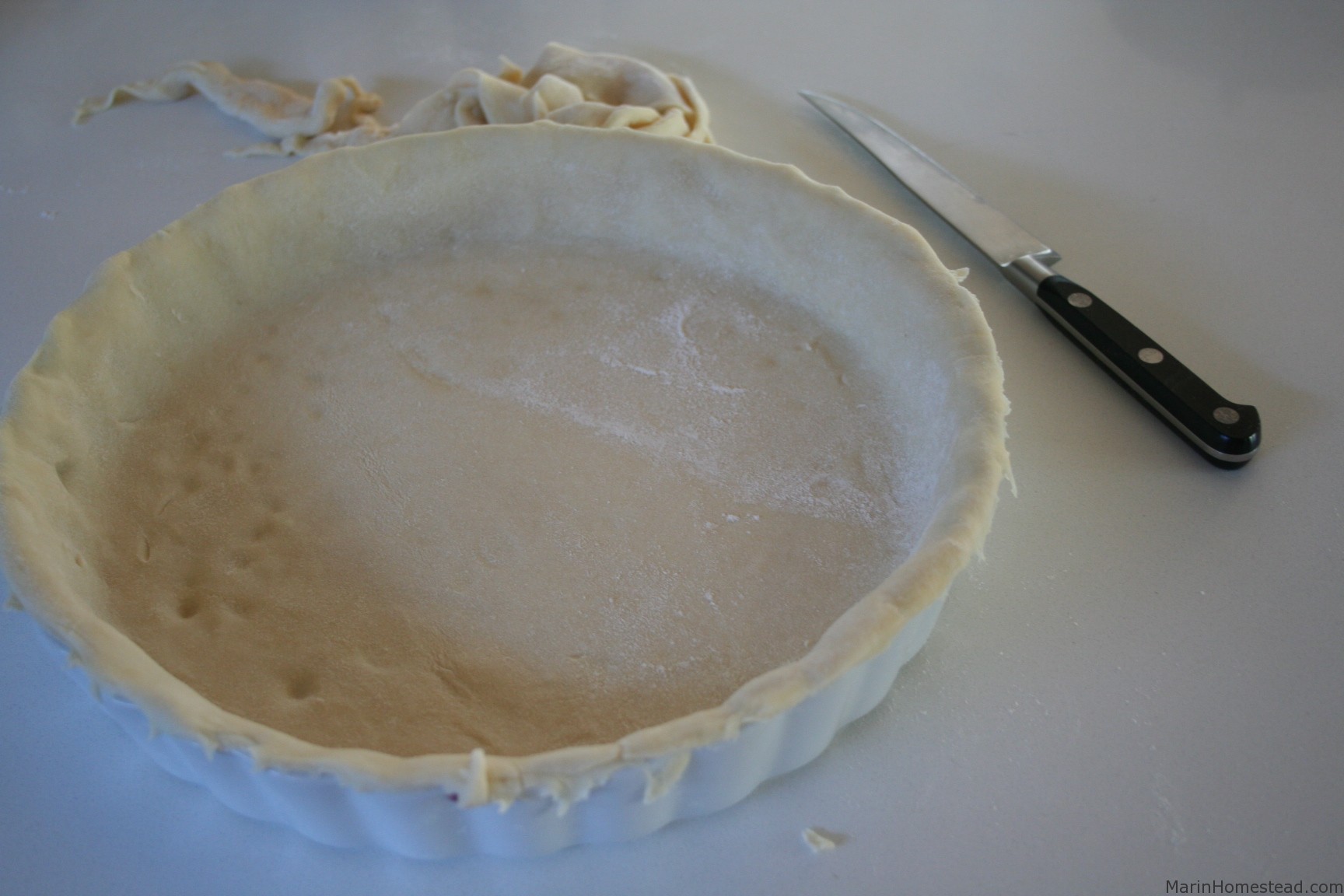 4. Add frangipane cream and pears and bake according to directions above.