Red Lobster Chedder Biscuits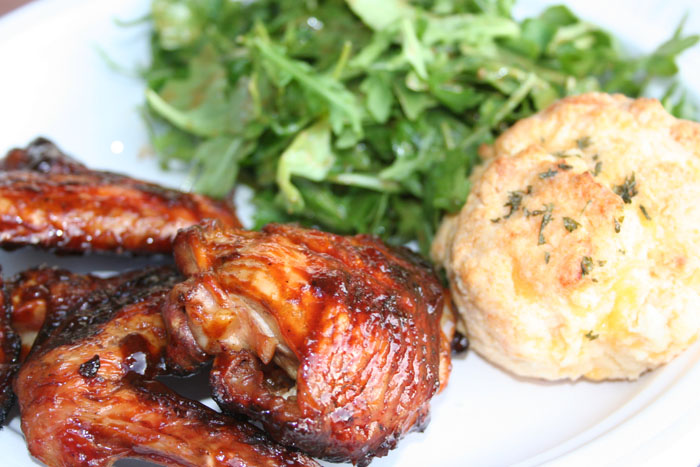 I love the biscuits from Red Lobster. I remember going there with my parents and just filling up on these tender and savory treats. Who needed the mediocre lobster from there when you could have unlimited biscuits. I decided to make these because I knew my son would love them.
They are super easy to make. (picture above with barbecue chicken).
Makes 12 biscuits (or 8 large ones)
2 1/2 cups baking mix such as Bisquick
4 tablespoons ( 1/2 stick ) cold butter
1 heaping cup grated cheddar cheese
3/4 cup cold whole milk
1 teaspoon garlic powder
2 tablespoons butter, melted
1/4 teaspoon dried parsley flakes
Preheat oven to 400 degrees.
Combine baking mix with cold butter in a medium bowl using a pastry cutter or a large fork. Don?t mix too thoroughly; there should be small chunks of butter about the size of peas. Add cheddar cheese, milk and 1/2 teaspoon garlic powder. Mix by hand until combined, but don?t overmix.
Using an ice-cream scoop, drop approximately 1/4-cup portions of the dough onto cookie sheet. Bake 15 to 17 minutes or until the tops of the biscuits begin to turn light brown.
Combine melted butter, remaining 1/2 teaspoon garlic powder and dried parsley flakes.
Use a brush to spread garlic butter over the tops of all the biscuits.