Modern Shed / Playhouse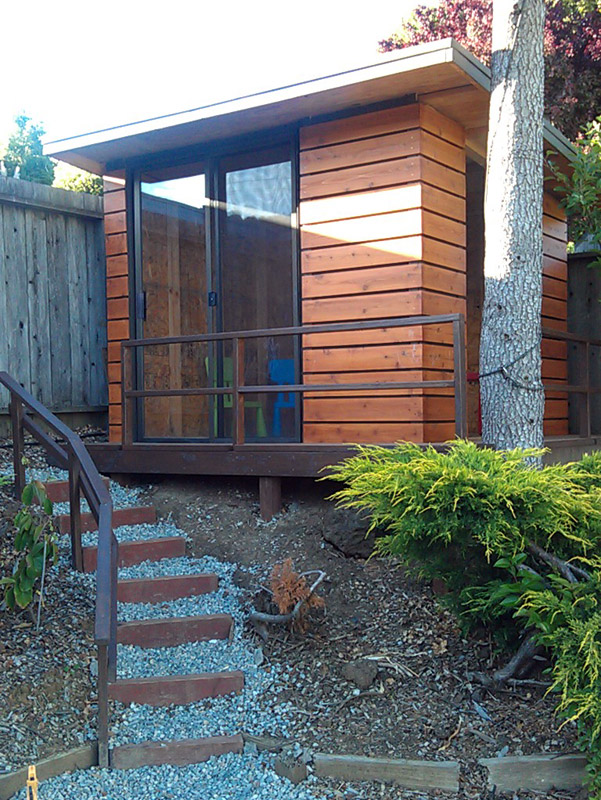 In our quest to constantly improve our property, and my personal fantasy to create a magical space for my kids, I built a modern-looking clubhouse in our backyard.
During my research, I found these sources for purchasing pre-fab models modern sheds online:
They all cost more $ than I wanted to spend, and I actually enjoy building things, as it turns out, so I set out to build it myself.
I probably spent 100 hours total including preparing the site and building the foundation.
Materials were in the $1500.00 range.
Here are some pictures that I took during the construction process.
I found the vintage, aluminum sliding door on craigslist from a demo salvage for free.
The roof is layered tar paper and roofing material, and I added a rain gutter on the back to channel the runoff away from the foundation.
Deck is 2×8 redwood.
Siding is rough-cut, stained (transparent stain), 1×6 cedar fence boards.
Next is to finish the interior – I'm using masonite for the floor and plan to add insulation, a chalkboard wall, shelving and some furniture.
I like to create a building platform by digging post holes the same as a fence, then set posts in using concrete or just packed dirt and built the foundation from there. If you set the posts deep enough settling should be much less than just building off of cement pavers or piers. I used the same approach with our raised garden bed and chicken coop w/ good success.
I built the stairs into the hillside by:
1. first digging an 8 inch deep channel about 2 feet wide.
2. Then pounded two 3-foot lengths of rebar at the sides of where each stair should go.
3. cut 2-foot lengths of 4×8 inch pressure-treated lumber, one for each stair
4. tap each 4×8 peice on top of the rebar to make dents where they should be inserted into the stair.
5. drill holes half-way through the stair pieces where the dents are and slide over the rebar. (hammer the rebar down to it's final depth w/ a sledge hammer before you fit the stair on, instead of after so the rebar doesn't break through the wood).
6. back-fill each stair with crushed gravel to create level steps that water can drain through.
7. optional: attach a wood hand rail by screwing verticals into every-other stair.