How to build a recessed vent fan in your Eichler bathroom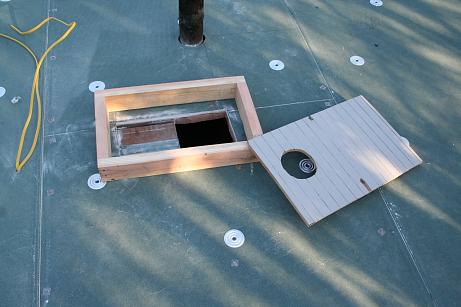 The building inspector required us to add vent fans in our bathroom ceilings (thank god) so I decided to make them recessed instead of having a box hanging down from the ceiling as I've seen in other Eichlers.
Steps I took:
1. Cut a hole in the ceiling slightly larger than the fan casing using a sawsall.
2. Build a simple 2×4 frame to mount the fan to – mimicking a stud bay.
3. Drill a hole in the 2×4, and run wire to the fan.
4. Mount the fan to the frame.
5. Secure the frame to the roof deck.
6. Attach ventilation ducting.
7. Cover with plywood that has hole cut in for ducting.
7. Add a roof jack over vertical duct to provide support and protection.
The whole box is now buried under the new foam roof, so if it ever goes kaput – I'll have to either dig it out from above, or cut it out from below..
I'm interested to hear how other people have done this differently?
*Always consult a licensed professional when dealing with electrical systems.