Marvel Striped: Monster Plant & Prolific!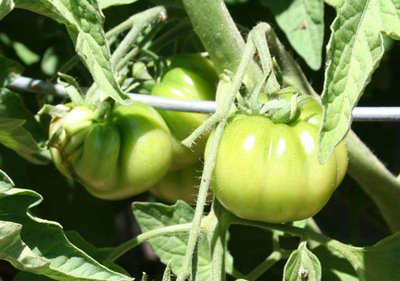 Marvel Stripe(d): This heirloom variety has become one of gardeners' favorite bicolored tomatoes because of its beauty, size, and taste. Large yellow-orange fruits are streaked with ruby red and have a sweet, fruity taste that is absolutely delicious. Tomatoes weigh about 1 lb., although they often become 2 lbs. or even more. Large harvests on vigorous vines. Indeterminate. 85 days.
=========================
I bought this plant on a whim. I had heard that it was just an ok producer so I did not put much faith in getting too many beautiful yellowish-orange-red tomatoes.
Right away the plant became one of the most vigorous growers and is one of my largest plants (sugar snack is about 2 inches taller right now but they switch off for tallest plants). It is definitely the thickest, densest tomato plant I have and I have had to prune it quite a bit which I did not do for most of my other plants.
My Marvel Striped was also one of my last varieties to have fruitset. It had a ton of blossoms but no little tomatoes for the longest time. Once the weather became optimal for fruitset, this plant has not stopped producing little tomatoes. Last night I counted 30 on one plant. Considring these tomatoes are supposed to be 1-2 lbs each that is ALOT of tomatoes. Also, I could have more as the plant is so dense I could not easily see the tomatoes in the center of the plant.
Here is a picture of some of the tomatoes…they range from the size of a nickel to about the size of a rubber handball.