Tomato Harvest (3 months since plant out date)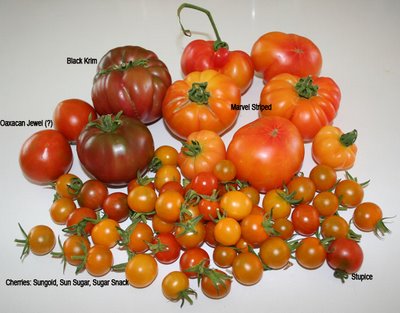 It has been 3 months since I planted the garden and we are having great harvests so far. These are from the 6 tomato plants from the cinderblock garden (the oaxacan jewels are from the wood garden). The wood garden bed is a few weeks behind so I expect those to start ripening soon and already see the cherries, san marzano blushing. I have picked a ripe big beef and oaxacan jewel from the wood garden already.
This is yesterdays harvest. We had a bbq for my dads birthday and I made a great tomato, basil salad. Everyone raved about the tomatoes and my sister loved the black krims.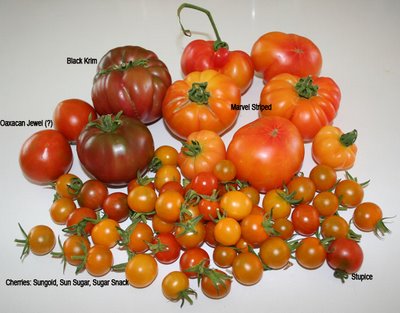 Here are the tomatoes sliced.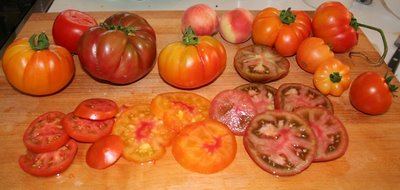 I think this may be one of my bigger tomatoes. It is my first
black krim
and it is almost 5 inches across and weighs about 1.5 lbs! I see one other tomato on the black krim that may be larger.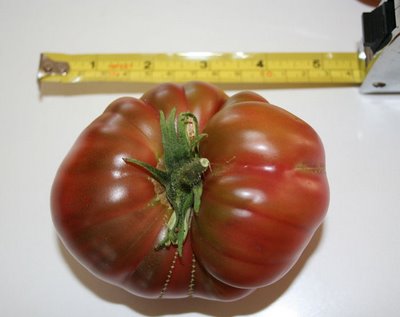 Here is the harvest from 2 days ago. As you can see, the marvel striped are really churning them out. The green tomato is a
big beef
that was pulled of accidentally. I made fried green tomatoes with it for my dad. He loved them!