Truffle Deviled Eggs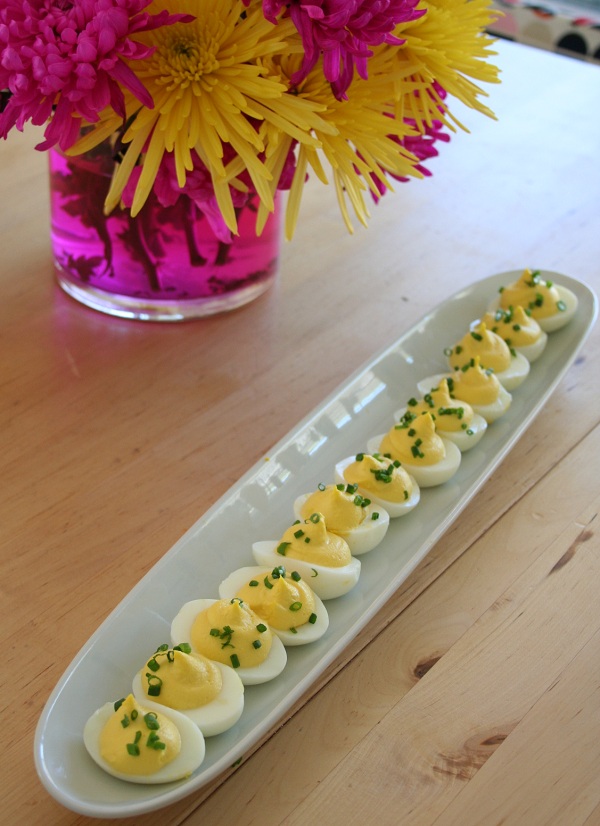 My dear friend Wendy is expecting a baby girl so the ladies decided to throw her a small baby shower.
We had a pretty mixed group of vegans, vegetarians, gluten-free peeps and major carnivores so I had to make food that would appeal to them all.
One of the highlights of the shower were my Truffle Deviled Eggs.  Who does not LOVE deviled eggs….especially if the come from super cute chickens…and are mini deviled eggs!
If you do not know How to Boil Eggs, I did a pictorial for you.
Ok, here is the recipe.  So simple yet elegant.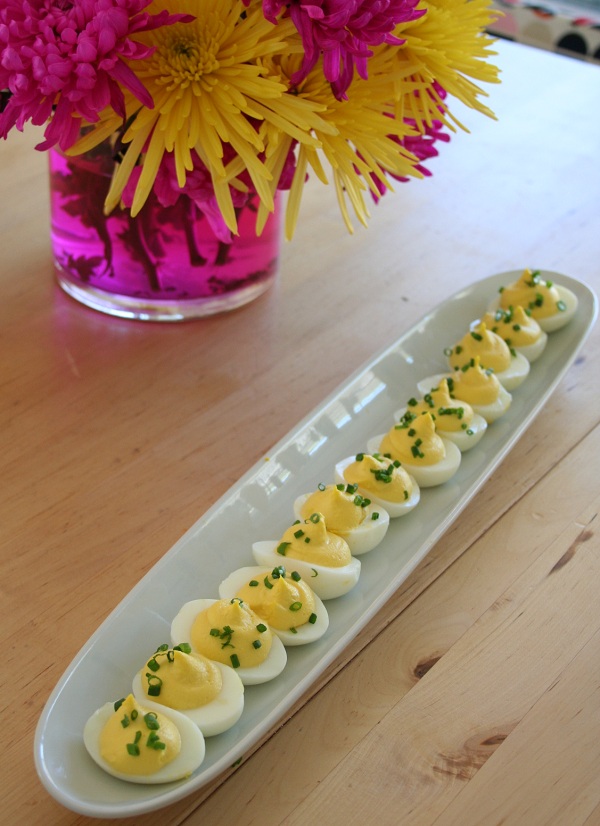 Truffle Deviled Eggs
Serves 8-10 as an appetizer/hor d'oevres
1 dozen eggs hard boiled (I like to use 2 dozen bantam chicken eggs since they are about half the size of large store eggs)
1 1/2-2 cup of mayonnaise
2 TB dijon mustard
1/2 tsp salt
1 pinch of cayenne
2-3 TB truffle oil (taste your yolk mixture to see how truffle-y you want it)
2 TB chopped chives as garnish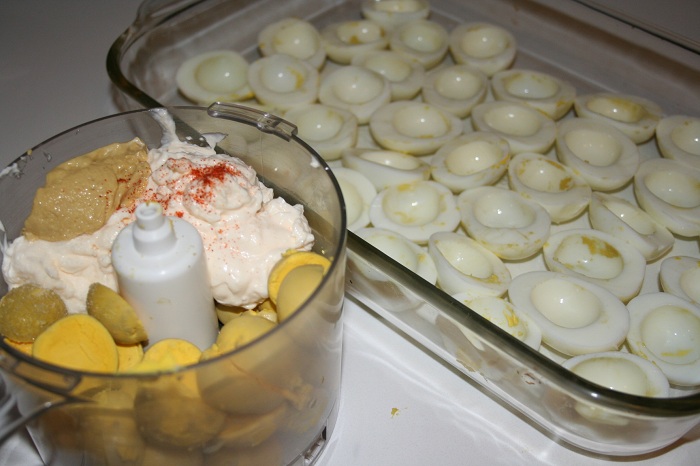 1. Cut eggs in half and remove the yolk. Put the yolk in a food processor and add mayonnaise, dijon mustard, salt, cayenne pepper and truffle oil.
2. Puree until egg mixture is smooth. Taste egg mixture to see if you have to adjust the seasoning or add a bit more mayonnaise for a smoother consistency.
3. Once egg mixture is done, spoon in a piping bag or ziploc bag. If you do not have a piping tip, just cut a small corner off the bag and pipe the egg mixture into the egg white shells. The piping tips make them a little more decorative but are not necessary.  Tip: If you are making these for a party, you can pipe the eggs right before the party starts.  Just be sure to wrap the egg white shells tightly and also make sure the yolk filling mixture is tightly seal
4. Garnish with a sprinkling of chooped chives and serve.