Eichler Window Coverings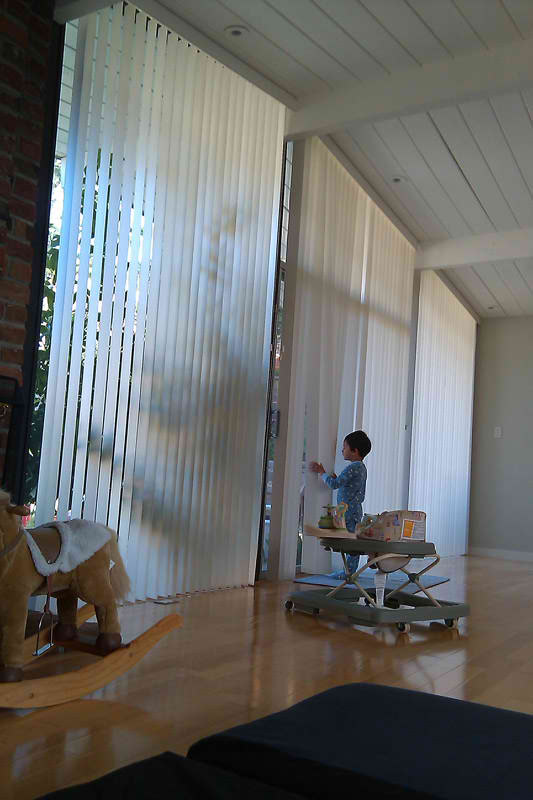 We finally had new window coverings installed recently. It had been a couple years without them and we're really enjoying the optional privacy and control over sunlight etc.
We went with a blackout version of these Hunter Douglas shades in the bedrooms and Hunter Douglas vertical blinds over the big windows.
For as much as we love having the indoor-outdoor all the time experience, it's also nice to be able to close out the outside world and feel cozy and private. It's also a nice way to forget about what a mess our backyard can be sometimes!
One issue w/ the vertical blinds is that since they are installed on the slanted roof line, they have to pull up to the highest point (so the longer side doesn't drag on the floor) – which means when they are open – they hang in front of the opening to the sliding glass door. We solved this by installing a little hook w/ a curtain tie-back that we use to pull them out of the way so we can go in and out of the door.
They also tend to slide back down the roof line towards the closed position if they are swinging at all when first pulled up the roof line to the open position. Slightly annoying, but can be solved w/ a curtain tie back as well.
Even w/ these issues – we are happy w/ our choice and feel that this was really the only option w/o having horizontal curtain rods crossing the top portion of the windows.
I have attached a pic of the vertical blinds.
The holes in the ceiling are the high-velocity spacepak brand forced-air ducts (heating and cooling).
We solved the 'sliding down the roof line' problem by simple adding a tension pulley to the bottom of the draw strings. I painted ours black since they were white and wonder if this may have added some friction to the pulleys which is helping the blinds to stay put when they are pulled all the way open. Regardless, it is nice that they stay put now.
Attached are couple more pics of how they look when open all the way.
Definitely not as clean as no shades, but I feel they are a best option available.
Let me know if you have seen better solutions.
Our heat bill is about 20% less with these drawn closed at night.