High Velocity Space Pak HVAC Eichler installation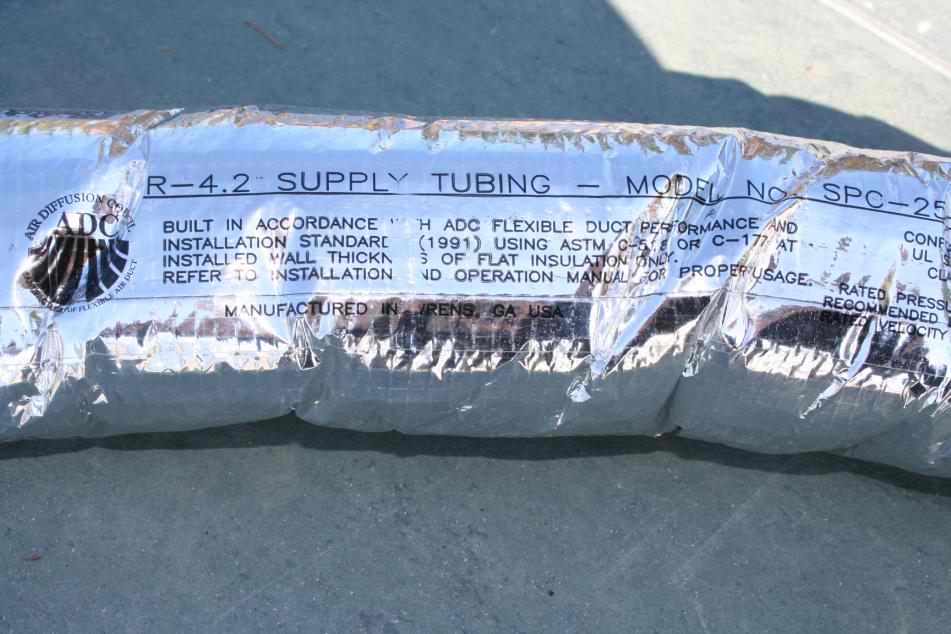 We ended up going with the Space Pak brand of high-velocity HVAC system instead of Unico due to a few aspects that make the installation cleaner (duct fasteners) – and because the rep was more knowledgeable and willing to work with our HVAC installer than the Unico rep. All of the research I did showed that there wasn't much difference between the two so either would be a fine choice. Attched are couple pics of the ductwork on our roof. The green layer is a sheetrock-like, fire-retardant 1/2″ material called DensDeck that was required by the fire inspector to meet fire codes. It cost about $5k installed (~$20/sheet). We also have a fire sprinkler system on the roof which is now covered with metal for protection (per building dept request) – our roof is a very busy place! We hope to pass all of our inspections and get the foam sprayed on this week before it starts raining!
Update: We have the spacepak system installed and running now. We went w/ a 4 ton, 2 zone system with honeywell programmable thermostats and I have to say that it is pretty great. It keeps the house very comfortable whether warming or cooling.
It does make a whooshing sound when it's running which seemed pretty loud at first, but we've gotten used to it and it's certainly tolerable.
The cooling works especially well because of the wind-chill factor the cold air has coming out of the vents.
I still need to take some pics of the heat pump and blower, but I've attached pics of the duct work on the roof before it was covered in foam. The big, angular metal is covering the fire sprinkler pipe, and the smaller angle metal covers the new wiring.
I'm happy to answer any questions people may have.
Update: Thought I'd post an update w/ my thoughts about our HVAC system after living w/ it for almost a year.
Pros:
I really like the zoned system and the programmable thermostats since we can fine tune the precise temps for different parts of the house at different times of the day w/ energy conservation in mind.
Another thing I really like is that the air is circulated often which prevents condensation on the windows and skylights – especially in the bathrooms after showers.
Temps remain consistent throughout the year.
Cons:
Noise.
The air is pretty loud coming out through the vents – one reason for us, is that w/ a zoned system all of the air is forced through half of the house at once. It is very rare for both zones to be going at the same time, because of this, I'm thinking we could probably cut our tonnage in half for the heat pump and air handler. I'm not 100% sure, but I think the system is probably 'short cycling' because of this as well.
The heat pump outside can get pretty loud when it's really cold or hot outside. We don't hear it in our house, but I would prefer if it were quieter. I've taken some steps to sound proof it, and plan to do more.
Our electricity bill doubled last month when we had a week of freezing temps because the heat pump was running around the clock. I'm sure everyone experiences this to a certain degree.
Thoughts:
1. If you're doing a zoned system take what I mention above about tonnage into consideration and discuss w/ your HVAC contractor.
2. Make sure your HVAC contractor adjusts the zones so that the inactive zone is actually 10% open to allow excess pressure to escape instead of forcing all the air through the active zone. We plan to have this adjusted on ours which should help reduce the noise.
Update: Also attached a pic of how the air vents look inside the house. They also offer a choice that looks like a mail slot instead of a circular hole.