Raised garden beds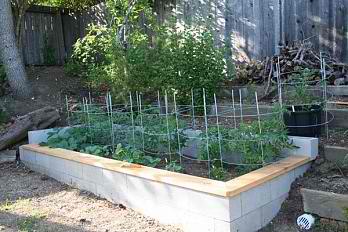 We want to build raised garden beds in our back yard for growing herbs and vegetables. It seems like a pretty strait forward project, but we'd like to hear from anyone who has any tips or pointers they'd like to share..
Update: We ended up building two raised garden beds. One out of wood and another using cinder blocks. The cinder block one also serves as a retaining wall.
I've attached pictures of both. In retrospect, I prefer the idea of using cinder blocks since they resist rot and insect damage. We did line the wood one with plastic sheeting to prolong it's life span. We did not use pressure-treated wood tho, since it contains chemicals that we don't want in our vegetables.