Garden Update May 30, 2009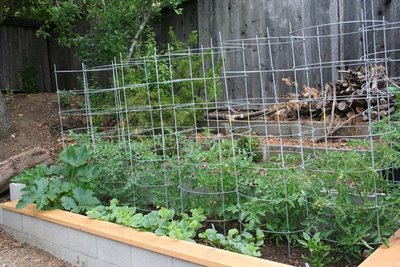 I know I just updated with pics one week ago but I just wanted to show how much growth can occur in such a short time.
Here is a pic of the cinderblock garden. We have attached the extension to the tomato cages because the tomato plants are just growing so quickly. About 1-2 inches a day! I have to go out every day and put the branches back into the cage. I am so glad i bought these cages because it makes it so much easier. They are called Texas Tomato Cages ( http://www.tomatocage.com/ ). They were more expensive than making our own but so worth the $$ because they fold up flat for storage.
The tomato plants are about 3 feet tall now and the cocozelle zucchini plant is about 3-4 feet wide.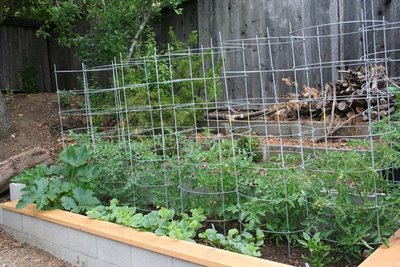 Here is the wood garden. This garden was getting alot less sun than the cinderblock garden and the plants were not happy so last weekend, my husband thinned out the nearby trees to give the spot more sun. It has made a huge difference and the tomato plants are really starting to take off. They were barely at the second rung of the tomato cage before and now are reaching the 3rd rung.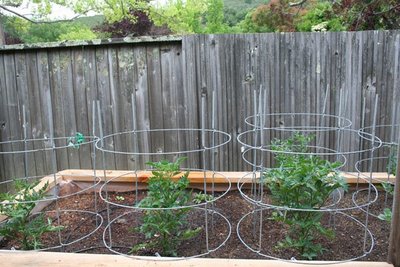 You can see the melon's are alot happier as well.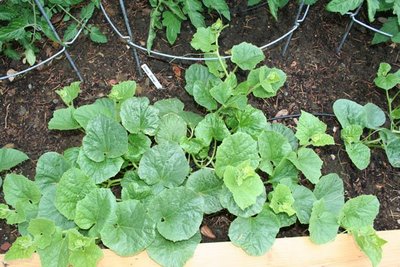 Arava Melon
in the cinderblock garden.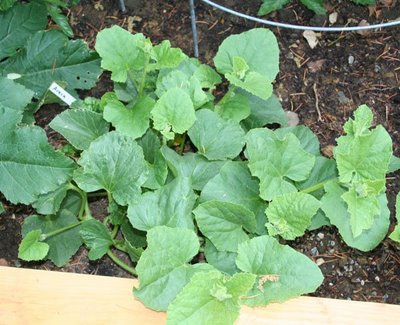 Charentais Melon:
this melon was really unhappy with me. Not only did i transplant it (people say that melon's have very sensitive roots) but a week later I moved it AGAIN! this did not make my charentais happy and it did NOTHING for weeks. Finally it is growning and is 2-3 times the size it was last week!