Tulle Covered Garden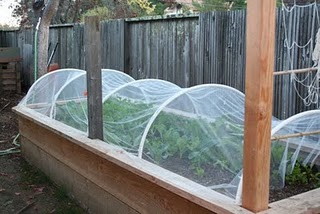 For our fall garden, we decided to grow cauliflower, broccolli, swiss chard, beets, lettuce, and arugala….all the things that caterpillars LOVE to eat. To help protect our garden from these critters, we covered our garden with tulle. It was pretty expensive because Michael's was having a 40% off sale.
We had a huge storm that dumped 8.5 inches of rain in about 24 hours!! My beets took a beating… 🙁
I think think this is cauliflower. I am not quite sure because I was lazy and did not put markers up.
This is the Rhubarb Swiss Chard that I am growing. It is gorgeous. The only problem is that it looks almost identical to the beets that are growing next to them. Next year I will make sure to mark the garden off properly.
Harvesting swiss chard for dinner. I sauteed it with some bacon, shallots, garlic, red pepper flakes and a bit of balsamic vinegar. They were diving!!