What's eating my basil?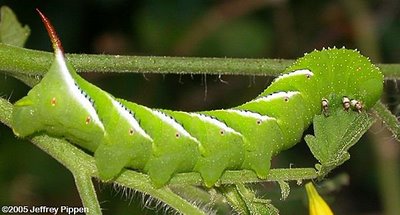 A few days ago I went outside to find my beautiful, perfect basil was being eaten. Whatever it was did quite a bit of damage in one night.
I checked all the leaves for hornworms (caterpillars), aphids, etc. but found nothing. Every day i checked my basil to find more damage but no signs of what could be causing the damage.
This morning I went out to find my basil plant in worse shape then yesterday and was contemplating pulling it out of the herb garden. I shook the little plant and a little green caterpillar fell off…it was a BABY HORNWORM! Normally these suckers are huge (4 inches long) and fat but this little guy was about 1/4 of an inch long and quite thin still.