Farmer's Market Finds: Musquee de Provence & Swiss Chard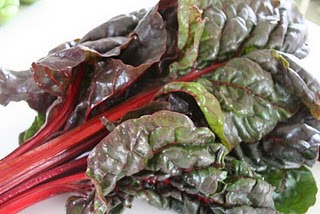 I love going to the farmer's market and it has become something I look forward to every sunday morning.  I sneak out of the house while the boys are still asleep…so early that the vendors are still setting up.
Last week I saw an abundance of swiss chard.  It is so easy to prepare…sautee some bacon, shallots, throw in the chopped swiss chard and voila!  a simple and savory side dish that is so much more satisfying than spinach.
I also bought a slice (4 lbs!) of this great pumpkin called Musquee de Provence.  I had to buy it because it was literally glistening with sugar droplets.
I cubed the pumpkin into 1 inch cubes, drizzled with olive oil, sage, and salt and roasted it in the oven at 400 degrees until done (around 40 mins for me)…there was so much sugar in the pumpkin that it carmelized really well and was a treat to eat.