Lemon Cucumbers are HERE!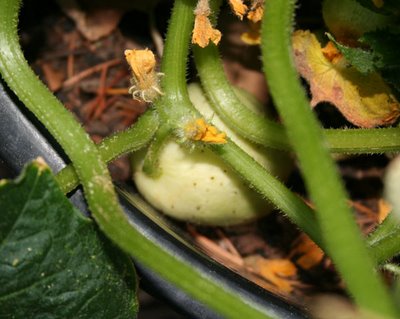 We never got around to building a trellis for our lemon cucumber. We have been so busy with parties, family and friend visits that we kept on putting the task off. Of course we had a wicked heatspell (over 100 degrees) that caused our lemon cucmber to grow at a freakish rate.
All of a sudden the vines were out of the pot and all over the ground, climbing up the neigboring tomato cage….so i asked my husband to throw one of our extra texas tomato cages around it until I could figure out a better solution. When he did that, we found some almost mature lemon cucumbers!
Ironically, our friend Wendy was just over this weekend with a NEW passion for pickling, so hopefully we will have an abundant crop that we can share with her.