First Ripe Misty Blueberry: June 3, 2009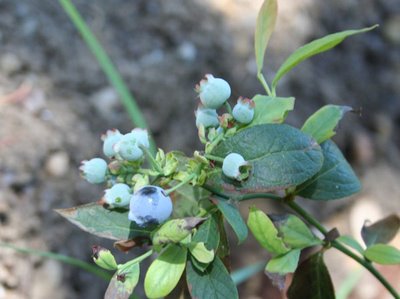 Hurray! We picked our first blueberry today. We put in 4 blueberry bushes in early May, 2 are Misty Blueberries and 2 are Sunshine Blueberries. We wanted 2 different types of blueberries to help with pollination and also because they ripen at different times so we wanted an extended season of having ripe berries.
When we planted the bushes were blossoms on all 4 plants but we did not think any of them would set fruit this year. I thought the trauma from shipping and planting out would cause all the blossoms to drop . Well it didn't and we have a ton of un-ripe blueberries.
We picked our first on friday and shared it. It was probably a few days too early. The blueberry had great flavor but could have been sweeter.