Overnight Sourdough Bagels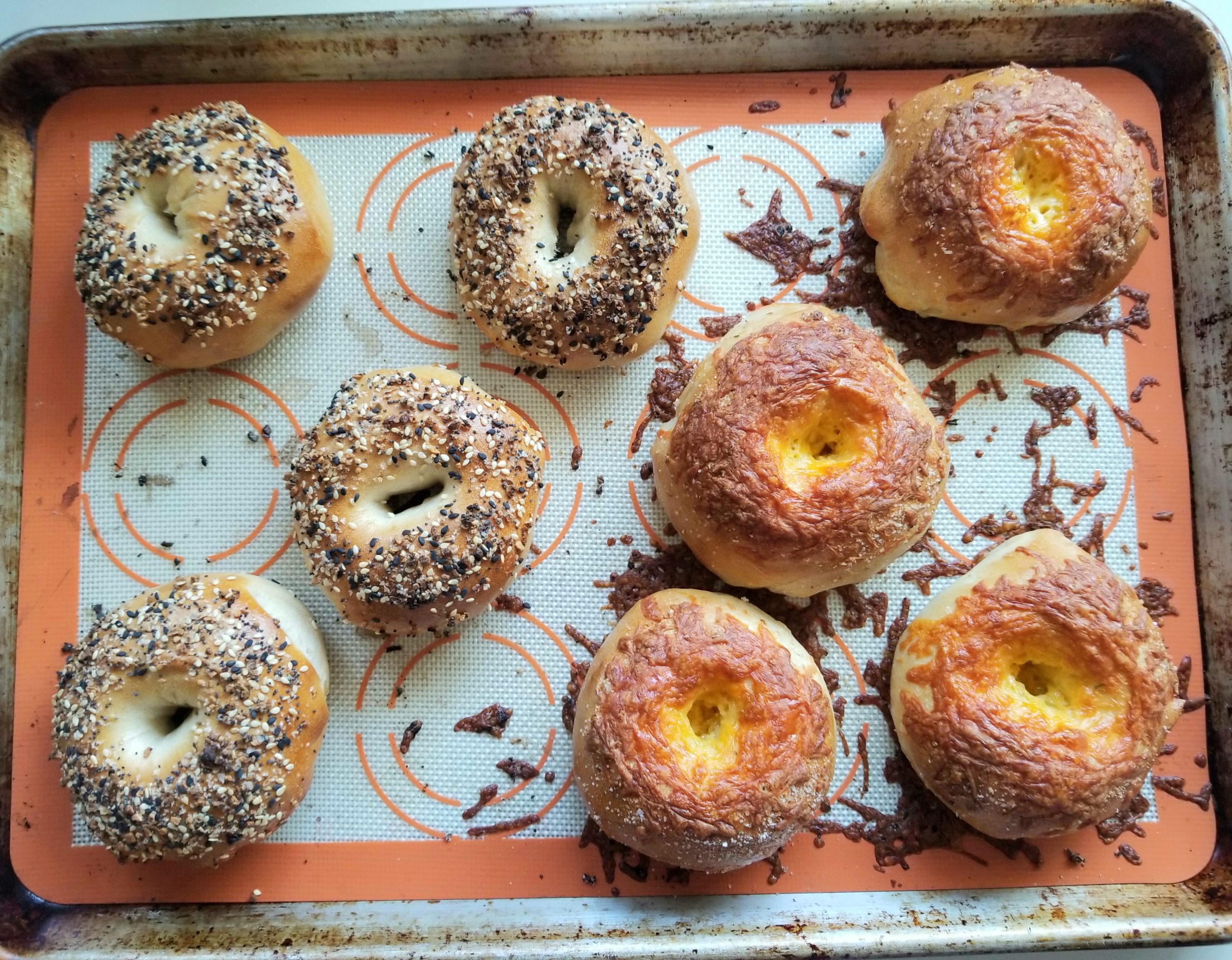 This is a super simple recipe. You make the dough the night before, then shape, boil, and bake the next morning.
Sourdough Bagels (Makes 8 large bagels or 12 smaller ones)
Dough:
1/2 cup starter (that was fed 12 hours before)
1 cup water (if using high gluten or bread flour add an extra 2 TB water)
2 TB honey
4 cups flour (I prefer bread flour but you can also use all-purpose)
2 tsp salt
Water bath:
6 cups water
1 TB baking soda
Toppings (optional):
Everything but the bagel seasoning
Sesame seeds
Poppy Seeds
dehydrated onion that has been rehydrated (so does not burn as easily)
Cheese
Day before baking bagels: In the AM feed your starter.
Making the Dough: The night before baking, make your dough by mixing water, honey, and starter. In the mixing bowl of your mixer, add flour and salt. Then add the starter mix. Use the dough hook to quickly mix the dough. Then use the dough hook on medium/low speed for 6-7 minutes. The dough will come together and be very firm. Then wrap the top of the bowl with saran wrap and let it sit for 9-11 hours. During Warmer summer months may take a little less time.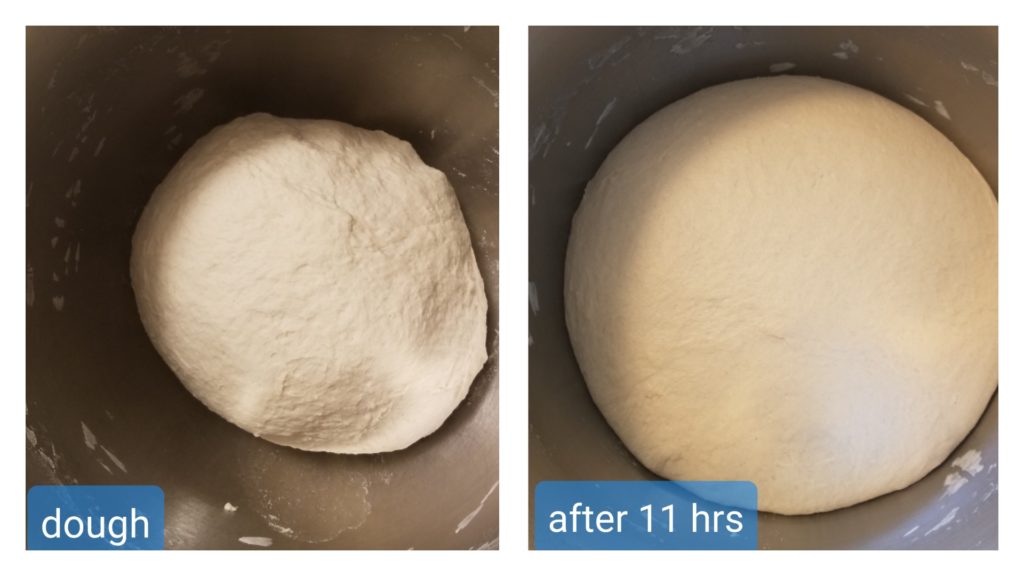 The morning of baking:
Dump your dough on your counter and cut into 8 portions (or 12 if you want to make smaller bagels). Shape each portion into a ball by pulling the sides down and pinch underneath.
Make a hole in the middle of each ball with your fingers to create the bagel hole. Then stretch the dough to make hole a little larger. I like to make the hole at least the size of a quarter as the hole will shrink when doing the last rise and baking. Sometimes I will go back to the 1st bagel and enlarge all the holes.
Cover with saran wrap and allow to rise for 45-60 minutes. The last 15-20 minutes of rising, start boiling the water and pre-heating the oven to 450 degrees.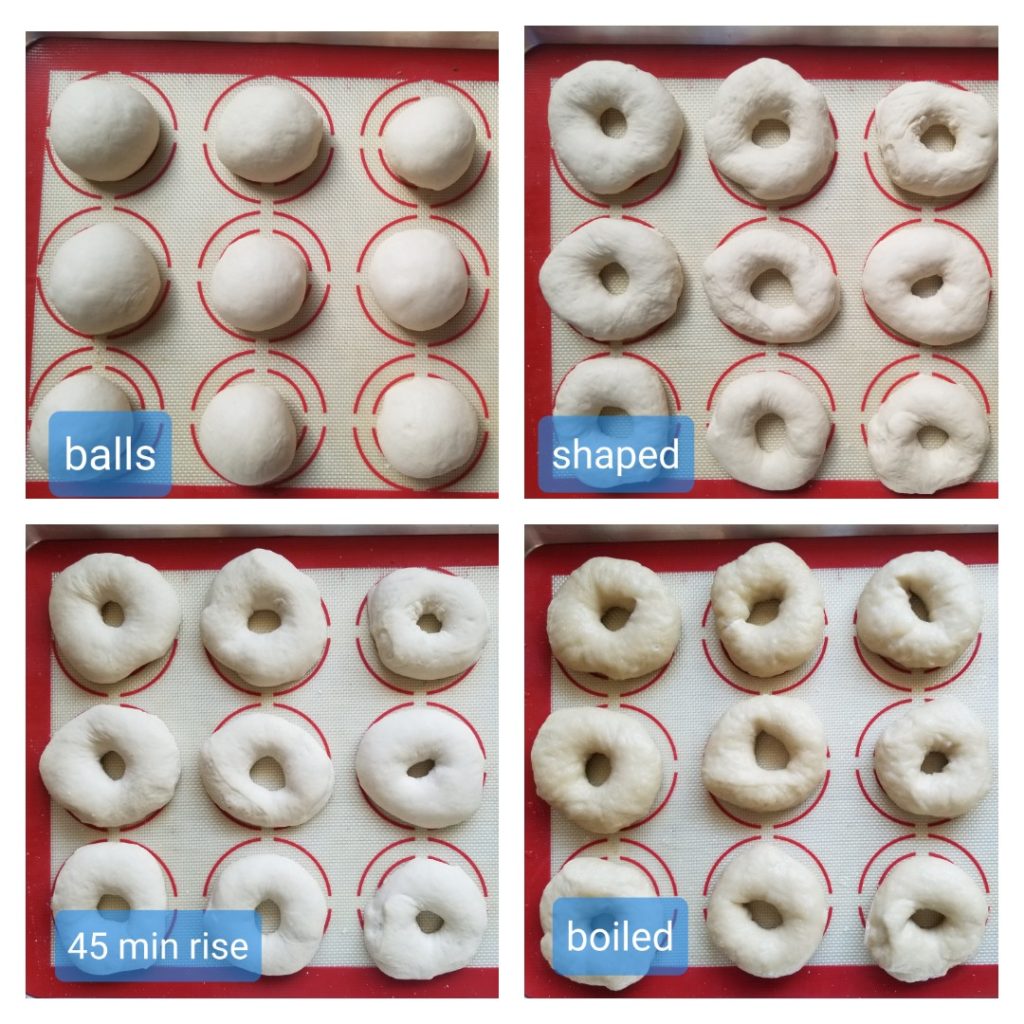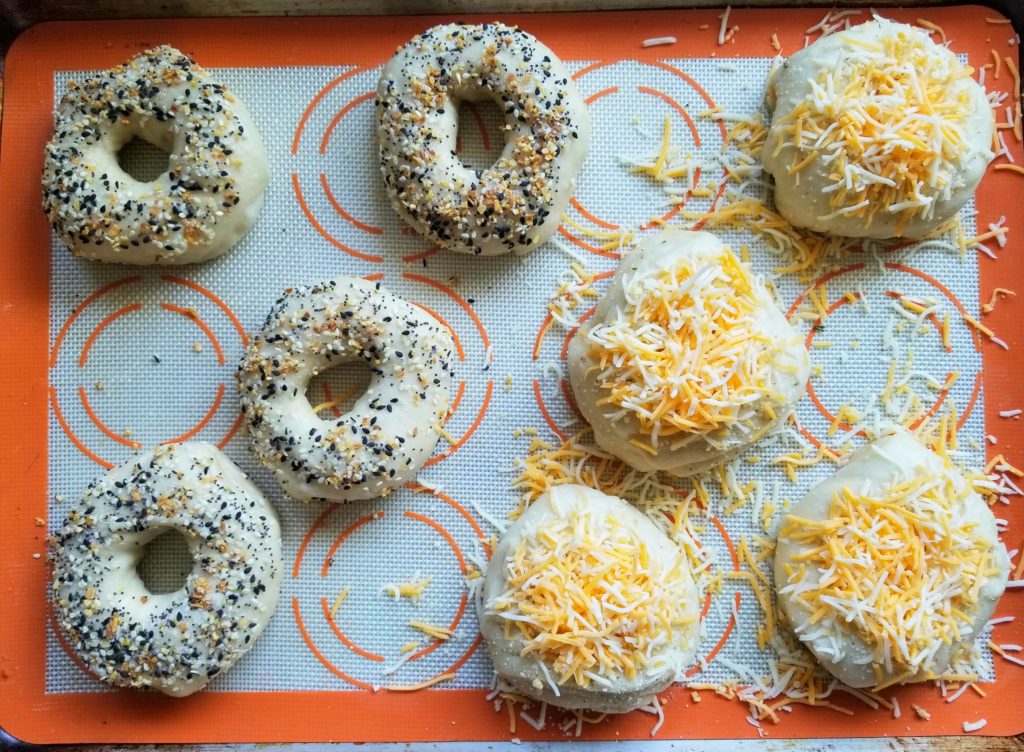 Boiling & Baking:
Mix baking soda and water and bring to a boil. Then drop in bagels (I usually can fit 4 at a time). Boil for 1 minute. The fish out the bagels with a slotted spatula. Put on a pan with a silpat or parchment pater and add toppings while the next batch of bagels is boiling. Repeat toppings process.
Then bake in a 450 degree oven on the middle rack for 18-24 minutes or until light golden brown.