Pork Wontons in a Spicy Chili Oil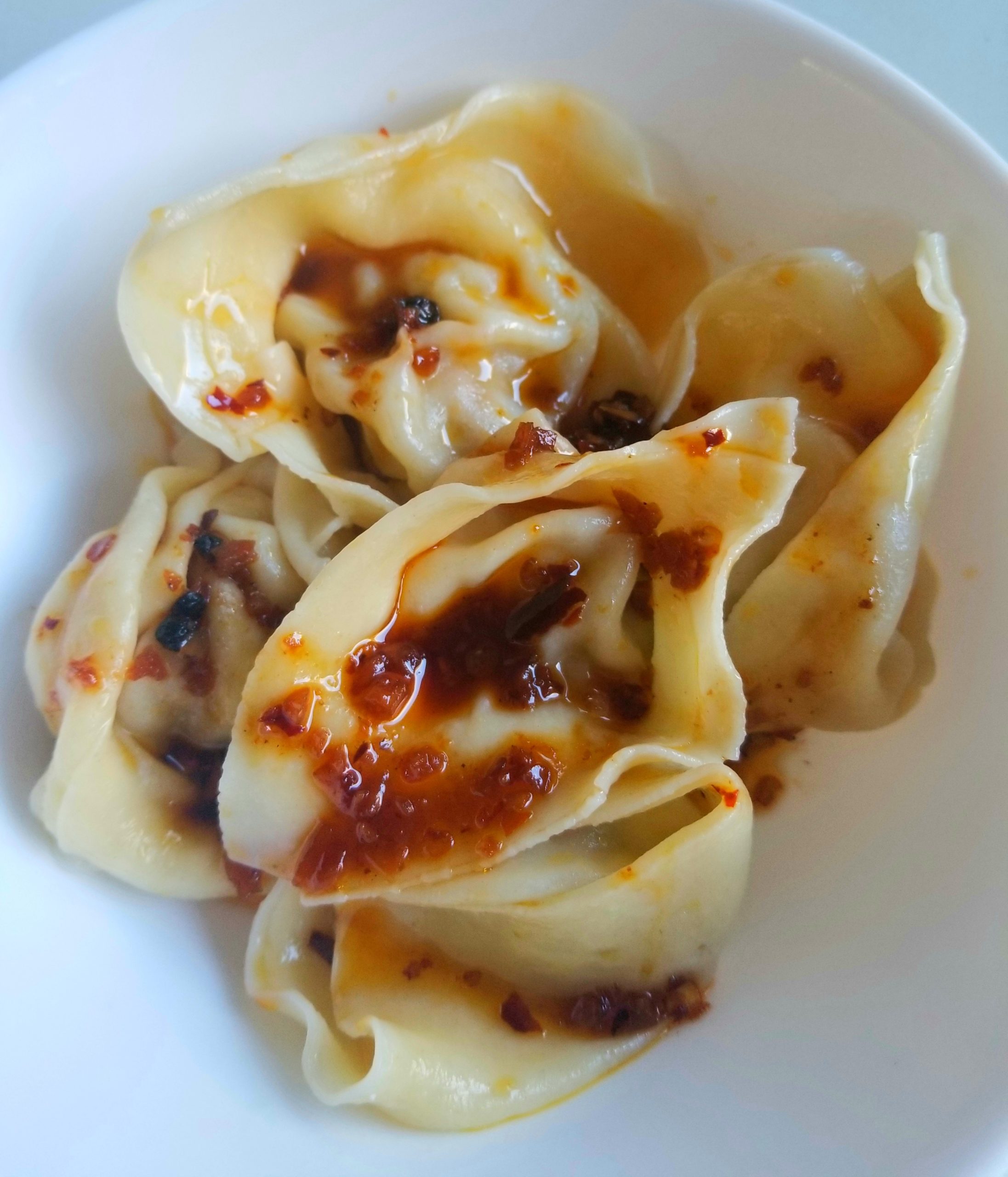 I took the youngest to Chinatown for lunch recently and the highlight were these dumplings in a spicy, sweet chili sauce. He said "we need to learn how to make these, they are my new favorite!".
Ingredients:
Wonton filling
1 1/2 lbs ground pork
4 green onions finely chopped
3 gloves garlic finely chopped
1 tsp salt
1 TB soy sauce
1 TB chinese wine (or dry sherry)
1 tsp sesame oil
1/4 tsp ground white pepper
2 TB oil
Chili Oil Sauce
6 TB soy sauce
1 TB black vinegar (or balsamic)
1 TB sugar
1 TB minced garlic
1/2 cup chili oil (you can also make your own)
1 TB sambal chili (optional)
Wonton wrapper
4 cups flour
1 tsp salt
2 eggs
1 cup warm water
Make wonton wrapper dough. Mix until it comes to a ball. You may need to add a little bit more flour or water. Wrap dough or cover and let sit for 10 minutes. After 10 minutes, come back to the dough and knead the dough until smooth about 5 minutes. Cover again and let sit for 30 minutes.
Make chili oil: Heat up chili oil. Take off heat. Add garlic and let it cook garlic. Then add sugar, vinegar, soy sauce.
Make wonton filling: Mix ingredients until all ingredients evenly distributed and the ground pork becomes pasty. Cover and refrigerate until ready to use.
Cut dough until 10 even parts. Roll each part into logs about 4 inches long. Use cornstarch to keep dough from sticking. Use a pasta roller to roll out dough. Start with a 1 and roll out all the dough parts. Then increase to a level 3 and roll out all the noodles. Then increase to a 5 and roll out all the noodles. This is the thickness I like, but if you want it thicker or thinner, you can adjust. (Use corn starch to keep noodles from sticking.)
Make Dumplings: Put one long noddle out and cut into squares. Put about 1/2 tsp pork filling in the middle of each square. Use your finger and water to moisten the edges of wrappers. Fold opposite corners to each other then pull down 2 corners and connect them to make sort of a tortellini.
Boil dumplings for 2-3 minutes and serve with chili oil sauce.