Easy Kimchi Recipe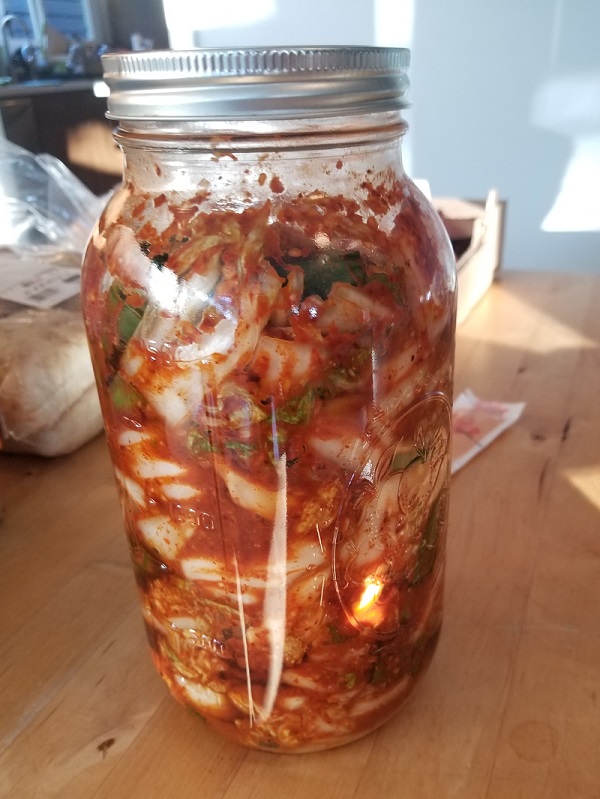 Ingredients
3-6 pounds napa cabbage (I get a large one)
1-2 bunches green onions (white parts for paste and green parts mixed into vegetables)
1/3 cup kosher salt
1/2 cup korean chili powder
1 large head of garlic
4-6 inches ginger peeled, rough chopped
2 tablespoon fish sauce
unsweetened pear juice or apple juice (I use those little cans of Motts apple juice)
Directions
1) Cut the cabage into 6-8 wedges and cut out the hard core. Then cut into pieces about 2 inch square. Wash the cabbage and drain and put in a large bowl. Sprinkle with the 1/3 cup kosher salt and massage cabbage to ensure all the cabbage has some salt and starts to soften and wilt. Let sit for 3 hours.
2) Pour the cabbage and liquid into a strainer. Let the brine drain away.
3) Make paste: in food processors, blend the green parts of onions, garlic, ginger, chili and fish sauce. Pulse then add juice as needed to create a paste.
4) Put the salted cabbage in a big, anti-reactive (glass, enamel, or stainless steel) bowl. Chop the green parts of the onions in 1 inch legnth and add to the cabbage. Pour the chili paste combo over the cabbage and green onions and massage it all over so everything is evenly coated.
5) Pack it tightly in canning jars. During the ferment process, the vegetables will release liquid and the kimchi will pack down 20%. Add lid to the jar but do not close it too tightly. As the kimchi ferments it will release air bubbles and the liquid may bubble and expand so keep a pan or container in case some of the liquid spills out. let it sit at room temperature for 3-5 days depending on how warm it is. Start testing the kimchi day 3 to see if it is sour enough to your taste. Every day, use a butterknife along the side of jar to release air bubbles and push vegetables down so it is submerged in the brine.
6) When it is fermented to your taste, put in fridge.