May 23, 2009: Time to Fertilize!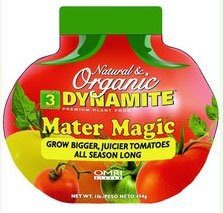 Well it has been 1 month since I last used fertilizer. I had put some Dynamite Mater Magic Tomato Food (5-5-9) in the planting hole when I planted out.
Dynamite Mater Magic Tomato Food (5-5-9)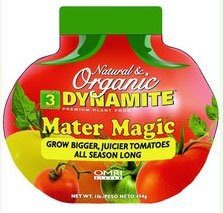 Dynamite tomato food is Completely Organic and OMRI certified this cute little bottle contains the perfect food for Tomatoes. Contains micronutrients and calcium to prevent Blossom End Rot and feeds up to 3 months. For bigger, juicier tomatoes, with higher yields this natural plant food can't be beat. This is a granular product, not a liquid.
Contains humus as a soil conditioner which improves Cation Exchange Capacity (CEC). Improves soils structure for tolerance during heat and drought condition. Mater Magic is derived from Meat Meal, Hydrolyzed Feather Meal, Bone Meal, Blood Meal and Sulfate of Potash 5-5-9 plus 4.5 calcium
Features:
* Use Indoors and Outdoors
* OMRI Listed for the production of organic certified crops
* One easy application lasts up to 3 months
* Excellent blooming and color on ornamentals
* Contains no sludge or manures. Urea nitrogen free
* Builds root mass and stress tolerance
* Enhances disease and water management
* Feeds continuously for up to 3 months
* Environmentally sustainable
* Reduces the need for frequent applications
* Customized for your garden's soil and sun conditions
Today I used E.B. Stone Organics Tomato & Vegetable Food (4-5-3):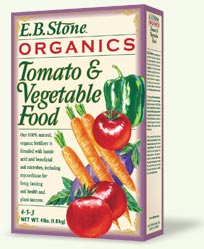 E. B. Stone Tomato & Vegetable Food is formulated from quality natural organic ingredients for use throughout the vegetable garden as well as with soft fruits like strawberries. It will contribute to even plant growth without producing excessive foliage at the expense of fruit. The additional phosphorous helps to ensure the production of high quality fruits and vegetables. The calcium in our Tomato & Vegetable fertilizer aids in preventing disorders like blossom end rot and helps to correct acidic soil conditions.
I am going to alternate feeding the plants with Neptune's Harvest Organic Fish/Seaweed Blend Fertilizer (2-3-1).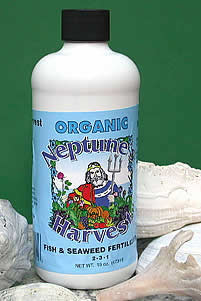 Neptune's Harvest Organic Fish/Seaweed Blend Fertilizer (2-3-1) gives you the best of both products with a perfect blend of fish hydrolysate and seaweed, ensuring a complete fertilization program. Growers using our fish/seaweed blend fertilizer on a regular basis have reported increased marketableyields and improved shelf life on fruits and vegetables. Fish and Seaweed are known to build the natural sugar in plants. Flowers and foliage will be stronger and more colorful. Blooms will be more plentiful, fragrant and longer lasting.
I will probably use the Neptune's Harvest in 3 weeks, then EB Stone 3 weeks after that.