Blueberry Plant: First blueberry!!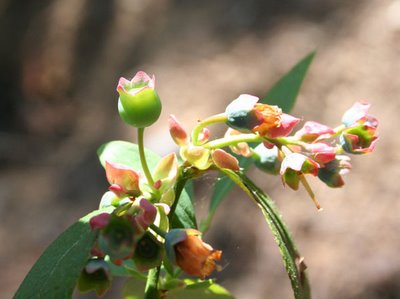 I thought I would elaborate more on the blueberry bushes that I planted. As I stated below, I planted 4 southern high bush blueberry plants. We planted these beginning of May (I think
May 7, 2009).
2 are Misty blueberry plants:
Sky-blue, medium large, very sweet fruit matures early season from midsummer through fall. Pink and white bell-shaped flowers bloom in late spring followed by fruit crop. Very low chill requirement of 300 hours to set a good crop of fruit. An attractive shrub with blue-green foliage for beds or the fruit garden. Remains evergreen in mild winters or turns brilliant red before shedding leaves in cold climates. Semi-deciduous shrub. Full sun. Vigorous growth 5 to 6 feet tall and wide.
2 are Sunshine blueberry plants:
Hot pink bell shaped flowers are decorative before fading to white. Blooms in late spring. Yields an abundant crop of large tangy fruit with as few as 150 hours of chill. Self pollinating, but produces best when planted with another variety. Dwarf stature is far more suited to ornamental gardens and small space landcapes than other varieties. Semi-evergreen shrub. Full sun. Moderate growth 3 to 4 feet tall and wide
This is a picture of the first blueberry on our plants. It is on the Misty Blueberry. Isn't it so cute!! I am really excited about my blueberries!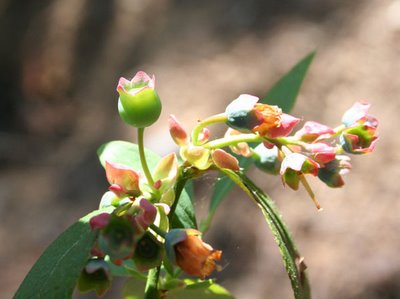 Here are our 4 plants. The taller, lankier plants are misty blueberry plants. The shorter, more compact are sunshine blueberry plants.