Melon Update: 3.5 months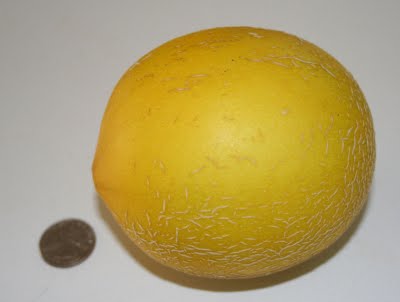 I picked my first ripe melon today. It was an arava melon.It probably could have stayed on the vine a day or 2 longer but when i picked it up it slipped from the vine. It started turning yellow a few days ago so it ripened pretty quickly once the color change started.
Unfortunately we did not turn off the watering system 2 weeks before ripening like i wanted to and the weather has been cooler the last 2 weeks (high 70's low 80's) so it was not as sweet as I was hoping. It tasted like a honeydew from the supermarket 🙁 when i am more used to melons from the farmers market that are sweeter.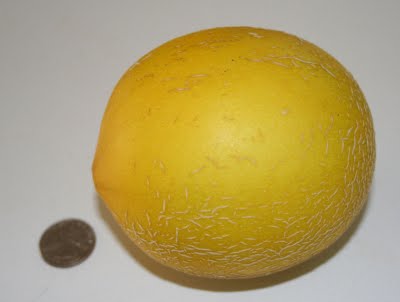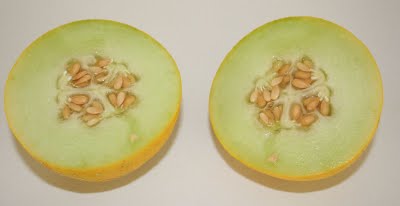 Here are 2 more
Arava melons
from the same vine. I have more hope for these because the weather is warmer again (high 80's low 90's) and i haven't watered it for a week now. I think these will ripen by next weekend.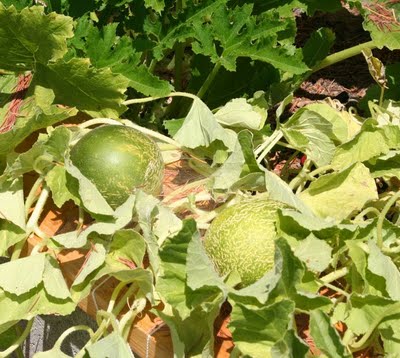 Here is the wood garden with the trellis. Here are some small
Charentais
and an
Arava
on the trellis. These melon's are about 3-4 weeks behind the melons in the cinderblock garden so hopefully if the weather stays warm they will be ready late august (for
arava
and
honey orange
) to mid-september (for
charentais
).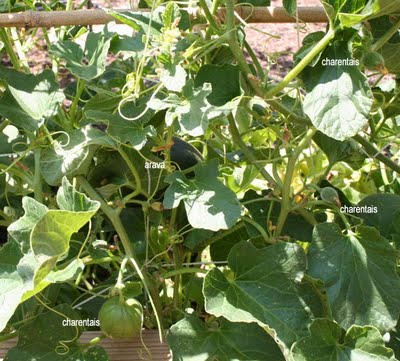 Charentais melon
in the cinderblock garden. I have 2 bigger melons (this is the middle sized one and smallest on vine) and 2 smaller melons (about size of tangerine). I think I will get the first ripe charentais in a week or 2.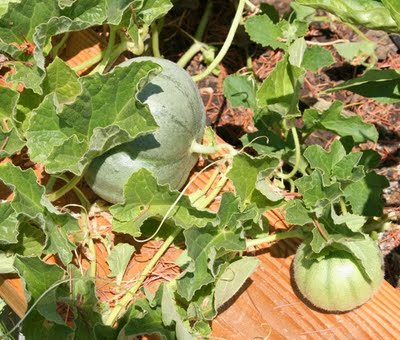 Honey Orange melon
on the trellis in the wood gardenbed. There are 2 bigger melons about the size of a grapefruit on the vine and 2-3 smaller melons that are bigger than golf balls.