Carrie Mango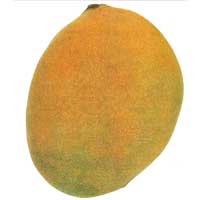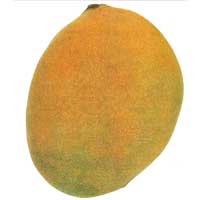 Here is some information about Carrie Mangos. I got the information from the website of the nursery where I purchased the plants.
The flavor is by far the most outstanding feature of this variety. It has absolutely no fiber; Is extremely rich in flavor, sweet, aromatic and a pure pleasure to eat. You will savor every mouthful! Its compact size makes it an excellent dooryard tree that requires minimal care. Both fruit and tree have little to no problem with fungus or disease. Lack of color and firmness are the only shortcomings of this superb variety. To determine where to pick, look for a subtle yellow color at its base. Do not let the fruit drop from a tree, or it will bruise since it's completely fiberless. Many people agree that this is the best tasting mango in existence!
Ripening Season: June-July
Plant Size: Dwarf small stature tree, this "condo mango" is an ultra compact grower.The tree is suitable for container growing on a balcony, or planting in a suburban backyard.
Flavor: excellent sweet and tangy, highly aromatic, orange flesh.
Fruit Size: regular ovate, small, 10-12 oz,up to 1 lb
Fruit Color: green to yellow
Fiberless