Mango Tree Update 2010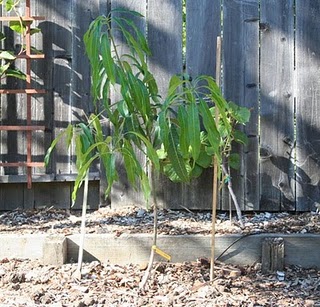 I just wanted to update you all on my mango tree experiment. My Carrie, Ice Cream and Lancetilla all died. 🙁
The ice cream and carrie were doomed from the start and when I got them, they were not healthy and had this weird goopy material on them. They never really did much and I eventually stopped watering them.
I am really sad about my lancetilla. It grew a ton last year and I even had a few small mangoes on the tree until i pruned them off. The lancetilla made it through this winter without any protection and even put on new growth once the winter ended. It died when we transplanted it from the pot to the ground. I think we may have been a little rough with the roots and as soon as it was inground it just died within 1-2 weeks.
So I bought another tree. This is an alphonso mango. It looked great when it came to me so I have higher hope for this tree than the others that were shipped from Florida.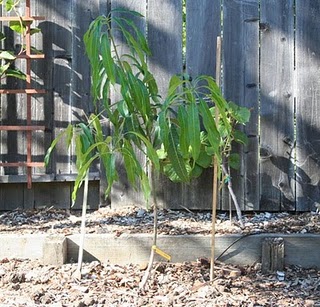 This is my Glenn Mango from Laverne nursery that I got last year. It is the only survivor of my "freshman" class of mango trees. It made it through the winter fine without and protection and here it is blooming.
If i get any small mangoes I will prune them off and give the tree another year to grow.