Superbowl Sunday = Fruit Tree Planting time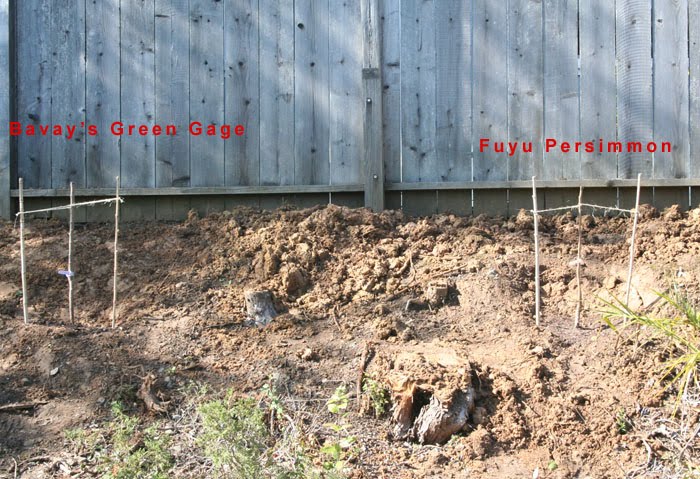 I received my trees from Raintree on thursday so we decided to plant all the trees on sunday before they came out of dormancy (it rained all day saturday).
Here is the order as I received it and out of the box.
I ordered:
1 Old Green Gage (Reine Claude Doree) on citation rootstock
1 Green Gage Bavay on citation rootstock
1 Baby Crawford Peach on citation rootstock
1 4-in-1 pluot with Dapple Dandy, Flavor King, Flavor Queen, and Flavor Supreme on citation rootstock
1 Fuyu Persimmon on D. Lotus rootstock
2 Hollywood Plums on Mariana 2624 rootstock
1 Kiwi
2 grape vines (forgot the variety)
3 raspberry bushes (BACKORDERED)
The trees from Raintree Nursery came in pretty good shape.  They were about 4 feet tall and the width above the graft was thicker than my thumb on most of the trees.  The raspberry bushes were backordered so I do not have those yet.  The raspberry and grapes were actually "freebies" that the nursery gave to me so if i can't find a place to plant them, I will donate them to my son's preschool garden.
The only disappointment was the Old Green Gage (Reine Claude Doree).  Supposedly it came from Andy Mariani's orchard so I was really excited to get it but it was a VERY puny plant, about 1/3 the size of the other trees.  When I called Raintree to complain about the tree, they offered to refund me 1/2 the tree price.  I thought that was great customer service and will check my cc bill to see if it was ever done.
I picked up a santa rosa plum tree from the local Sloat Nursery on saturday.
Here is the lineup.  We planted the trees then I pruned most of them around 2.5 feet because I want them to start branching low and stay a manageable size.
I am really excited about the vatiety of fruit trees I have and also excited to graft different varieties on the trees…just have to teach myself how to graft now 😉