Fairchild Garden Curator's Choice for Mangos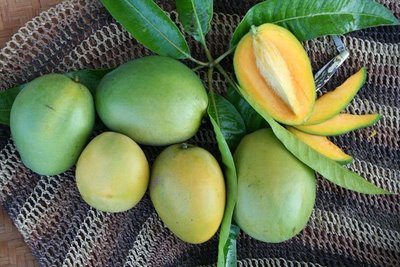 These mangos were tasted at the annual Mango Festival in Florida.
Source: http://www.fairchildgarden.org/index.cfm?section=tropicalfruitprogram&page=internationalmangofestival
Curator's Choice Selections:
'Zebda' (Egypt)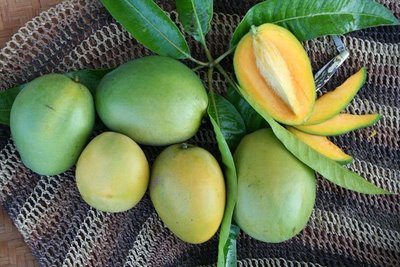 'Zebda' is an important Egyptian cultivar, rounded to oblong in shape, smooth skinned and of 11.5 oz (325 g). The color is emerald green, lightening to chartreuse upon extreme ripeness. The flesh is Indian to burnt orange and there is no fiber. The flavor is a sultry, sweet combination of melon and vanilla. The tree is slow-growing and highly tolerant or even resistant to anthracnose and malformation diseases. The production is heavy and consistent, coming during the middle part of the mango season. 'Zebda' is a quality mango destined for greater things, once you accept green as a color.
'Nelpetite' (South Africa)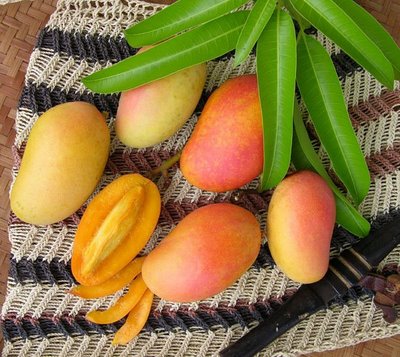 Selected out of years of painstaking government breeding in Nelspruit, the apt named 'Nelpetite' drew attention for its prolific fruiting, eating quality and petite nature. The size of the fruit is indeed rather diminutive, averaging 6.5 oz (183 g) with a slightly elongated oblong shape. The fruit are smooth and covered on the sun-exposed portions with Indian orange, the balance of the fruit an amber yellow. The flesh is firm and with good density, tangerine orange and devoid of fiber with a delicate pine-nut and apricot flavor when allowed to ripen on the tree. The tree itself is quite small by nature, with a drooping growth habit. The tree, bloom and fruit are tolerant of anthracnose and production is heavy and consistent in the middle part of the mango season. Perfect for small home landscapes and estate farming, 'Nelpetite' offers superior horticulture and considerable reward in flavor.
'Heidi' (South Africa)
'Heidi' fruit are 14.5 oz (410 g) or even larger when there are a precious few on the tree. The fruit are ovate roundish and a near complete oxblood red, with an irregular, angular skin. The flesh is tangerine orange and without fiber with a subtle, floral bouquet Flavor is rich, with a touch of tropical spice and melon. The tree is fast growing early on, but ultimately controllable, forming a rounded, dense canopy with good production in the later mango season. The tree, bloom and fruit are tolerant of disease, resulting in trees of uncommon beauty. For the moment, this mango has lost its appeal due to the problems with production and handling after harvest, yet, with its quality inside and out it bears watching and growing in your home garden.
'San Felipe' (Cuba)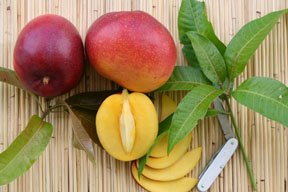 San Felipe' is an eye-stopping beauty from western Cuba. She has many characteristics of the 'Haden' of Florida, although she is larger at nearly 1 ½ lb., with a bright yellow background color, an apple-red blush overlaid by a blanket of white dots. The tree is vigorous, yet productive and a consistent producer. The flesh color is a deep yellow to orange and the flavor is rich, sweet and spicy, one of the truly classic mango flavors of the world. 'San Felipe' is perfect for the home gardener in search of the taste of old Cuba, and for bragging rights among his neighbors.
'Carrie' (Florida)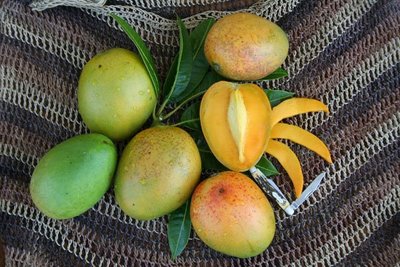 'Carrie' mango was named for the grandmother of Mr. Gary Zill, friend to all true mango lovers world-wide. There could 'Carrie' is always there to comfort you, to quench your thirst on a hot summer afternoon. She demands respect and a constant care, but the results are well worth it. The fruit are oblong, with an uneven, pebbly feel to the touch. The size is a uniform and pleasing 16 oz (454 g), and the color from chartreuse green to a mimosa yellow. The flesh is nasturtium orange and extremely soft, without any trace of fiber; the flavor is bold and provocative with hints of spice and coconut and a rich sweetness. The tree is profusely branching and small in size, with two blooms and crops common. For thousands and thousands of home owners throughout the world, the 'Carrie' mango has become a necessity.
'Keitt' (Florida)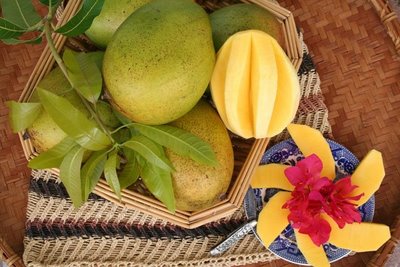 'Keitt' are oval and quite large, weighing from 24 to 40 oz. Classified as a "green" for the commercial trade, it nonetheless can be a light yellow with a pink to rouge red blush on the sun-exposed shoulder of the fruit. The flesh is fiberless and is tangerine yellow, firm and quite juicy. The flavor is mild and sweet flavor with pleasant aromatic overtones. It is among the latest season mango and is highly tolerant of most diseases. The tree is easily manipulated by management and pruning and its size is influenced greatly by environment. 'Keitt' is a perfect choice for the late season in the home garden. In the moist, hot tropics it grows to a medium or large tree, whereas in many desert climates it is a sprawling tree or near shrub that may be grown on trellis wires. The fruit are commercially sold as mature-green fruit for Asian and Latin markets and there is an increase in the use of 'Keitt' for fresh cut due to the ability to cut with a bare minimum of maturity and maintain the "mango" flavor.
'Valencia Pride' (Florida)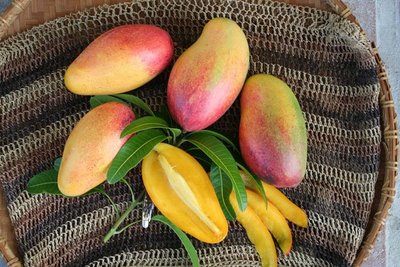 'Valencia Pride' is another of the high-quality seedlings from South Florida, selected in the late 1940s. It is long and slender with a slight sigmoid shape. The fruit are large, weighing from 20 to 30 oz, and are a bright yellow with a crimson to red blush over the sun-exposed portions of the fruit. The flesh is firm, but melting, with a deep yellow color. The flavor is sweet, but overall mild and pleasant to most who sample it. 'Valencia Pride' can occasionally be found is specialty marketing channels, although outside of South Florida it w
ould be most uncommon. It is best used at the ripe stage, and is always a favorite in the late summer following the glut of mid-season cultivars. 'Valencia Pride' has always possessed considerable commercial potential, but has yet to be produced on a large commercial scale to date.
'Beverly' (Florida)'Beverly' is a late season, quality mango selected by the Zill family of Boynton Beach, well adapted to south Florida in terms of disease resistance of the tree, bloom and fruit. The fruit are from 1 to 1 ½ lbs in weight and have a yellow background color with a pink blush on the sun exposed shoulders. The tree is small and compact in growth habit and production is consistent if the tree is not overly fertilized or watered. The eating quality is excellent, and the flavor can vary greatly from year to year.
'Manilita' (Mexico)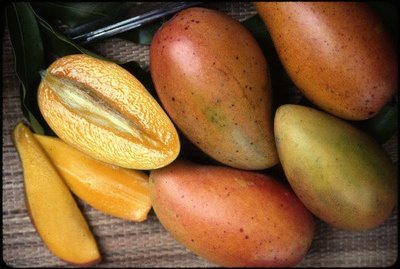 'Manilita' is from southern Mexico. The fruit are small and elongated, weighing about 9 oz. The color is an eye-catching pastel red, covering all but the nose of the fruit. The flesh is light yellow and silky-smooth, with a pleasing sweet and uncomplicated flavor. It is perfect for eating out-of-hand, for slicing and dehydrating. The fruit ripen early in the mango season and is among the earliest red mango available in Florida. The tree is dwarf and disease resistant and is perfectly suited for container or patio production. Tree size can be maintained at 7 ft. or less in height and 5 ft. in spread.
'Neelum' (India)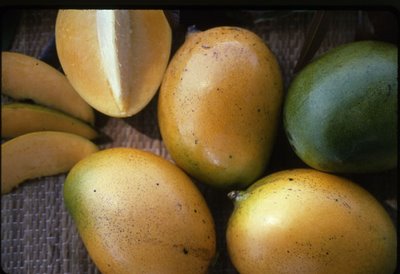 'Neelum' is a popular South Indian dessert mango. The fruit weigh 9 to 12 oz., with the general shape of a fat cashew nut. They are smooth-skinned and bright yellow upon ripening and have no blush. The flesh is deep yellow or orange. There is no fiber and it has a rich, aromatic flavor perhaps a bit strong for the unaccustomed palate. 'Neelum' is best eaten out-of-hand or used as slices or cubes in mixed fruit salads, as the firm flesh holds its shape. 'Neelum' is a dwarf tree perfect for the home gardener, with a late fruiting season and excellent storage characteristics. Fruit should be harvested when mature green and ripened at room temperature off the tree.
'Nam Doc Mai' (Thailand)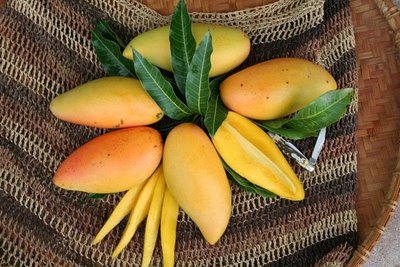 'Nam Doc Mai' is among the best dessert mangos of Thailand, with an exceptional appearance and eating quality. The fruit are long, slender and sigmoid, weighing from 12 to 16 oz. The ripe fruit range from a greenish- to canary-yellow, rarely with a reddish blush on the sun-exposed shoulder. The flesh is soft and juicy, with a sweet and aromatic flavor. 'Nam Doc Mai' has no fiber. In Thailand and throughout much of Asia, it encompasses what is most desired in terms of versatility and quality. It is used while mature green for dipping in sauces and for making sweet preserves and pickles. When ripe, they have a smooth, silky texture and extreme sweetness and bouquet. It has found a home in the Caribbean, where it grows and fruits well.
'Rosigold' (Florida)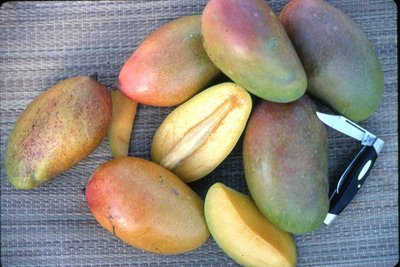 'Rosigold' is a South Florida selection with a hint of the Asian tropics. It is the answer to those who cannot wait for the mango season to arrive-the fruit often ripen from middle to late March. The cylindrical fruit weigh about 11 oz. and are bright yellow with crimson highlights on the sun-exposed shoulders. The thick, tender skin adheres to the soft, juicy deep-orange flesh. The silky, fiberless flesh is rich, aromatic and sweet. The tree is small, manageable and highly productive. It can be kept at 8 ft. in height and spread. Blooming often occurs in successive waves throughout the winter, resulting in a multiple harvests. In most years, the fruit should be thinned to improve size and quality.
'Cogshall' (Florida)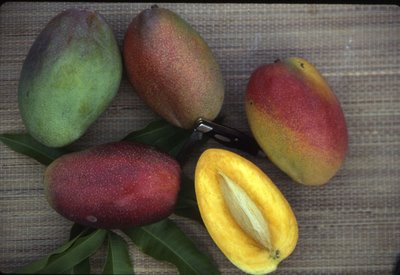 'Cogshall' selected on Pine Island, Florida, in the 1940s, is recognized for its small tree size, heavy production, eating quality and beauty. The fruit, averaging about a pound, have eye-catching yellowish-orange skin, overlaid with a brilliant crimson blush. The soft, completely fiber-free flesh is aromatic, with a rich, spicy flavor that is sure to please. Both fruit and tree have good disease tolerance. The fruit ripen like jewels, a few each day, over an extended season from mid-June through July. The 'Cogshall' tree remains compact; with minimal pruning. It can be maintained at a height and spread of six feet or less while producing 30 to 50 lb. of fruit.
'Fairchild' (Panama)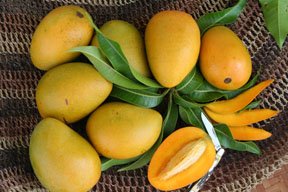 'Fairchild' was selected by Dr. David Fairchild and his family in the early 1900s, in the Panama Canal Zone. The small, oblong fruit average 10 oz. and have lemon yellow skin at maturity in June and July. The juicy, fiber free flesh is deep orange and aromatic, with a rich, spicy flavor. 'Fairchild' always ranks among the top cultivars in public evaluations at Fairchild's annual International Mango Festival. The tree and fruit are highly tolerant of disease and fruit well under humid conditions, making it a natural for South Florida. The tree is among the most ornamental of mangos, with its compact shape and deep green color. It can be maintained at a height and spread of 8 ft. or less, perfect for those with a modest-sized home garden.
'Graham' (Trinidad and Tobago)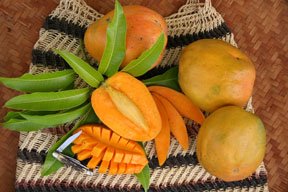 'Graham' a descendent of 'Julie', was selected in Trinidad and Tobago. The oval fruit averag
e 13 to 16 oz. They ripen from mid-July to August, when the skin becomes bright yellow with a slight pink blush. The thick, tough skin conceals a fiber-free, deep orange, soft, juicy flesh. It is aromatic and has a sweet, rich flavor. During late summer, a finer-flavored mango cannot be found. 'Graham' grows well in the moist, humid conditions of South Florida. The tree is naturally compact, and with annual pruning can be maintained at a height and spread of 8 ft., perfect for the space-limited homeowner.
'Julie' (Jamaica)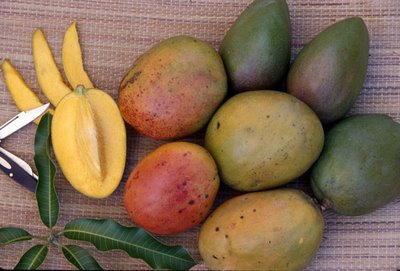 'Julie' is synonymous with the Caribbean. Selected in Jamaica, the fruit have a flattened oval shape and are small, generally weighing from 6 to 10 oz. The fruit are greenish to mustard yellow, with a pink blush when exposed to the sun. The deep orange, fiber-free flesh is soft and extremely juicy, with a rich and spicy flavor. The fruit are not stunning specimens, but they certainly have an extraordinary flavor. The fruiting season is from May to July, but unpredictable, with multiple crops throughout the summer. The tree is dwarf and should be grown in combination with other varieties to assure production.
'Mallika' (India)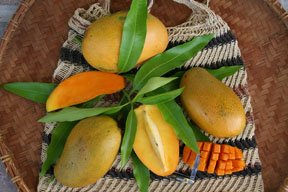 'Mallika' is among the best of the new generation of Indian dessert mangos. The tree is semi-dwarf, making it attractive to mango growers, who are always looking for new niche markets around the world. The bright yellow fruit are a flattened oblong shape, with a rounded base and weigh from10 to 18 oz. When properly ripened, the completely fiber-free flesh is a deep orange, with an intensely sweet, rich flavor and hints of citrus. Fruit should be harvested mature-green and stored at a temperature of not less than 70°F for two to three weeks for proper ripening. In this manner, their ultimate eating quality will be achieved. The fruit can be refrigerated after complete ripening. 'Mallika' excels in juices and as dehydrated slices, with a distinctive honey flavor.

Mango Tree Sales (while supplies last)
Dr. Richard J. Campbell, Senior Curator of Tropical Fruit, has carefully selected mango cultivars well-suited to contemporary conditions. These cultivars represent a new generation of mangos with superior horticultural traits. They remain small in stature, yet produce top quality fruit. Trees are approximately 3 ft. in height, growing in a 2 gallon plastic pot. For your convenience, a tree holding area is available on Saturday, July 12. (Sorry, we cannot pre-sell, hold or ship trees.).