Crispy Squash Blossoms with Pulled Pork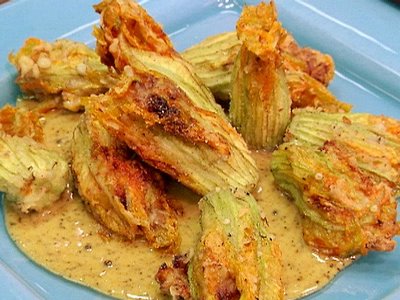 I found the recipe for what I am going to make next with my squash blossoms.
How good does this look? I found the recipe on the foodnetwork site. I love Bobby Flay and his recipes. I have a pulled pork recipe that I use alot so I'll probably just substitute that for the pork.
http://www.foodnetwork.com/recipes/bobby-flay/crispy-squash-blossoms-filled-with-pulled-pork-and-ricotta-recipe/index.html
Ingredients1 1/2 cups ricotta cheese
Braised Pork, recipe follows
Salt and pepper
20 squash blossoms
Canola oil or peanut oil, for frying
Rice Batter, recipe follows
Black Pepper Vinaigrette, recipe follows
Directions
Place the ricotta in a strainer lined with cheesecloth over a bowl and let drain in the refrigerator for at least 2 hours. Discard liquid.
Combine the strained ricotta and shredded pork in a bowl and season with salt and pepper.
Fill each squash blossom with the pork-cheese mixture and twist the top of the blossom to secure the filling while frying.
Fill a large, heavy saucepan halfway with oil and heat on the stove until the temperature reaches 360 degrees F.
Dredge each filled squash blossom in the rice batter to coat completely. Fry the squash blossoms in batches until lightly golden brown, turning once. Drain on a plate lined with paper towels and sprinkle with salt.
Drizzle some of the black pepper vinaigrette in the center of a serving plate and place 2 squash blossoms on top for each serving. Serve hot.
Braised Pork:
1 (2-pound) pork butt, cut into 2-inch cubes
2 cups your favorite BBQ sauce
2 cups rice vinegar
1 large red onion, coarsely chopped
Salt and freshly ground pepper
Preheat oven to 300 degrees F. Place pork cubes in a medium roasting pan. Stir together the BBQ sauce, vinegar, and onion and then pour mixture over the pork and season with salt and pepper. Cover the pan with foil and cook in the oven for 3 1/2 to 4 hours or until the meat is fork tender. Let cool in the braising liquid, then drain the liquid from the meat and shred the meat into bite-sized pieces.
Rice Batter:
2 cups cold water
2 cups rice flour
Salt
Whisk together water and flour until smooth and season with salt. Let sit 10 minutes before using.
Black Pepper Vinaigrette:1/2 cup rice vinegar
1 heaping tablespoon Dijon mustard
1/4 teaspoon salt
1/2 teaspoon whole black peppercorns
2 teaspoons honey
3/4 cup extra-virgin olive oil
Combine vinegar, mustard, salt, pepper, and honey in a blender. With the machine running, slowly add the oil until emulsified.