Strawberries & Sweet Cream Sauce | Inspired by Ruth's Chris Steakhouse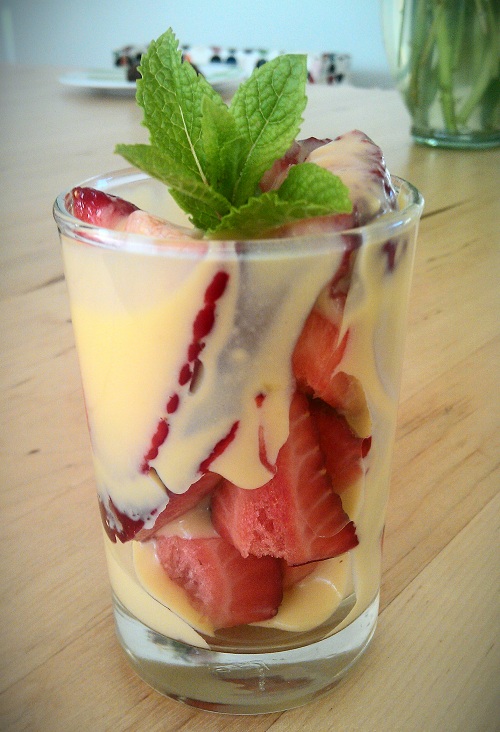 Spring is HERE and our garden is rocking away. The strawberries are ripening and we expect some blueberries and raspberries soon.
Aren't these strawberries AMAZING!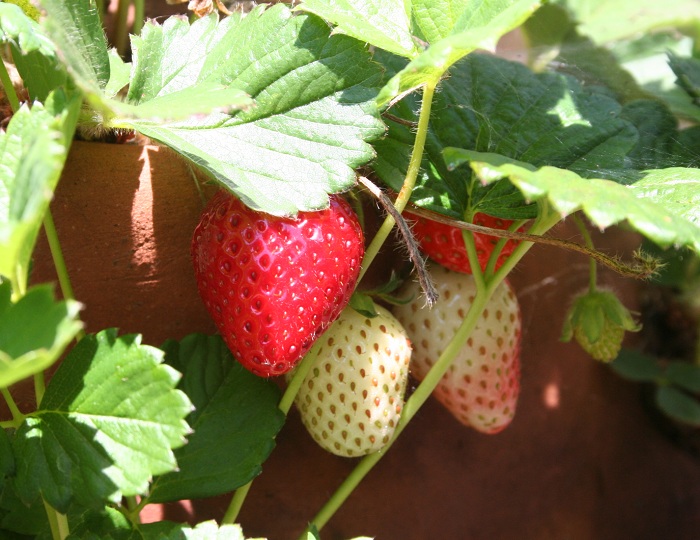 Normally we do not have enough berries to make a dessert but we added some more strawberries and our raspberry and blueberry bushes have doubled in size so we have a ton of berries this year.
The hens are laying as well. I have about 2 dozen eggs in the fridge and this is after giving a bunch away every week.
Life is good!
I have been thinking of desserts to make with my bounty and saw an article in our local newspaper about berries and saboyan sauce. It looked amazing and made me reminisce about all the times we used to go to Ruth's Chris Steakhouse on Van Ness.  I lived a couple of blocks away when  I was a struggling 20-something and it was always such a splurge to go to Ruth's Chris.  Even though the filet mignon and BBQ shrimp would bust my food budget for the week, I would always leave room for this dessert.
This is one of the simplest desserts to make and does not sound that exciting but once you taste the luxuriously silky sauce you will be smitten.
Here is my attempt at it.
Enjoy!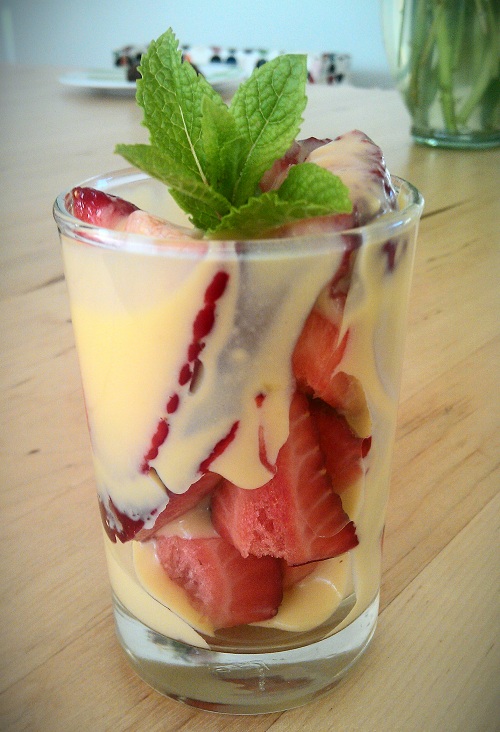 Fresh Berries & Sweet Cream Sauce (Ruth's Chris Steakhouse)
Makes About 10 servings
Ingredients:
2 Cups Heavy Cream
3/4 cup of sugar ( this would be a good time to use the vanilla sugar)
8 Large Egg Yolks
2 tsp vanilla extract (not vanilla bean seeds as it is essential for the silky texture)
2 baskets of Fresh berries washed.  Hull and cut strawberries into bite size pieces (usually I quarter small to medium berries).
Directions:
Heat cream and 1/4 cup of sugar in a small saucepan on medium-low. Heat the cream and sugar through being sure to watch it carely so it does not boil over.
In a medium glass bowl, whisk egg yolks with 1/2 cup of sugar until sugar is well blended and dissolved.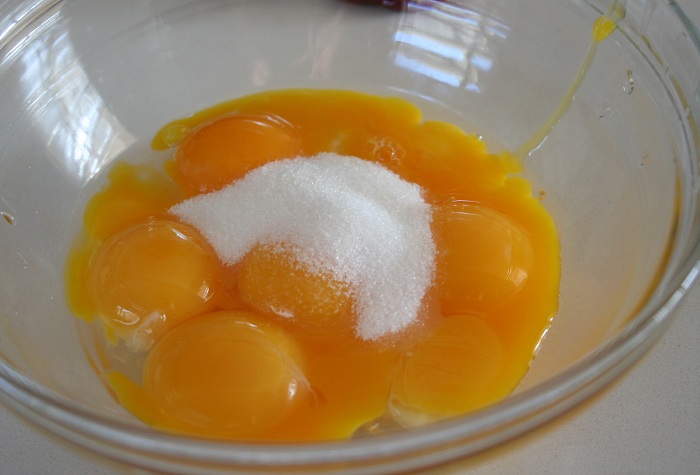 This is what the mixture will look like after it has been whisked.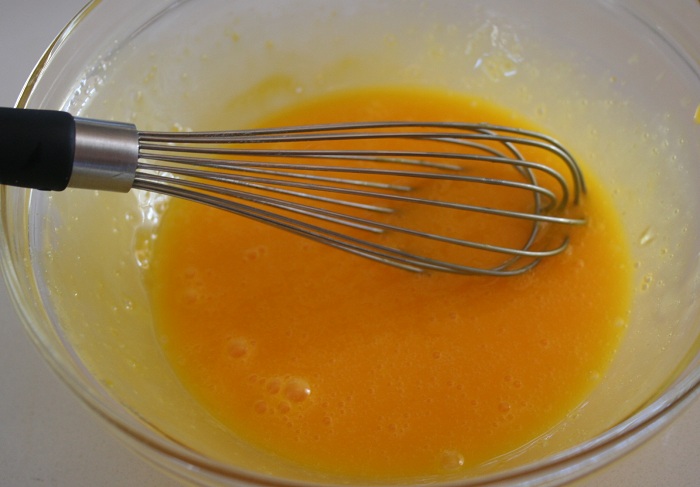 In a medium saucepan, fill half of pot with water and bring to a boil.
While water is coming to a boil, slowly incorporate cream mixture to egg mixture. Add about 1/4 cup of cream at a time to the egg mixture and whisk thoroughly. Add another 1/4 cup of the cream mixture to the egg mixture and whisk again. Then add the remainder of the cream mixture to the egg mixture and whisk again.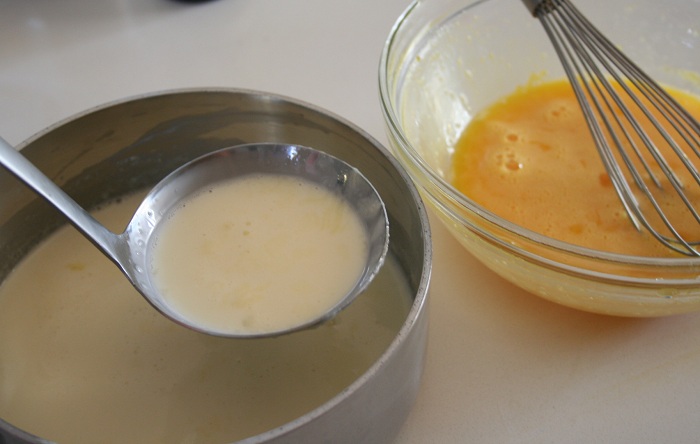 Put the glass boil over the boiling water to create a double boiler.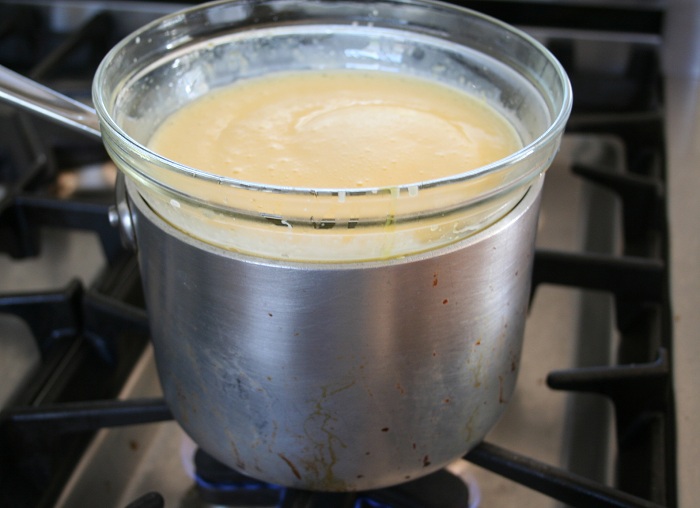 This is what the sauce will look like before it starts to thicken: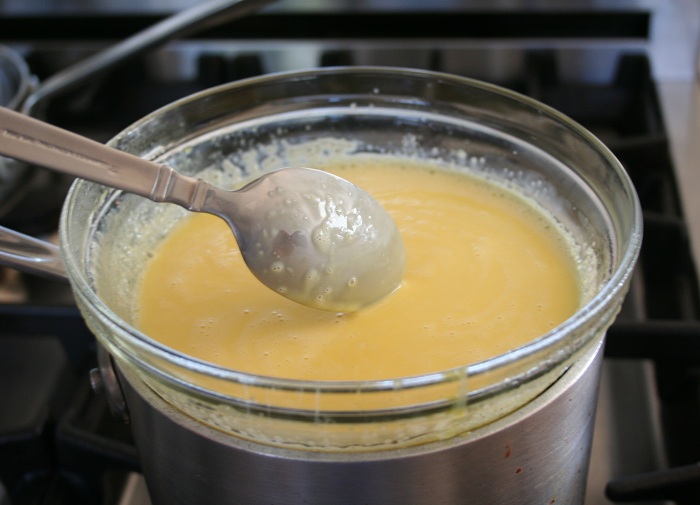 Slowly cook the sauce for 10-12 minutes, stirring constantly. The sauce will thicken and coat the back of a spoon.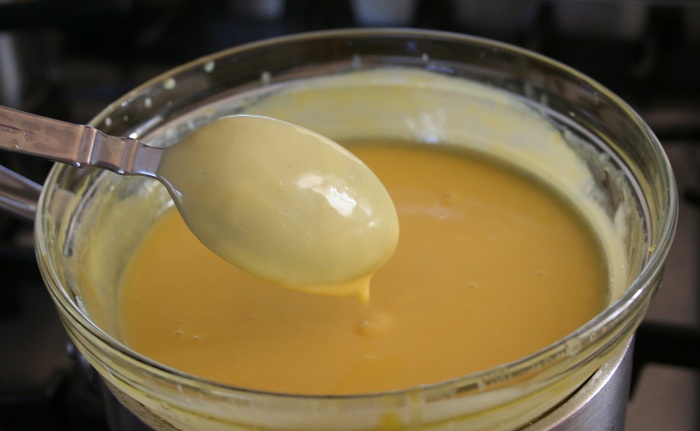 Once thickened to the consistensy that you like (I like it to be similar to hollandaise sauce), you can pass it through a fine mesh sieve into the container you will use to store the sauce.   I usually don't do this step.  The sauce is pretty fancy without straining …unless the President were to come to dinner or something….I might strain the sauce for him.
Put in an ice bath to cool rapidly.  The sauce will thicken some more when cooled.  If you are going to refrigerate overnight, put saran directly on the top of the sauce to avoid a "skin" developing.  If you are going to serve quickly, you do not need to saran wrap it.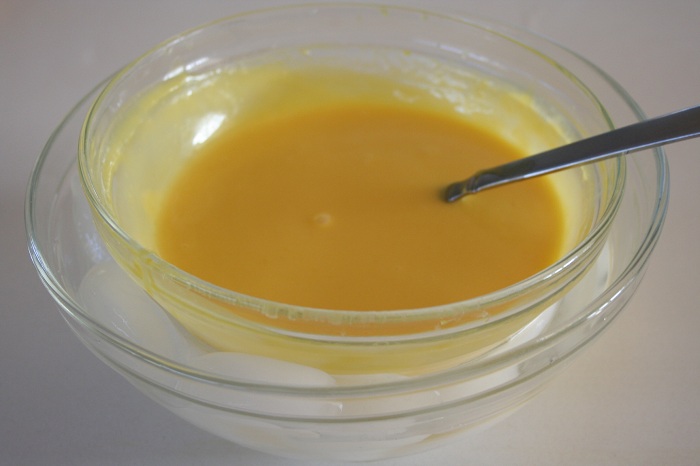 Once cooled, store in the refrigerator until ready to serve.
Put some berries at the bottom of a bowl or wine glass, martini glass or larger shot glasses. I also like to use these wide mouth mason jars. They are a little sturdier and less likely to break. Then generously drizzle the cream sauce over the berries.
Garnish with a sprig of mint.