Swiss Chard, Leek & Bacon Quiche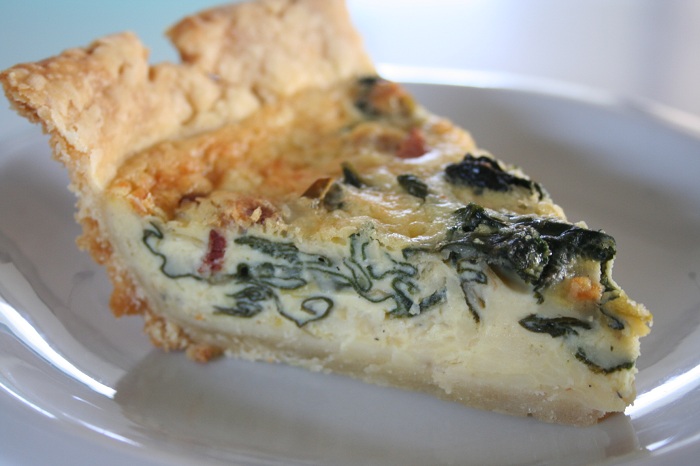 One of my favorite things to make and eat is quiche.  I love great quiche.  It is great for brunch, lunch, dinner…practically anytime.  One of the great things about quiche is if you know how to make a basic one, it is so easy to change the flavors and ingredients so you can use what you have on hand or in season.
In the summer I like to make vegetable quiches with squash and peppers but right now leaks and chard are in season.  This is probably one of my favorite combinations.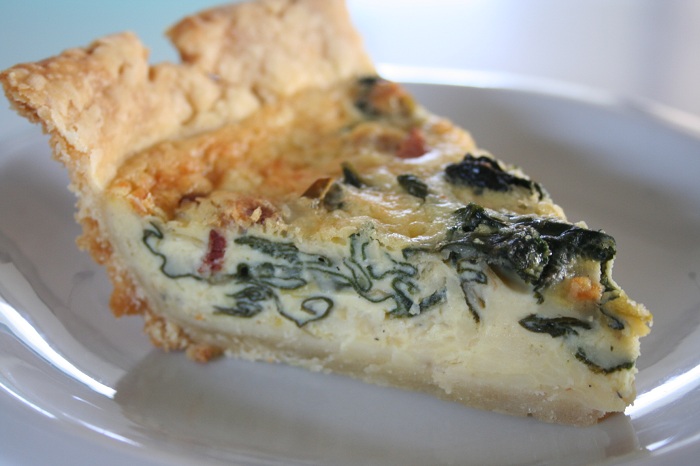 Swiss Chard, Leek & Bacon Quiche
Makes 2 pies (about 12 servings)
Ingredients:
Custard Mixture:
8 eggs
2 cups half and half (or cream or milk or a mixture of what you have)
1/8 tstp nutmeg
2 tsp salt
1/2 tsp pepper
Filling:
2 leeks cleaned and sliced thinly (white parts only)
1 bunch of swiss chard cleaned and cut into ribbons
1 lbs bacon sliced
1 large clove of garlic minced
3 cups of grated cheese (I like to use grueyere or emmentaler)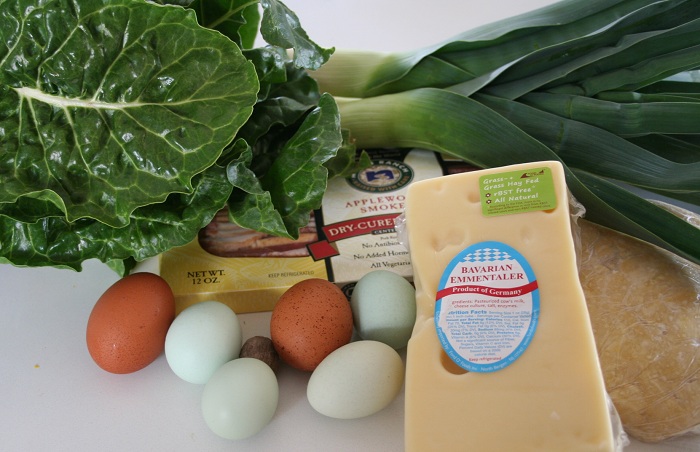 Directions:
1. Bake pie crust at 375 for about 7 minutes. The pie crust will look cooked and set but
not browned at all. Take out pie crusts and cool but leave oven on.
(I am not as patient with pie crust as I should be…that is why all my pies look "rustic"…)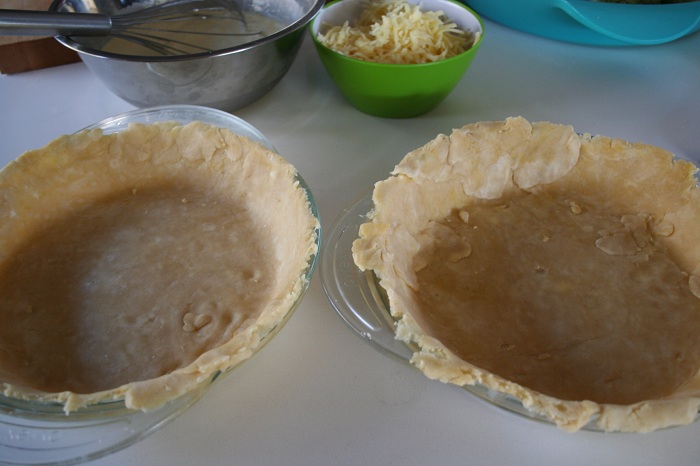 2. Sauteed the bacon until it is crispy. Then remove bacon and pour out oil leaving 2 TB.
You will use this pan to cook the swiss chard, leaks and garlic.
3. In the pan, sautee swiss chard, leeks and garlic until translucent and slightly carmelized. Add 1 tsp salt.
4. Whisk eggs, half and half, nutmeg, 1 tsp salt and pepper together.
5. Assemble the quiches. I like to sprinkle a large handful of cheese in each pie crust.
Then sprinkle the bacon. The I evenly distribute the vegetable mixture and the remainder of
the cheese. I then pour half of the egg custard mixture into each pie.
6. Bake in a pre-heated 375 degree oven for 40-45 minutes until the center of the quiche
looks set but still a little jiggly and top is slightly browned.