Pok Pok Chicken Wings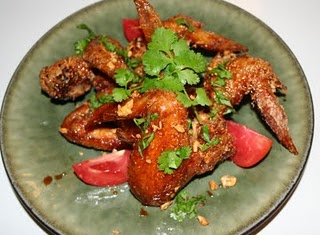 One of my favorite shows to watch is Guy Fieri's Diner, Drive-ins, and Dives.  I can watch hours of this show and I make mental notes of featured restaurants in my area.  I just love good diner or dive restaurants.
I also love chicken wings: fried, grilled, baked…you pretty much can't go wrong with a good chicken wing recipe.  When I saw the episode on DDD featuring Pok Pok and their vietnamese chicken wings I knew I had to find the recipe and try it.
The recipe I did find was not the same as what they were using on the show (yes, I DVR'd the episode and watched it multiple times) so I sort of tweaked the recipe to combine the techniques and ingredients they used on the show.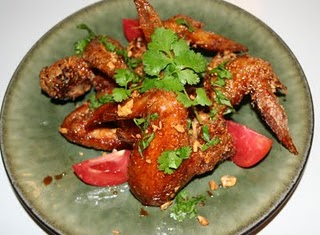 Ike's Vietnamese Fish Sauce Wings (serves 6)
Ingredients
1/2 cup Asian fish sauce + 1/4 cup for sauce
1/2 cup palm sugar (or reg. sugar) + 1/4 cup for sauce
2 TB honey
4 garlic cloves, 2 crushed and 2 minced
1 TB salt
2 TB lime
3 pounds chicken wings, split at the drumettes
2 TB vegetable oil, plus more for frying
1 cup cornstarch (or combo rice flour and tempura mix)
1 TB chopped cilantro
1 TB chopped mint
Directions
In a small bowl, mix garlic (2 cloves) and salt (crushing garlic), add about 1 cup hot water and drain in cheese cloth (garlic will burn in deep fryer).In a bowl, whisk the fish sauce, sugar and garlic juice. Add the wings and toss to coat. Refrigerate for 3 hours, tossing the wings occasionally.
Heat the 2 tablespoons of oil in a small skillet. Add the minced garlic; cook over moderate heat until golden, 3 minutes.
In a large pot, heat 2 inches of oil to 350°. Pat the wings dry on paper towels; reserve the marinade. Coat the wings in cornstarch.  Fry the wings in batches until golden and cooked through, about 10 minutes.
In a wok, simmer the 1/4 cup fish sauce, 1/4 cup sugar, 2 TB honey (with garlic chili paste if want hot) & 2 TB Lime juice over moderately high heat until syrupy, 5 minutes. Add the wings and toss (you can add a little bit of water if sauce too thick). Top with the cilantro, mint and fried garlic and serve.