Southern Caramel Cake (Semi-Homemade)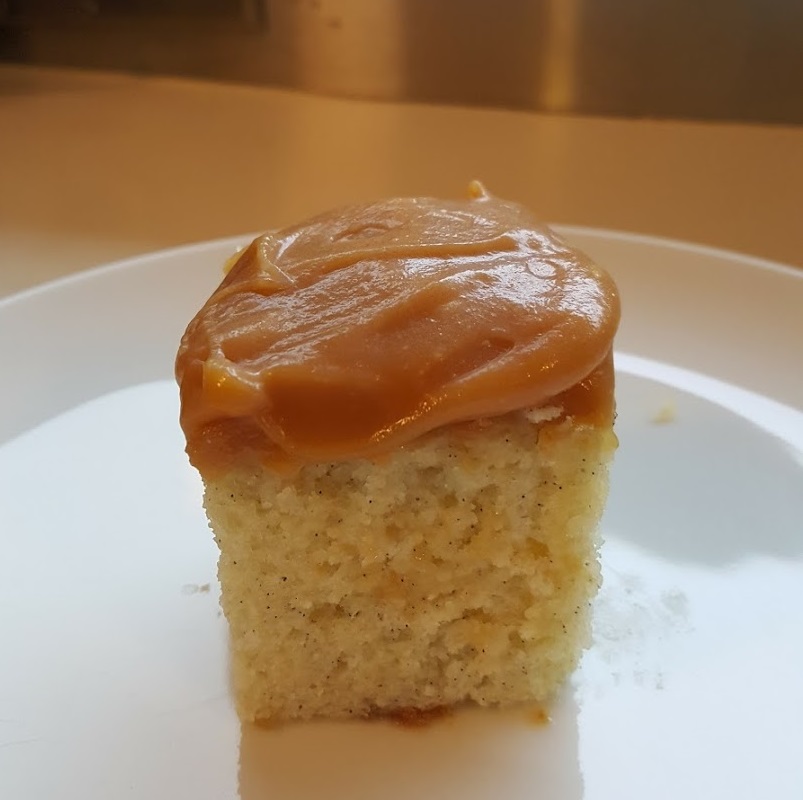 This cake is my go-to potluck cake and I have had so many requests for the recipe. I have made it from scratch but in a pinch I use the Trader Joe's Vanilla Cake Mix. I forgot where I got the original recipe but have modified it over the years.
I normally just bake it in a pyrex glass pan since it is easier to serve for potlucks.
Sorry for the horrible picture. The cake is pretty irresistible so it is hard to get a good picture 😉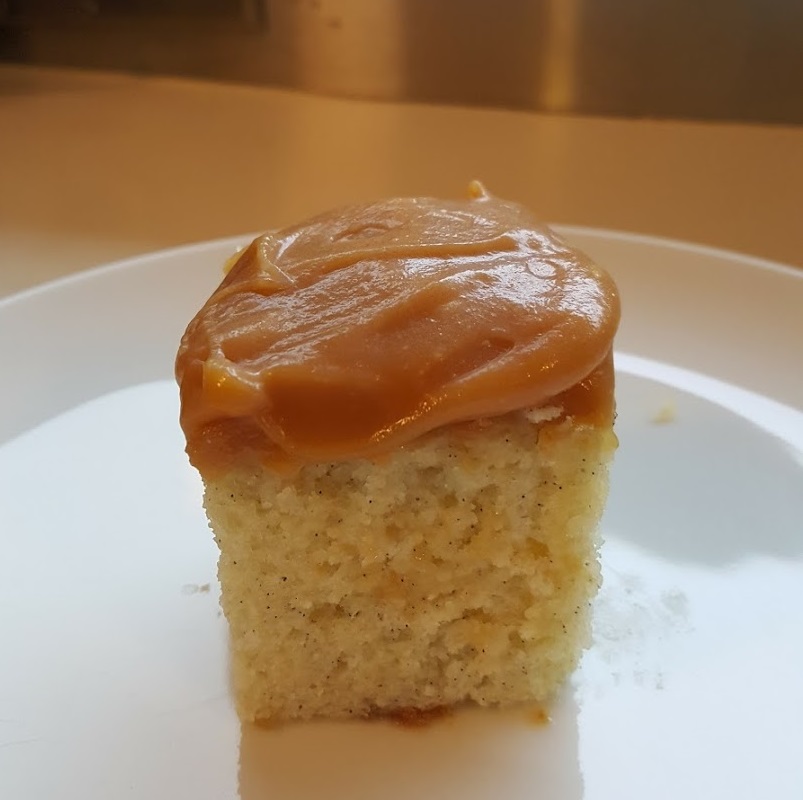 Southern Caramel Cake
Cake (Or you can use Trader Joe's Vanilla Cake Mix)
1 cup (2 sticks) unsalted butter, room temperature
1/3 cup vegetable oil
2 1/2 cups granulated sugar
3 cups sifted cake flour
6 large eggs plus 2 egg yolks, room temperature
1 teaspoon baking powder
1/2 teaspoon salt
1 cup sour cream, room temperature
2 tablespoons pure vanilla extract
For Caramel Icing (enough large glass pan)
1 1/2 sticks butter (3/4 cup)
2 (12 ounce) cans evaporated milk
4 cups granulated sugar
2 TB vanilla extract
1/2 tsp sea salt
Directions:
For the Cake
Preheat oven to 350 degrees.
In a large mixing bowl, cream butter, oil and sugar on high until fully incorporated and light and fluffy, about 5-6 minutes. Turn mixer to medium speed and mix in eggs and egg yolks one at a time until well incorporated. Add in vanilla extract and mix. Sift cake flour, baking powder and salt into a medium sized bowl. With mixer on slow speed, alternate adding in flour mixture and sour cream ending with flour mixture until mixed through. Do not over mix.
Pour into 3 8-inch round cake pans (or glass pyrex pan) that have been greased and floured.
Bake 23-27 mins.
Cool cakes completely.
Icing Directions:
For the Caramel Icing
Add butter, evaporated milk, and sugar to saucepan over medium heat until everything has melted together. Leave over medium to low heat stirring periodically for 1 1/2 – 2 hours (watch the entire time to make sure it does not burn) until thickened and caramel has darkened to a beautiful golden brown. (Tip: Use a large pot so that mixture is at about the 1/3 mark. The caramel will bubble up as it cooks so make sure there is enough room in the pot)
Make sure that the caramel turns the color of the photo below before stopping the heat. It should also coat the back of a spoon to ensure thickness. Be careful to watch, adjusting heat temperature to not let it burn.
Remove from heat and add in vanilla extract. Cool for about 15-20 minutes before icing the cake.