Sea Salt Chocolate Chip Cookies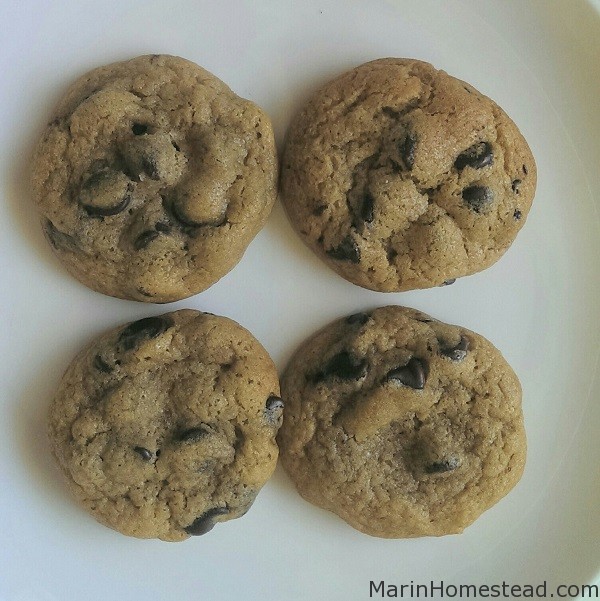 I love ooey gooey chocolate chip cookies and some of my favorite are from Specialties Bakery in San Francisco.
I have been trying to re-create the recipe and wanted a cookie with a little crisp on the outside but ooey, gooey on the inside.
I added some sea salt to add some dimension to the flavor.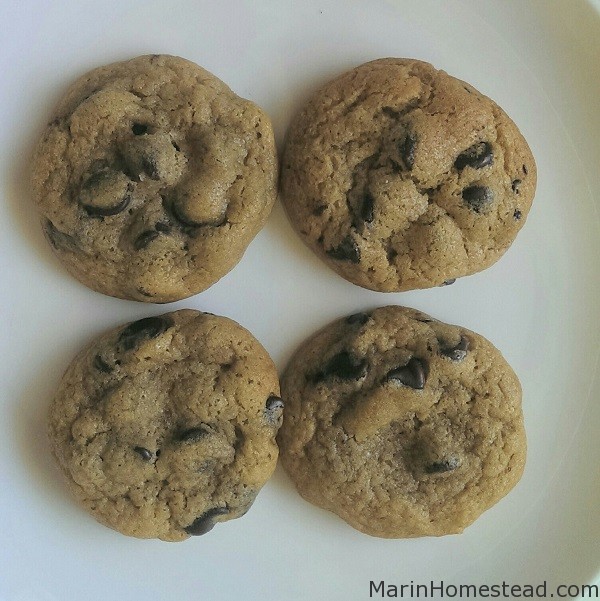 Sea Salt Chocolate Chip Cookies
(This is a double batch and makes 6-7 dozen cookies)
Ingredients:
5 1/4 cups flour
2 tsp. baking soda
2 tsp. baking powder
2 tsp. fine sea salt (for batter)
3 1/4 sticks unsalted butter, softened (this is 1 3/4 cups butter)
2 1/2 cups packed brown sugar
1 1/2 cups granulated sugar
4 large eggs
4 tsp. vanilla Extract
2 lbs pounds semi-sweet chocolate chips
Coarse salt for tops (optional)
Directions:
1. Cream sugars and butter.
2. Add eggs one at a time, then add vanilla extract. Beat until well mixed.
3. Mix together dry ingredients in a separate bowl (flour, salt, baking soda, baking powder).
4. Add 1/2 dry ingredients to mixer and combine. Add second half of dry ingredients until well combined.
5. Take bowl off mixer and add chocolate chips and stir by hand.
6a. At this point, you can either leave the dough in the mixing bowl, wrap with saran wrap and put in refrigerator for 24 hours – OR –
6b. Use a small ice cream scoop and scoop dough onto a silpat to freeze, then put the dough balls into bags to use later – OR –
6c. Spread the dough into a 9 x 13 glass pan. Wrap pan with saran wrap and let sit in the refrigeration 24 hours. Take dough out and cut it into cubes and freeze. Remove frozen cubes and put in freezer bags.
Baking: Preheat oven to 365 degrees.
Place dough on silpat pan and sprinkle with sea salt.
If dough is frozen, put on baking pan for 15 minutes before preheating oven and baking.
Bake 10-11 minutes (do not overbake!). Allow to cool before serving.