Guilty Pleasures: Funnel Cakes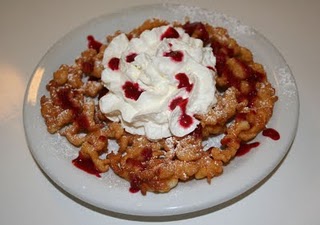 I am not a big fan of the Marin County Fair.  I think it is kind of dusty, dirty and way too hot but every year I drag myself to the fair (even when I was 8 months pregnant!) because the lure of corn dogs and funnel cakes is too strong.  I admit.  I am weak when it comes to fair food.
This year I did not make it to the fair because I ended up giving birth to my second son 2 days after the fair ended.  I was REALLY upset about not getting my funnel cake fix so I went on a mission to make my own…
After trying multiple versions and tweaking the ingredients, here is my version.  I think it is even BETTER than the ones at the fair.
Funnel Cake Recipe (makes about 8 funnel cakes…I can eat about 3 in one sitting…you do the math whether or not you will need to double the recipe.)
Ingredients:
1 egg
2/3 cup milk
2 tbsp. sugar
1 1/4 cup flour
1/4 tsp. salt
1 tsp. baking powder
1. In a deep skillet, heat about two cups of oil over medium-high heat until hot (about 350 degrees).  I use a smaller skillet so I can use less oil. Test the temperature by dropping a pinch of flour into the hot oil. If it sizzles right away without smoking, it's perfect.
2. Beat egg and milk.Add all other ingredients, beating until smooth.  I can do this in a 2 cup measuring cup.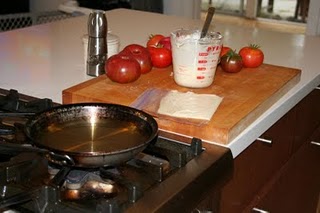 3. Using a funnel, drop into hot oil working from center outwards in a web pattern. (You can use a gallon sized freezer bag instead of a funnel by pouring the batter into the bag, snipping off a small corner of it, and squeezing the batter into the oil.)
4. Cook for about 2-3 minutes, flip, brown the other side.  remove from the oil when golden brown and crispy.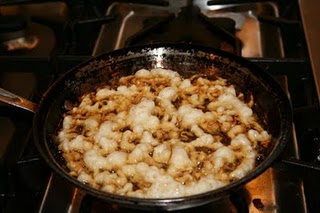 5. Sprinkle with powdered sugar and serve.  I like to add whipped cream and raspberry sauce (recipe below)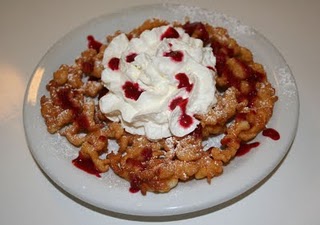 Raspberry Sauce
Ingredients
2 pints raspberries
1/4 cup sugar
1 tablespoon lemon juice
Directions
Combine raspberries and sugar in a saucepan. Cook until raspberries are broken down, about 10 minutes. Remove from the heat and strain through a chinois to eliminate seeds.