Cranberry White Chocolate Oatmeal Cookies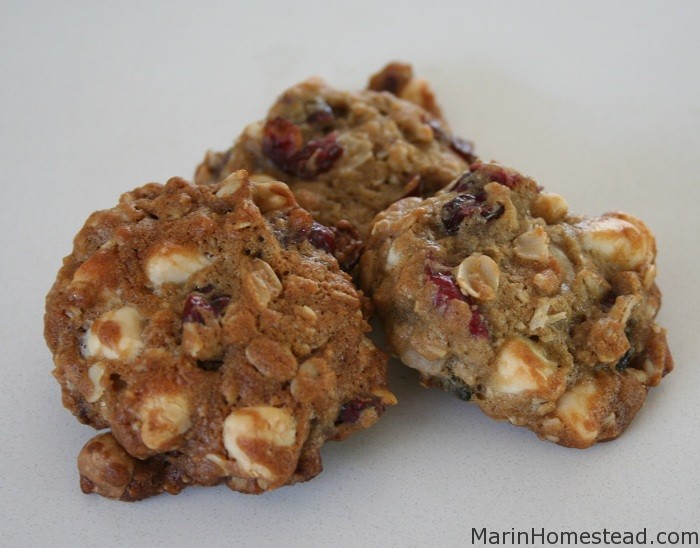 My boys LOVE cookies.  My husband especially loves cookies that are a little more toothsome and chewy and not too sweet.
I make double batches of this cookie and bake some and roll the remainder of the dough in wax paper and saran wrap them keep it in the freezer.  I can then slice and bake the cookies whenever we have friends over for play dates.
Friends call these "Tammy's Famous Oatmeal Cookies", everyone loves them (even my mom who does not like cookies) and they are the favorite cookie of many people.
Enjoy!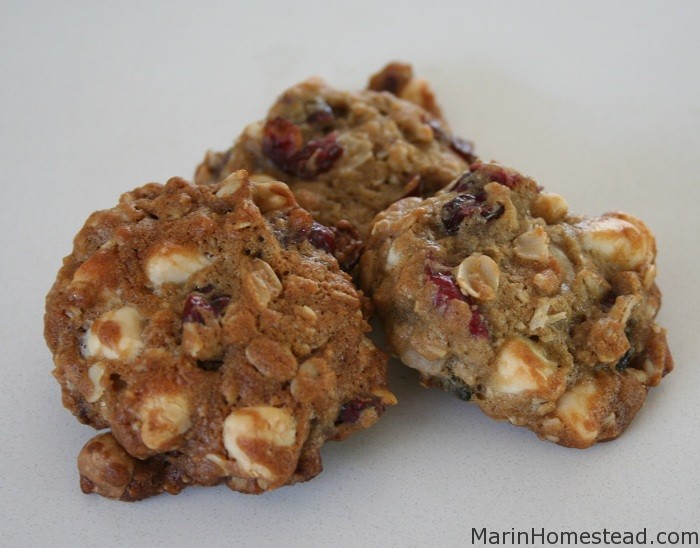 Cranberry White Chocolate Oatmeal Cookies (Makes about 4 dozen)
Ingredients
1 1/2 cups (about 6 1/4 ounces) all purpose flour
1 teaspoon baking soda
1/2 teaspoon salt
1 teasponn cinnamon
1 cup (2 sticks) unsalted butter, melted
1/2 cup (3 1/2 ounces) sugar
3/4 cup (about 6 ounces) light brown sugar
1 tsp vanilla
1 egg
2 1/2 cups old fashioned oats
1 1/2 cup dried cranberries (soaked in hot water for about 5 mins then drained)
1 1/2 cup chopped white chocolate chips
3/4 cups chopped macadamia nuts (optional)
Directions:
Combine, flour, baking soda, salt and cinnamon in small bowl.
Beat melted butter, granulated sugar, brown sugar, and vanilla extract in large bowl until mixture resembles a caramel sauce.  Then add egg and mix in.
Gradually beat in flour mixture. Stir in oats, cranberries, nuts and white chocolate chips.
Preheat oven to 375.
Drop by rounded tablespoon onto ungreased baking sheets (I use silpat sheets).
Bake for 9-11 minutes (depending on size of cookie) until cookies are browned. Cool on baking sheets for 1 – 2 minutes; remove to wire racks to cool completely.