Meyer Lemon Chicken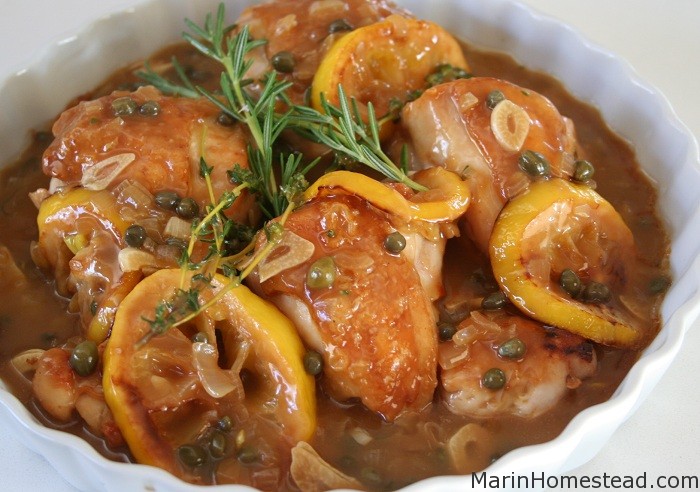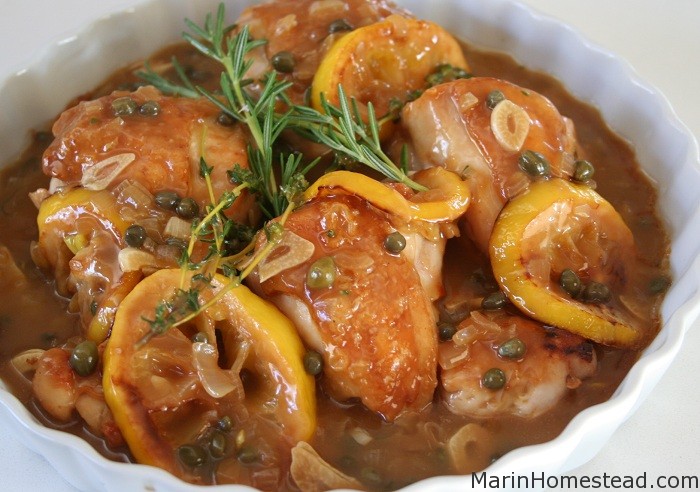 Many of us in California are lucky enough to have a Meyer lemon tree or at least know someone who has one and is willing to share.  Usually around January or February my lemons start to ripen and we are rich in lemons.
This is a quick and easy dish to make when make with our excess lemons.  Even the kids love it.  Serve with cous cous, quinoa or pasta.
Meyer Lemon Chicken
5-6 chicken breasts or 6-7 thighs skin on
3-4 TB salt
2 meyer lemons (1 sliced 1/4 inch slices the other juice only)
1 can chicken broth
3 large cloves of garlic sliced
1 small onion finely dices
2-3 springs of thyme
3 TB capers drained
1 TB corn starch
1. Liberally salt the chicken on all sides and put in the refrigerator for a few hours.
2. In a medium pan, brown the chicken skin side down first for 10 minutes on each side.
3. put in a 4oo degree oven to continue cooking for approx. 15 minutes until cooked through. This time will vary depending on size of chicken, bone in or not, etc.
4. After chicken has cooked, put aside on a serving plate and discard some of the excess grease but not the browned bits in the pan.
5. Fry up lemon slices on medium-high heat. Remove lemon slices and put aside to add later.
6. Saute garlic and onion until translucent about 5 minutes then add the capers and fry for an additional 3 minutes.
7. Add chicken broth, sprigs of thyme and juice of 1 lemon and cook for 10 minutes to reduce.
8. Mix cornstarch with 1/4 cup of water until uniform mixture then add to the chicken broth and lemon juice. This will cook for 1-2 minutes and thicken.
9. Arrange lemon slices on over chicken on serving plate, pour sauce over chicken and serve.