Liege Waffles with Pearl Sugar Recipe & Pictorial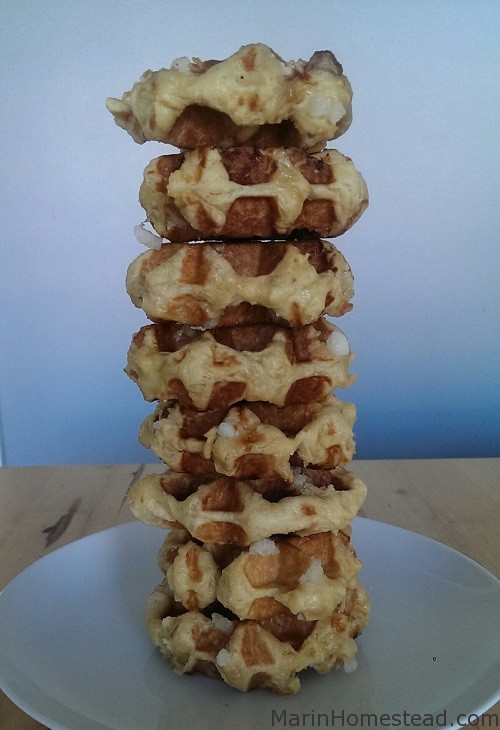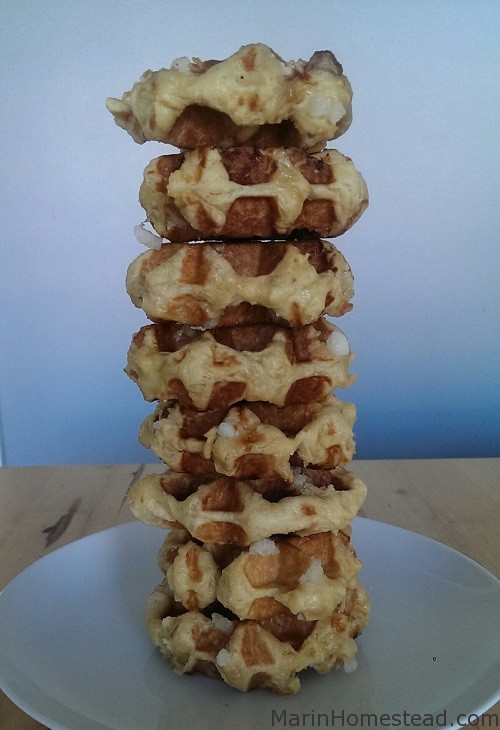 We have started skiing and snowboarding as a family and one of our favorite treats apres ski are the delicious waffles you get at the little food kiosks at the mountain.  They are these buttery, yeasty treats with caramel flavors.
I became obsessed with how to make them.  After researching recipes I tried this one of the Liege Waffle site.  It is a great recipe but it had some steps that I thought could be omitted (I am a lazy chef).  I modified the recipe a bit to make it a little simpler.
This recipe has a lot of steps but the results are worth the work!  The waffles are even delicious the next day.
Tip #1: Start making the dough the day before you plan to serve the waffles.
Tip #2: You can buy pearl sugar on Amazon.
Tip #3: Clean the waffle maker between batches with chopsticks and paper towels to get the excess burnt sugar out of the grooves.
Tip #4: When done making waffles unplug and move the waffle maker close to the sink. Carefully pour boiling hot water on the waffle maker and let it melt any excess sugar and then pour it down the sink being careful not to get any of the electrical parts wet.
INGREDIENTS (makes 12 small Gaufres de Liège)
• 1 1/2 tsp. active dry yeast
• 1/4 cup scalded whole milk at 110-115 degrees
• 2 TB + 2 tsp of warm water
• 2 1/3 cups all purpose flour
• 1 extra-large room temperature egg, lightly beaten
• 1 TB + 1 tsp light brown sugar
• 3/4 tsp. salt
• 9 Tbsp. soft room temperature unsalted butter
• 1 Tb. honey
• 2 tsp vanilla
• 3/4 cup Belgian Pearl Sugar (You can get this on amazon. I used Lars.)
DIRECTIONS
1. Place yeast, milk, and water into the workbowl of a stand mixer. Stir for a few seconds to moisten the yeast. Use paddle attachment NOT dough hook.
2. Add the egg and 2/3 of a cup of the flour. Mix to blend. Scrape down sides of bowl.
3. Sprinkle remaining 1 and 2/3 cups of flour over the mixture, but do not stir it in. Cover and let stand 75-90 minutes (at the end of that time, you'll notice the batter bubbling up through the cover of flour).
4. Add the brown sugar and salt to the workbowl with the other ingredients. Mix on low speed (speed #2) – just to blend.
5. With machine on low, add honey and vanilla. Then add 2 Tbsp. of butter at a time. Mix 4 minutes at medium-low speed; scrape down sides once or twice in that period. Let the dough rest for 1 minute and then continue to mix for 2 minutes. If you measured your ingredients perfectly, the dough will be sticking to the sides of the bowl in the last minute of mixing and then, in the last 30 seconds of so, will start to ball-up on the paddle. If this does not happen, let the dough rest for 1 more minute and mix for another 2 minutes.
6. Scrape the dough into a large bowl, sprinkle lightly with flour, cover with plastic wrap and let rise at room temperature for 4 hours. This step is crucial for developing the flavor.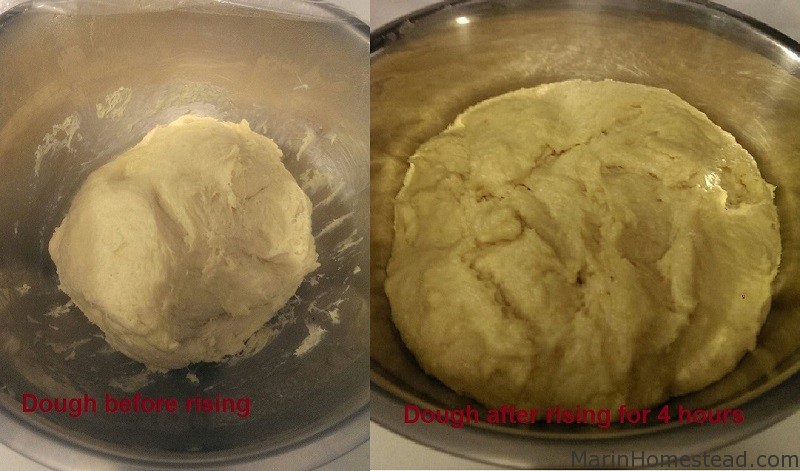 8. Stir the dough down (meaning: gently deflate the gases from the dough, by pressing on it with a rubber spatula), put a heavy plate over dough in bowl to try to keep dought from rising too much.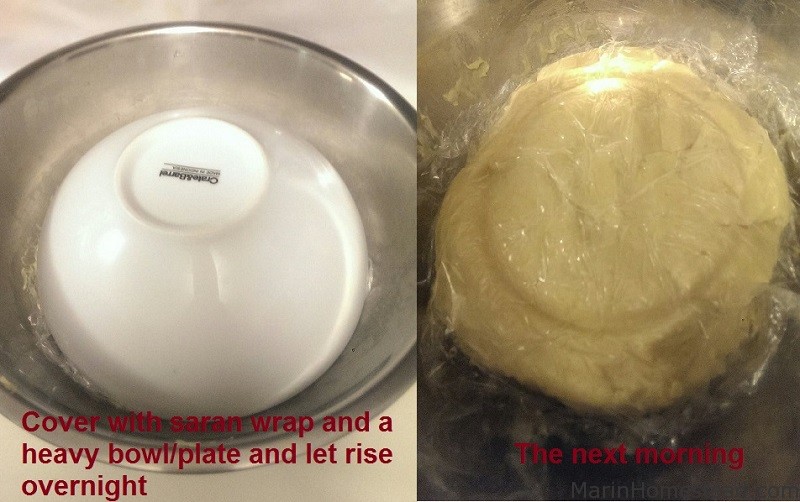 9. The next day, place the cold dough (it will be quite firm) in a large bowl and let soften for 15 minutes, then add all of the pearl sugar to a bowl. It will seem like a lot of sugar, but it's supposed to be 🙂 Mix it into the dough by hand until the chunks are well-distrubuted. Let it rise (covered loosely in plastic wrap) for 50-60 minutes.
11. Turn waffle maker on to 6 setting (mine goes up to 7) so the waffle maker is hot. Spray with pam. Put one big scoop in each quadrant of waffle maker. Cook for 30 seconds then turn down to 2 (low) for remaining 2 minutes.