Garlic Roasted Crab and Truffle Noodles (Inspired by Thanh Long & Crustaceans)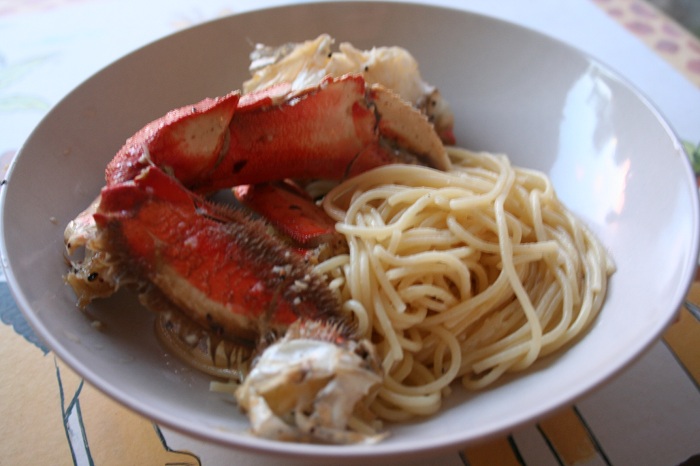 My friend Kat came to San Francisco to visit.  Unfortunately I was not able to see her (sick babies) but I did get to live vicariously through her.  She had a great time and was able to partake in one of San Francisco's treasures…DUNGENESS CRAB!
Kat and her husband went to Thanh Long for dinner.  Thanh Long and its more famous sister restaurant, Crustaceans, are famous for one thing…their Garlic Roasted Dungeness Crab.  They also have a big following for their Garlic Noodles, but their crab is definitely their star.  The recipe is top secret.  So 'top secret' that they have a private kitchen within their kitchen where all the magic happens.  I have been told a secret about what they do to their crab but I have not verified if it correct and do not want to throw the person who shared under the bus if it is so I am not going to print it…call me if you want to know my little rumor….
I made the noodles a little less intense on flavoring because the crab is so savory.  We like to take the excess garlic butter from the crab and spoon it over the noodles or sop it up with french bread…so yummy!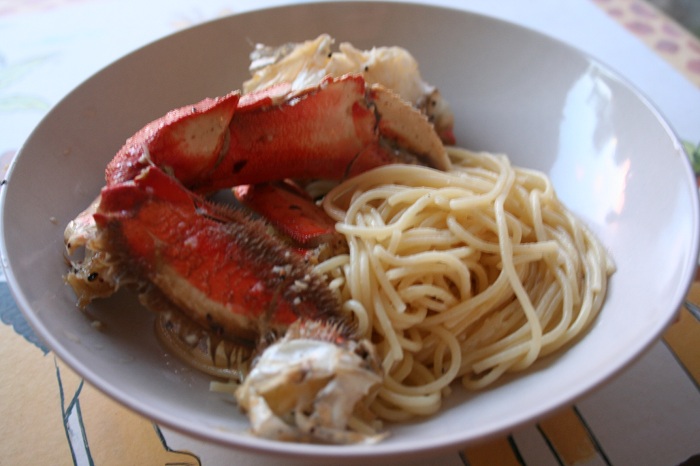 Garlic Roasted Crab (Inspired by Thanh Luong & Crustaceans)
Serves 6-8 (we are piggies)
4-5 Large Dungeness Crabs (Cleaned, cooked, and cracked. Cut middle body into 4 sections each)
1 lbs of butter
2 heads of garlic finely minced (about 1 cup)
2 TB fish sauce
2 TB Palm or Brown Sugar
1 TB red pepper flakes
2 TB fresh cracked black pepper (coarse)
Juice of 1/2 lemon lemon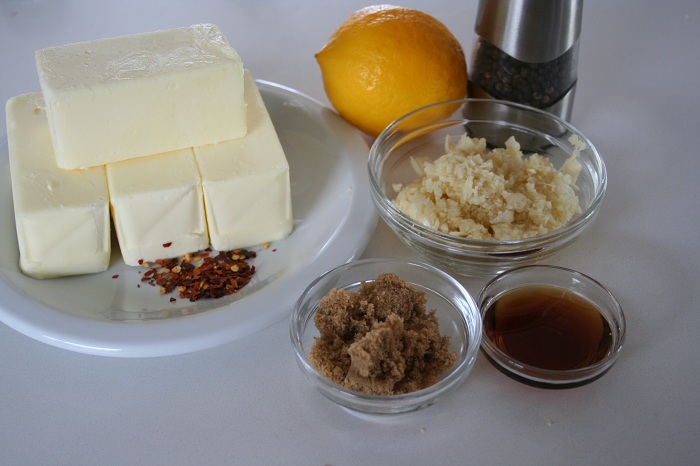 Directions:
If you are cooking to serve immediately, preheat oven to 375 degrees.
Melt the butter in a small saucepan, when almost fully melted, add the garlic, brown sugar, fish sauce, & cracked pepper. Let cook on low for about 7-8 minutes. Turn off the heat and add juice of half a lemon.
Put cracked crab in a roasting pan.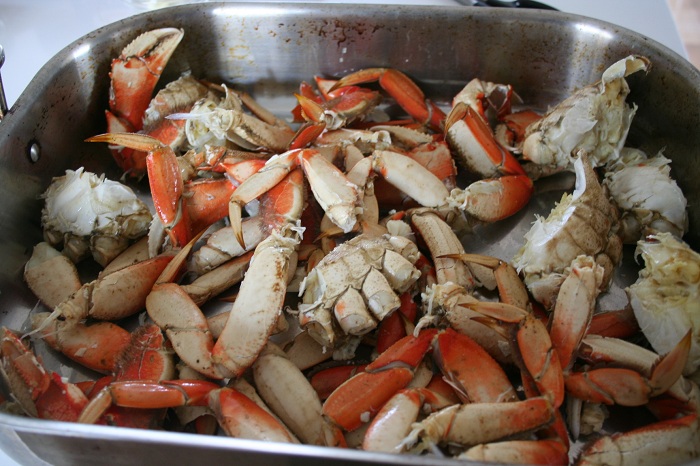 Pour butter mixture over the crab and stir being sure to coat all the pieces of crab with the garlic butter mixture. Be sure to use a spoon and get all the delicious garlic butter that is at the bottom of the pan and spoon over the crab.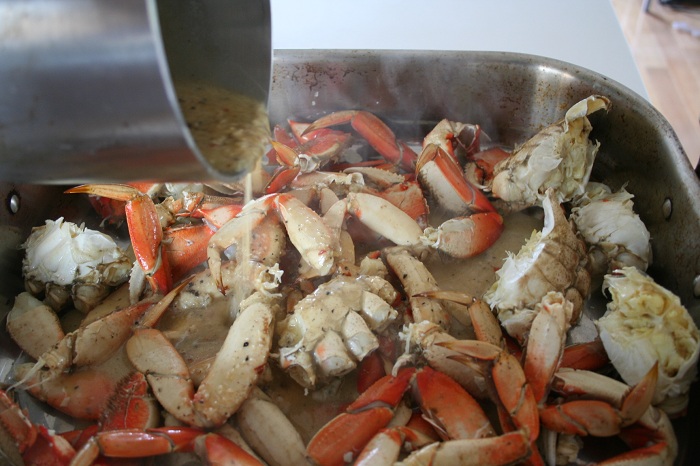 At this point, if you are cooking to serve immediately, put the crab in the preheated oven and cook for about 10 minutes,stirring once during cooking to coat the crab with teh butter, garlic mixture.
If you are going to cook later for dinner, like I often do, wrap up the roasting pan and put in the refrigerator.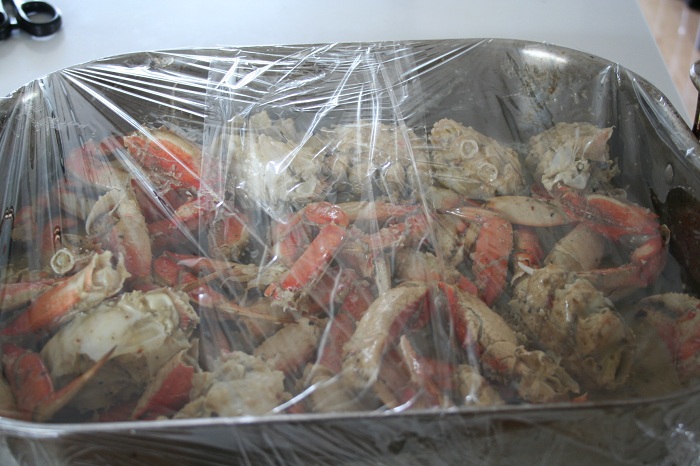 When you are ready to cook, preheat oven to 375. Remove roasting pan of crab from the refrigerator, remove the plastic wrap. Cook for about 10 minutes until crab throroughly heated. Be sure to stir the crab once during roasting.
Serve with lemon wedges, french bread, and/or the noodles below…
Truffle Noodles (serves 8)
1 box of spaghetti
2 TB fresh garlic finely minced
2 TB Olive Oil
4 TB Butter
1 tsp sugar
1/2 cup of grated parmesan cheese
2 TB Truffle oil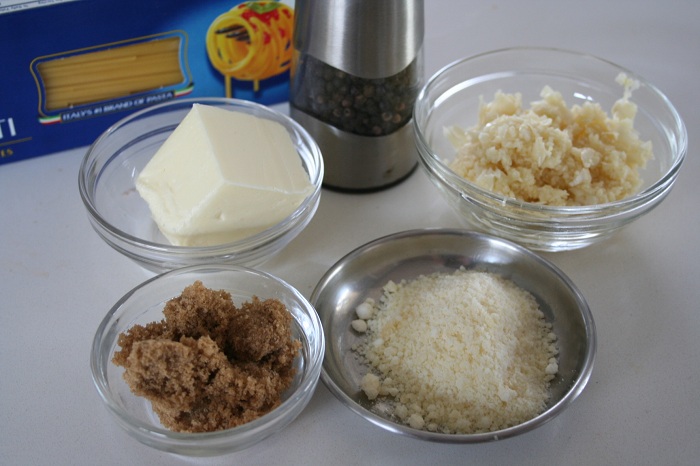 Cook the noodles according to package. When they are cooked, drain them.
While the noodles are draining, in the same pot, melt butter and olive oil together.
Add garlic to the butter/oil and saute until the garlic is softened. Add the sugar, a pinch of salt and stir until sugar is dissolved.
Then toss the noodles in the same pot with the garlic butter sauce.  Add the parmesan cheese and toss and then drizzle with truffle oil.