Barbecue Chicken with easy balsamic BBQ sauce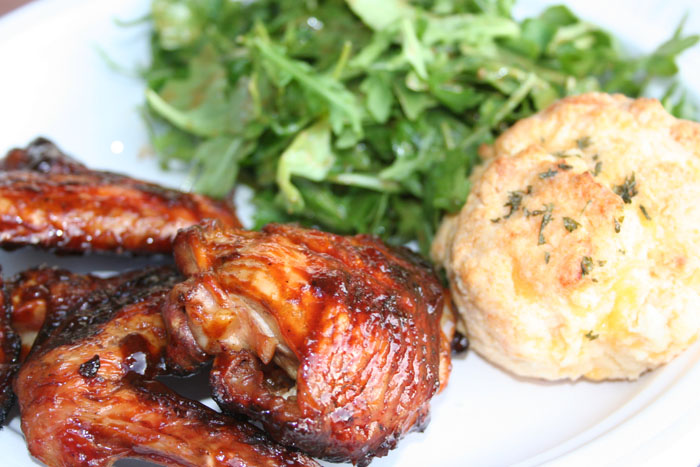 Yay, we just barbecued for the first time on thursday. I just love the weather in California. It was 80 degrees in mid-march!!
Here is a great barbecue chicken recipe. It does take some planning ahead (1 day to brine the chicken) but it is so worth it for the extra effeort to do the brine. The brine not only makes the chicken more flavorful but also more forgiving if you overcook it on the grill.
I also made a really easy balsamic barbecue sauce. I didn't have any onions or garlic in the house so i just used ingredients from the pantry and fridge.
I also made some chedder biscuits (recipe in post below).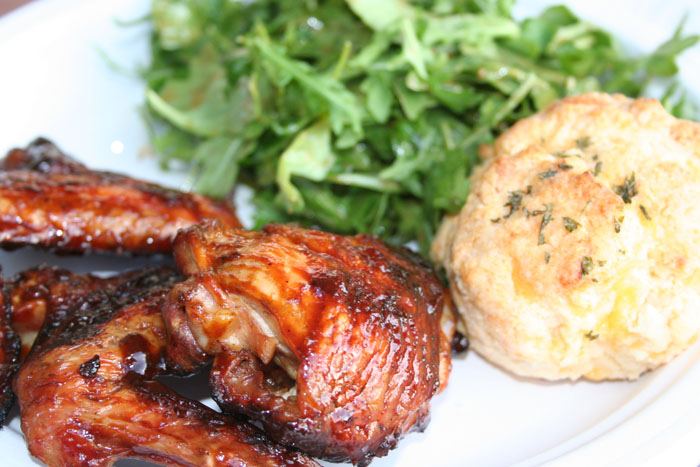 Brine:
1 cup of water
1/2 cup of kosher salt
1/4 cup brown sugar
2 bay leaves
2 TB peppercorns
4 garlic cloves crushed
3 lemons cut in half (will squeeze juice into and leave lemons skins in brine)
1/4 teaspoon red pepper flakes
5 sprigs of fresh thyme
8 chicken thighs
8 chicken wings
Directions:
Boil 1 cup of water with salt and sugar until they are dissolved. Take off heat and add bay leaves, garlic, pepper flakes, thyme and squeeze lemons into the brine and drop in halves. Stir and add about 3 cups of ice to cool liquid. Make sure brine is cooled completely.
Put chicken in a large ziplock bag and add brine. If you need another cup of water to cover the chicken you can add. Put bag of chicken and brine in a bowl and leave in refigerator overnight.
Easy Balsamic Barbecue Sauce
1/2 cup balsamic vinegar
1/4 cup brown sugar
1 1/2 cup ketchup
3 tablespoons of yellow mustard
2 tablespoons of molasses
1/4 teaspoon red pepper flakes
1 tablespoon worsteshire
1 teaspoon garlic powder
1 teaspoon onion powder
put balsamic vinegar in a small saucepan and cook on medium heat until it thickens and reduces (about 4 minutes). Add the rest of the ingredients and bring to boil, then take off the heat. adjust if you prefer the sauce with more heat or sweetness.
Cooking chicken:
Cook thighs over medium heat for about 20 minutes skin side up, then 20 minutes skin side down. brush with balsamic barbecue sauce and cook 1 minute more on each side.
Wings need about 14 minutes total.