Blueberry Update: Misty, Sunshine and Sharpblue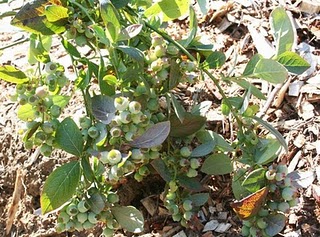 Well this is our second year with blueberry bushes and so far they are doing pretty good. They are loaded with berries this year with very little maintence. We also added a sharpblue blueberry bush to the mix because my mom found one at Costco. It had a few blossoms but no berries this year.
Here is the Misty Blueberry. This is a healthy, lanky looking plant that is loaded with berries. Here is a pic of one of the branches and a close up of some of the berries.
Here is the Sunshine blueberry bush. It is a shorter, bushier plant with a bunch of really small berries on it.