Chipotle BBQ Sauce for Grilled Oysters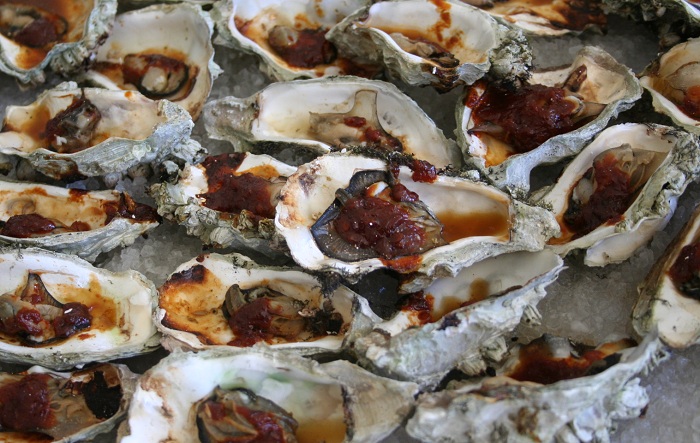 I have been craving oysters lately so Steve hopped in the van and made his way over to Hog Island Oyster Company.  We like to pick up our oysters at the Farm and it is only 45 minutes away and the drive is absolutely GORGEOUS!
We love the Kumomotos for raw eating and medium size for grilling.
Here is my recipe for the Chipotle BBQ Sauce.  We used this for oysters but you can really use it for chicken or ribs as well.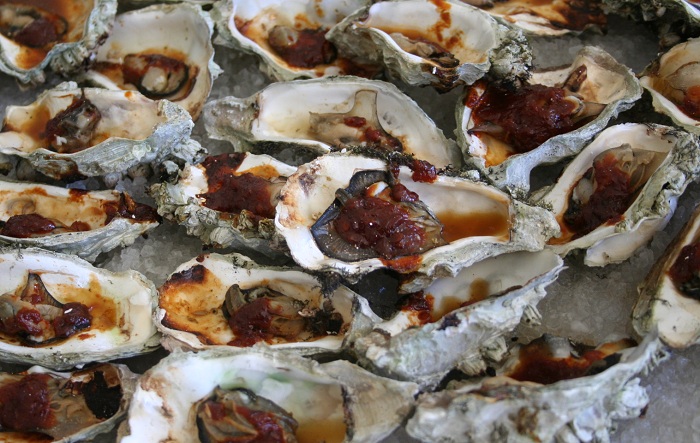 Chipotle BBQ Sauce Recipe
Ingredients:
2 TB olive oil
1/2 large onion chopped
3-4 large cloves of garlic chopped
3 chipotle peppers in sauce
3 TB molasses
3 TB soy sauce
1/3 cup of brown sugar
1/2 cup of ketchup
Directions:
Saute chopped onions and garlic in olive oil until onions are translucent.
Once onions are translucent, add the rest of the ingredients and cooks on low heat for 10-15 minutes.  Then blend.  I use an immersion blender but you can put it in a food processor or blender if you do not have an immersion blender.
I also like to make a garlic butter for the oysters and we sometimes like to put both of the sauces on the oysters…soooo yummy.
Garlic Butter
1/4 cup of olive oil
1/4 cup butter
3 shallots finely chopped
1 head of garlic peeled and finely chooped
1 TB salt
1/2 lemon, juiced
Directions:
cook garlic and shallots in olive oil and garlic butter on low heat for about 10-15 minutes.  Once garlic and shallots are really soft the sauce is done.  You can then squeeze the lemon juice in the garlic-butter mixture.
Some raw oysters with lemons and hot sauce.