Chive Risotto Cakes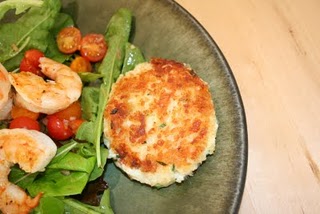 I saw this recipe on The Barefoot Contessa's episode on herbs a few months ago and was amazed at how easy it looked to prepare the risotto cakes.  his recipe was especially interesting to me because I have an abundance of chives in my herb garden.  I planted 1 tiny little chive plant that has taken over half of my herb garden.
Then I went to Spruce in San Francisco for my sister's bachelorette dinner and they had these delightful fried risotto balls that I fell in love with.  My husband's aunt came over for dinner on tuesday and so I decided to make them for her.  The beauty of this recipe is that you do all the prep, mixing the night before and let the mixture firm up in the refrigerator overnight.  The next day you just need to roll the patties in panko flakes and fry them up.
I tweaked this recipe a bit to give it a little more flavor than the original recipe from the Barefoot Contessa.  I served the Risotto cakes alongside a salad with grilled prawns.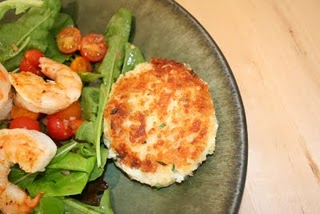 Serves 4 as dinner and 6 as appetizer
Ingredients
Kosher salt
1 cup uncooked Arborio rice
1/2 cup Greek yogurt
2 extra-large eggs
1/4 cup minced fresh chives
1 clove of garlic finely minced
1 1/2 cups grated Italian fontina cheese (5 ounces)
1/2 cup of grated parmesan
1/2 teaspoon freshly ground black pepper
2 dashs of tobasco sauce
3/4 cup panko (Japanese dried bread flakes)
Good olive oil
Directions
Bring a large (4-quart) pot of water to a boil over medium-low heat and add 1/2 tablespoon salt and the Arborio rice. Cook, stirring occasionally, for 20 minutes. The grains of rice will be quite soft. Drain the rice in a sieve and run under cold water until cool. Drain well.
Meanwhile, whisk together the yogurt, eggs, chives,garlic, fontina, parmesan, 1 1/4 teaspoons of salt, tobasco sauce and the pepper in a medium bowl. Add the cooled rice and mix well. Cover with plastic wrap and refrigerate for 2 hours or overnight, until firm.
When ready to cook, preheat the oven to 250 degrees F (this is only necessary if you are making a big batch to serve at once.  I skipped this step when I made them).
Spread the panko in a shallow dish. Heat 3 tablespoons of olive oil in a large skillet over medium-low heat. Form balls of the rice mixture using a standard (2 1/4-inch) ice-cream scoop or a large spoon. Pat the balls into patties 3 inches in diameter and 3/4-inch thick. Place 4 to 6 patties in the panko, turning once to coat. Place the patties in the hot oil and cook, turning once, for about 3 minutes on each side until the risotto cakes are crisp and nicely browned. Place on a sheet pan lined with parchment paper and keep warm in the oven for up to 30 minutes. Continue cooking in batches, adding oil as necessary, until all the cakes are fried. Arrange on a serving platter and serve hot.