Cream Of Tomato Soup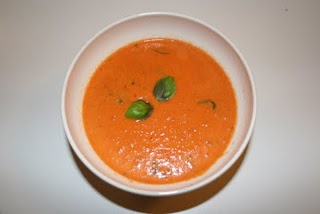 We have a surplus of tomatoes.  We have given so many away, have frozen bags of tomatoes and eat them daily but never get sick of them.  This year I grew a bunch of different varieties and colors.  They were not only visually stunning but delicious.  I read a few tomato soup recipes but tweaked them to come up with a recipe that worked with the ingredients that I had on hand.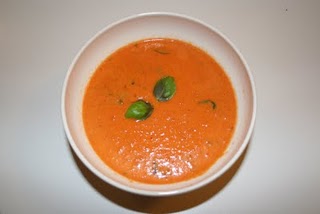 Ingredients
3 tablespoons good olive oil
1/4 tsp red chili flakes
1 1/2 cups chopped onions (2 onions)
1 tablespoon minced garlic (3 cloves)
4 pounds vine-ripened tomatoes, skins removed and coarsely chopped (5 large)
1 1/2 teaspoons sugar
1 tablespoon tomato paste
1/4 cup packed chopped fresh basil leaves, plus julienned basil leaves, for garnish
3 cups chicken stock, preferably homemade
1 tablespoon kosher salt
2 teaspoons freshly ground black pepper
3/4 cup heavy cream
Directions
Heat the olive oil in a large, heavy-bottomed pot over medium-low heat. Add the onions, garlic and red chili flakes and saute for about 10 minutes, until very tender. Add the garlic and cook for 1 minute. Add the tomatoes, sugar, tomato paste, basil, chicken stock, salt, and pepper and stir well. Bring the soup to a boil, lower the heat, and simmer, uncovered, for 30 to 40 minutes, until the tomatoes are very tender.
Add the cream to the soup and use a handheld immersion blender to puree the soup (you can also put in the blender). Reheat the soup over low heat just until hot and serve with julienned basil leaves and/or croutons.