Jan Birnbaum's Cowboy Steak with Tomato Relish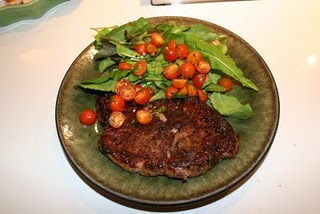 I LOVE a good steak and one of my favorite cuts is a nice, marbled rib eye.  You can't beat the flavor!
When we were living in SOMA, we saw Jan Birnbaum's newest restaurant being built called Epic Steakhouse.  We never got a chance to eat there before we moved even though it was only a few blocks away and we walked past the restaurant dozens of times.
This is a really fantastic recipe.  Not only does it use simple ingredients that you can find out of the garden but the rub is so easy and there is no need to marinate the steak.  From start to finish, I made the meal in less than 20 minutes.
I did my own spin on the dish and instead of using the relish over the steak, I spooned it over some arugala that I lightly dressed with balsamic vinegar and olive oil.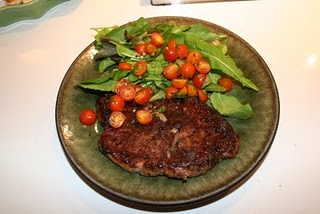 Ingredients
For the spice mix:
2 tablespoons coarse sea salt
1 teaspoon coarsely ground coriander seed
1 teaspoon coarsely ground coffee beans
1 teaspoon coarsely ground black peppercorns
For the steak:
1 bone-in rib-eye steak (approximately 36 ounces), frenched
2 tablespoons olive oil, divided
For the tomato relish:
2 pints assorted baby tomatoes (pear tomatoes, cherry tomatoes)
1 jalapeno, seeded and finely diced
2 medium shallots, finely diced
2 tablespoons balsamic vinegar
1/2 cup extra-virgin olive oil
1 tablespoon chopped fresh parsley leaves
1 tablespoon chopped fresh cilantro leaves
Salt and freshly ground black pepper
Directions
For the spice mix:
Mix the ingredients for the spice mix together.
For the steak:
Remove the steak from refrigeration 1 hour before cooking to allow steak to come to room temperature. Rub the steak with 1 tablespoon olive oil, then rub the spice mix on to the steak. Set aside.
For the tomato relish:
Remove stems from tomatoes and cut the larger ones in half. In a bowl, combine the tomatoes, jalapeno, shallots, balsamic vinegar, olive oil, parsley, cilantro and salt and pepper.
Preheat oven to 450 degrees F.
In a large cast iron skillet or saute pan, heat 1 tablespoon olive oil. When smoking hot sear the steak on all sides and place in the preheated oven. Allow the steak to roast until its internal temperature is 100 to 105 degrees F on a meat thermometer. Remove it from the oven and place steak on a cooling rack. Allow the steak to rest on the rack for 10 minutes.
Remove the steak to a cutting board and slice 4 to 5 slices out of the eye of the steak, leaving some meat on the bone. Spoon the tomato relish over the top of the steak where the bone meets the slices.