Guilty Pleasures: Tammy's Red Velvet Cupcakes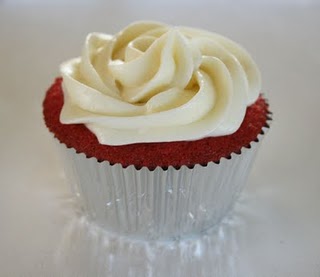 Tammy's Red Velvet Cupcakes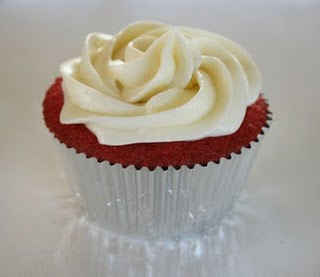 I have become well-known for my red velvet cupcakes.  When I am invited to potlucks or BBQ's I am usually asked to bring these cupcakes and have to make them for practically every party I have at my house or people get disappointed.
I LOVE red velvet cupcakes and it took a few test runs to get this recipe perfect (at least to me).
Enjoy!!
Tammy's Red Velvet Cake
(makes 2 9 inch pans, 24 regular cupcakes or 6 dozen mini cupcakes)
Cake Batter:
1 3/4 cups sugar
1/2 pound (2 sticks or about 1 cup) butter, at room temperature
2 large eggs
2 TB red food coloring
2 1/2 cups cake flour
2 TB cocoa powder
1 teaspoon salt
1 cup buttermilk
1.5 teaspoon vanilla extract
1 teaspoon baking soda
1 teaspoon vinegar
Cream Cheese Frosting:
2 (8-ounce) package cream cheese
1/2 cup butter, softened
2 teaspoon vanilla
1 (1-pound) box confectioners' sugar
Cake Directions:
Preheat oven to 350 degrees F.
In a mixing bowl, cream the sugar and butter, beat until light and fluffy. Add the eggs one at a time and mix well after each addition. Add vanilla, cocoa and food coloring to the sugar mixture; mix well.
Sift together flour and salt. Add flour mixture to the creamed mixture alternately with buttermilk.
In a small bowl, combine baking soda and vinegar and add to mixture.
if making a cake: Pour batter into 3 (8-inch) round greased and floured pans (i also use parchment paper at the bottom). Bake for 20 to 25 minutes, or until a toothpick inserted into the center comes out clean. Be sure not to overbake the cake.
if making cupcakes: Line pan with cupcake liners, fill cups a little more than 1/2 way full and bake for 15-17 mins (I start checking doneness around 15 mins). Mini cupcakes will take even less time.
Remove from heat and cool completely before frosting.
note: The cake flour makes this a very soft and tender cake but also makes this very fragile so you may want to put cooled cake in refrigerator or freezer for an hour to make handling easier…this is not needed for cupcakes.
Cream Cheese Frosting:
Blend cream cheese and butter together in a mixing bowl. Add vanilla and sugar and blend.
Spread between layers and on top and sides of cooled cake or top cupcakes using piping bag.
Note how red the batter is…so pretty!!