Jam Filled Cream Cheese Cookies (aka Kolacky Cookies)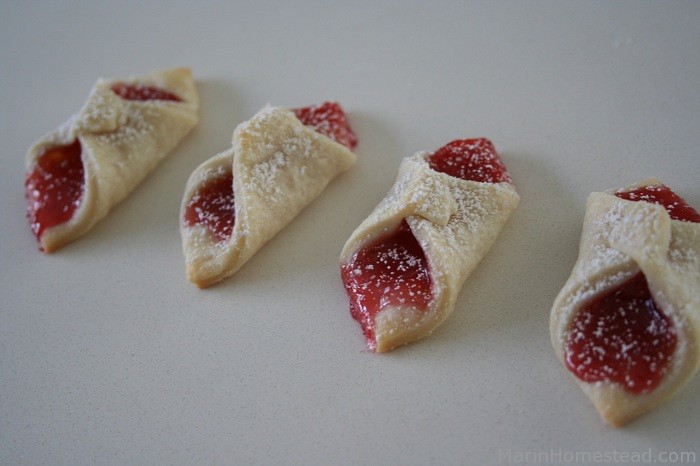 I have been a jam/jelly making fiend this summer.  I have enough jam to last me through the winter!
I was craving some jam-type cookie so it was time to make some Kolacky.
I usually make a full batch of the dough, split it in 2 parts and keep 1 in the freezer and bake 1 sheet of cookies at a time (1/4 of the dough).
Jam filled Cream Cheese Cookies (Kolacky Cookies)
Makes approx. 8 dozen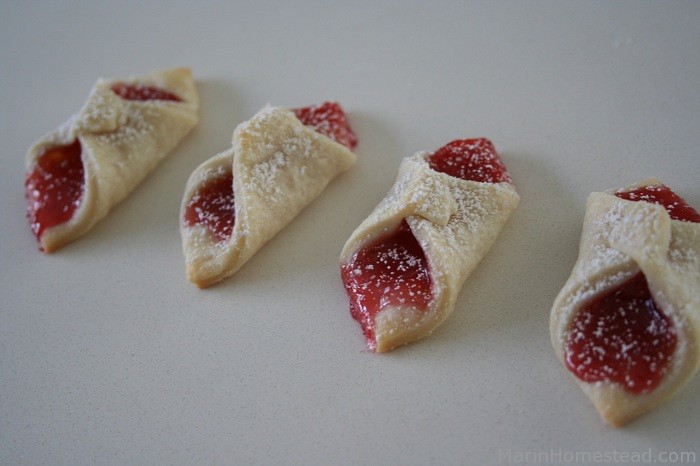 Ingredients:
1 cup butter
1 package of cream cheese
1/3 cup sugar
1 tsp vanilla extract
1/4 tsp salt
2 1/4 cup flour
Filling: 1 cup of jam/jelly/preserves microwaved for 45 seconds-1 minute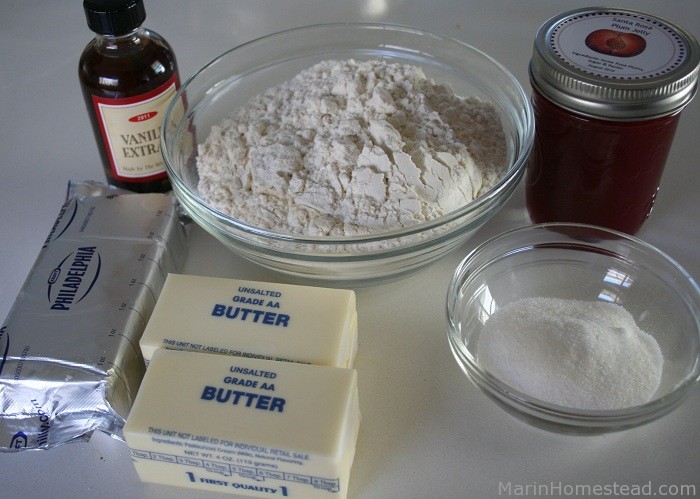 Directions:
Cream butter and cream cheese. Add sugar and vanilla and mix until mix in completely. Add flour.
Split the dough in 2 parts, wrap in saran wrap and refrigerate for a few hours or a couple of days.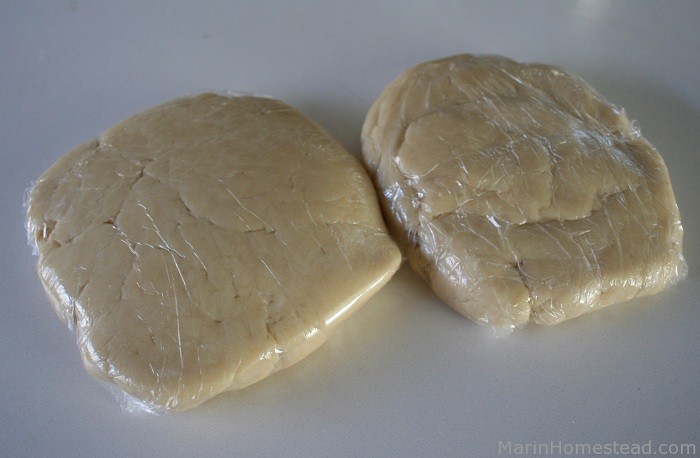 When ready to make cookies:
Microwave your jam/jelly/preserves for 45 seconds to 1 minute then let cool.
Roll out out dough until about 1/8 inch thick. You can use powdered sugar instead of flour to dust the rolling pin and pastry board.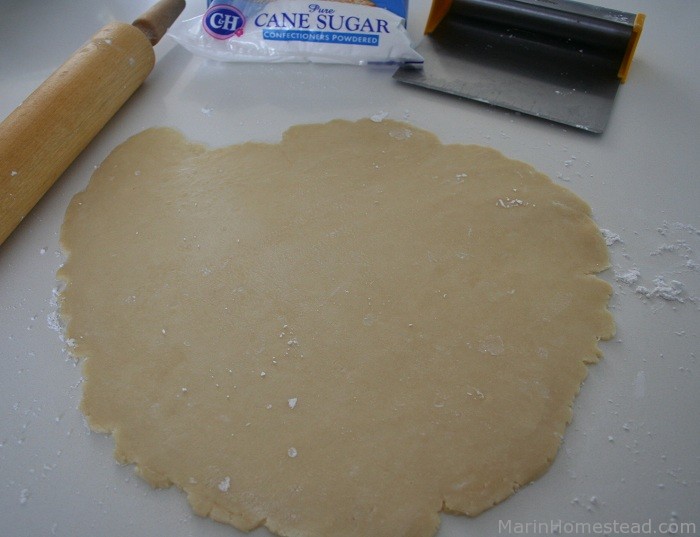 Cut into 1.5 inch by 1.5 inch squares. Move squares to an ungreased cookie sheet or cookie sheet with silpat. Add approx. 1/4-1/2 tsp of jam to the center and pinch the opposite corners together (see image above).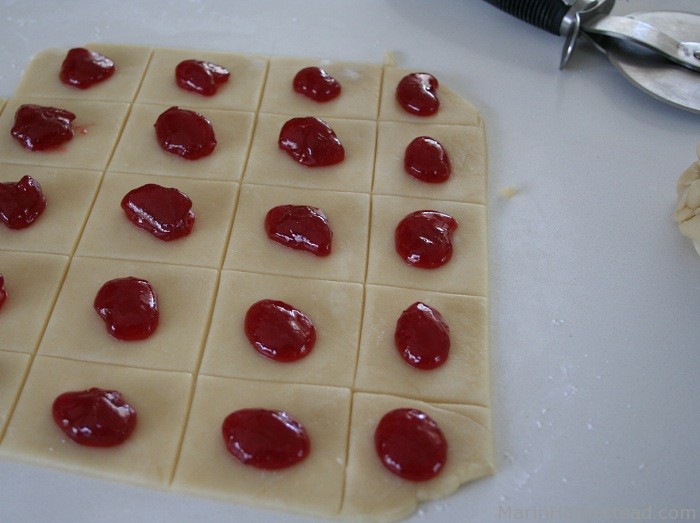 Be sure to pinch the ends together, then fold over and pinch again to make sure they do not open as they bake.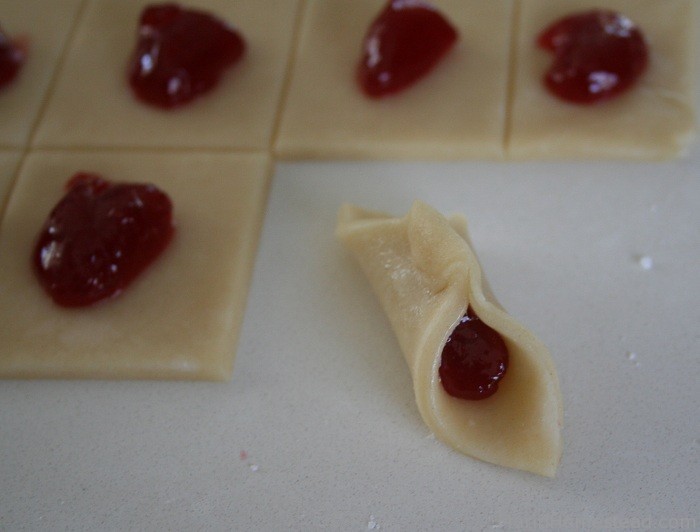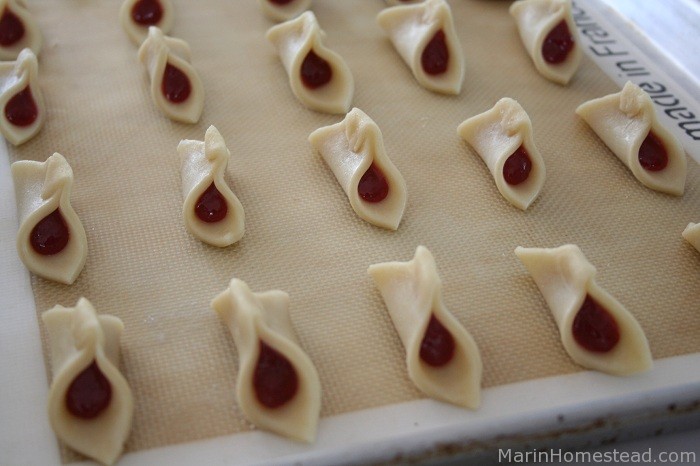 If you have pieces that are not squares you can make canoes (see picture below).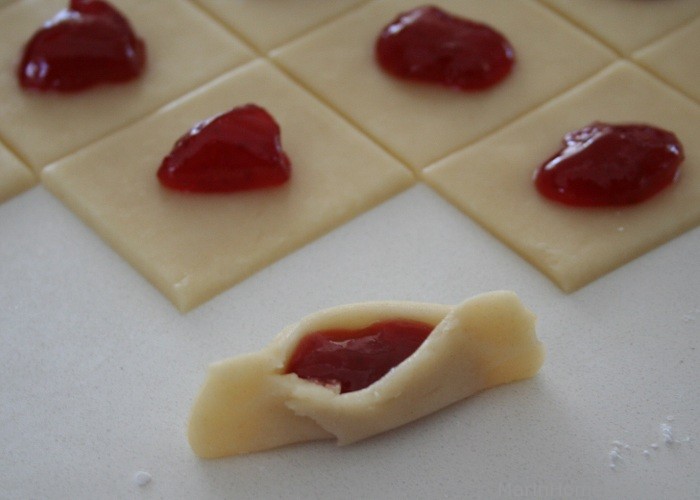 Or you can take the scraps, roll them into large marble sizes, then press down slightly to flatten and indent with your thumbprint. Fill the imprint with jam.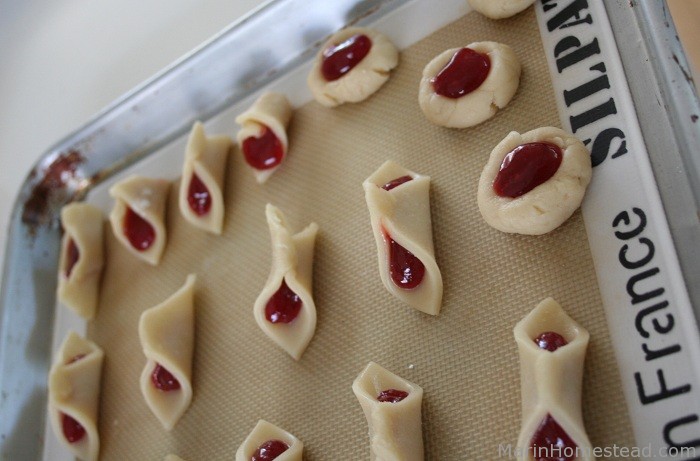 Bake for 11-13 minutes depending on how thin you rolled out the dough and how crispy you like your cookies. Let cookies cool then light dust with confectioner's sugar.