Pumpkin Bars with Cream Cheese Frosting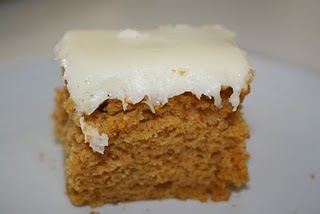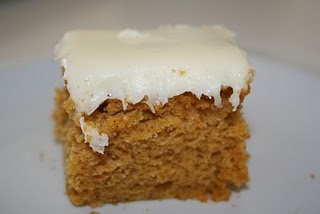 I forgot to post this recipe back in October and November when I was making a sheetpan of pumpkin bars almost weekly.  This cake captures the essence of autum perfectly and are a cinch to make.
Cake recipe:
4 eggs
1 1/2 cups granulated sugar
1 cup vegetable oil
1 can (15 oz) pumpkin (not pumpkin pie mix)
2 cups all-purpose flour
2 teaspoons baking powder
2 teaspoons ground cinnamon
1 teaspoon baking soda
1 teaspoon salt
1/2 teaspoon ground ginger
1/4 teaspoon ground cloves
Cream Cheese Frosting:
2 (8-ounce) package cream cheese
1/2 cup butter, softened
2 teaspoon vanilla
1 (1-pound) box confectioners' sugar
Directions:
Heat oven to 350°F. Lightly grease bottom and sides of 15x10x1-inch pan with shortening. In large bowl, beat eggs, granulated sugar, oil and pumpkin until smooth. Stir in flour, baking powder, cinnamon, baking soda, salt, ginger and cloves. Spread in pan.
2. Bake 25 to 30 minutes or until light brown. Cool completely in pan on cooling rack, about 2 hours.
3. In medium bowl, beat cream cheese, butter and vanilla with electric mixer on low speed until smooth. Gradually beat in powdered sugar, on low speed until smooth and spreadable.