Polenta Lasagna with Swiss Chard | Gluten-Free Recipe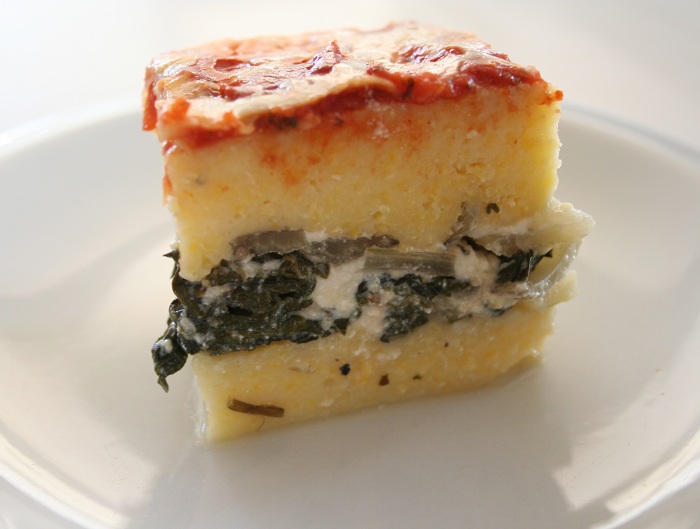 One of my dear friends just had a baby so my nurturing tendencies kicked in.  I was raised in a family that showed love with food.  I was very excited to meet the new baby and of course bring them something to eat.
One of the hurdles I had to overcome was her dietary restrictions.  She is trying to go gluten-free.  I do not cook with ANY restrictions so this was new to me.
Here is a recipe I came up with.  If you choose not to do this gluten-free, feel free to make a traditional bechamel sauce.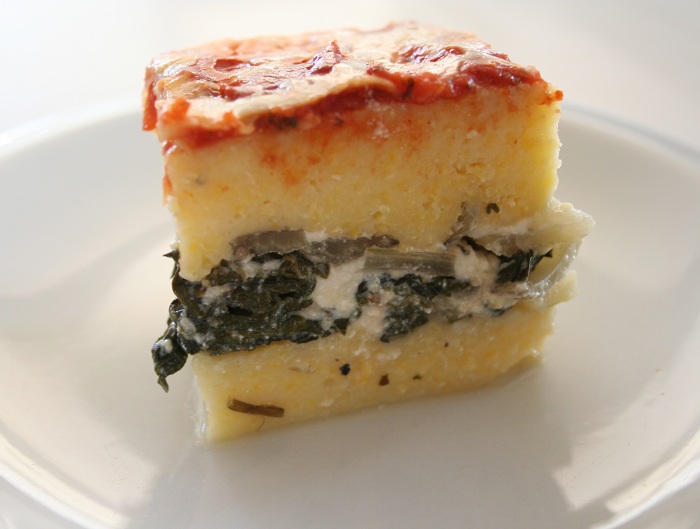 Polenta Lasagna – Gluten Free Recipe
2 bunches Swiss Chard (stalks cut off and all swiss chard cut into 1 inch strips/pieces)
1 large onion diced
6-7 large gloves of garlic finely chopped
pinch red pepper flakes
2 cubes of chicken bullion
1 cup water
1 cup marinara sauce
Polenta:
3 cups of Polenta
12 cups of liquid (water, milk, broth)
1/4 cup butter
1 TB kosher salt
1/2 cup grated parmesan cheese
Cheese Sauce:
1 cup milk
15 oz Ricotta cheese
1/2 lbs grated cheese (about 2-3 cups grated.  save half to sprinkle on top of lasagna)
2 garlic cloves finely minced
2 sprigs thyme
pinch of nutmeg
1 tsp kosher salt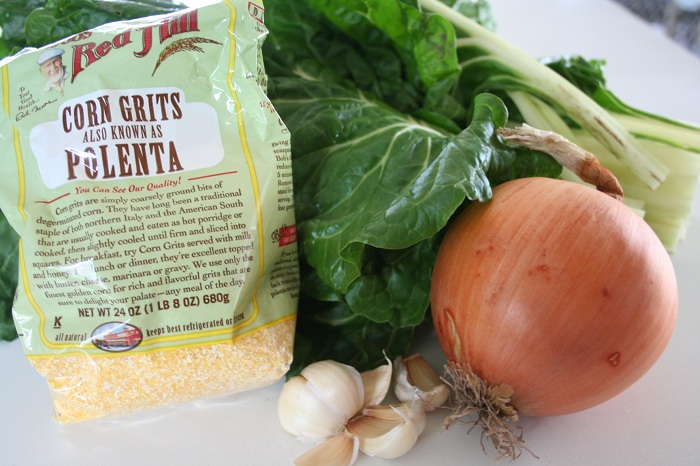 Directions:
1. In a large pan, saute onions in 1 TB oil until they are translucent.  Then add garlic, red pepper flakes and the stalks of the swiss chard.  Cook for 2-3 minutes more.  Then add the leaves of the swiss chard.  Once swiss chard has wilted a bit, add chicken bullion and water and cover.  Cook on medium/low heat for 25 minutes covered.  Once the swiss chard is cooked, remove the cover and cook on medium/high heat for 1-2 more minute to reduce liquid.  Drain excess liqud (There shouldn't be much because alot should have evaporated).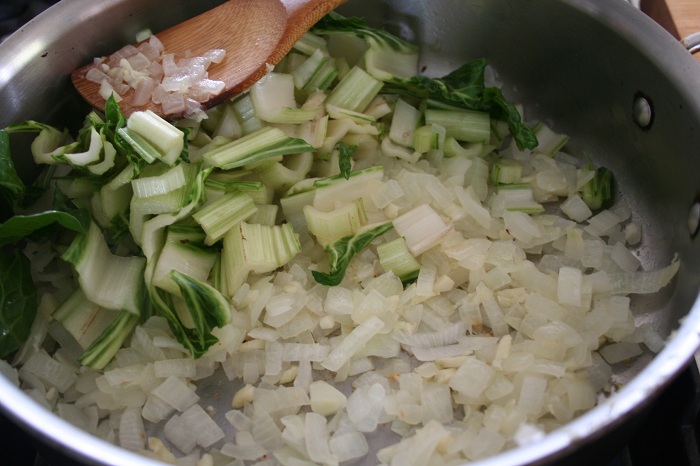 2. Make the Polenta.  Bring 12 cups of liquid (I used 9 cups of water and 3 cups of milk) to a low boil.  Add polenta and salt and stir making sure not to let stick on the bottom of the pan.  Once mixture comes back to a low boil, reduce heat to low and let simmer for 30 minutes, stirring often.  After 30 mins if polenta is done, add butter and cheese and stir to incorporate.
3. While the polenta is cooking, make the cheese sauce.  Bring milk, garlic, thyme to a low boil.  Once it is boiling, remove sprigs of thyme and add ricotta cheese and stir until melted, then add 1/2 of the grated cheese.
4. When the polenta is done, pour 1/2 of it in a 9 x 12 glass pan that has been greased/buttered.  Spread swiss chard evenly over the polenta and add the cheese sauce.  Then pour the other half of the polenta on top and spread to make the top smooth.  Add 1 cup of marina to the top (spread evenly) and sprinkle with remaining cheese.
5.  Bake in a 375 degree oven for 30 minutes.  I like to make sure I have a large pan on the rack underneath because this lasagna has a tendency to boil over.
6. Remove from oven and let cool for at least 40 minutes before serving.