Homemade Corn Dog Recipe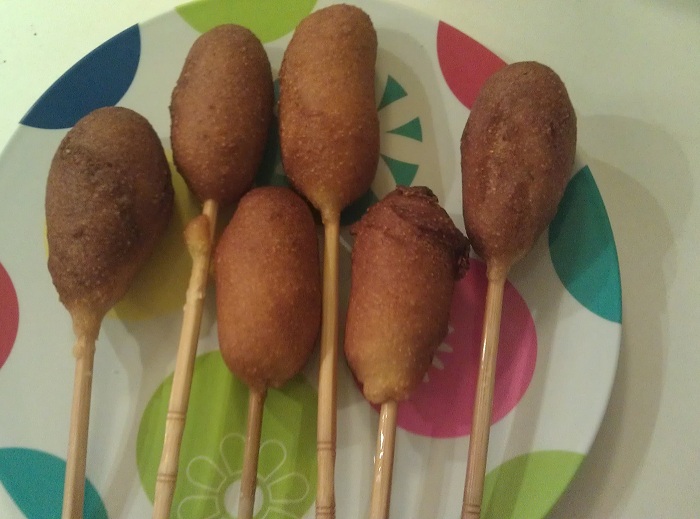 In previous posts, I wrote about my LOVE of Fair Food.  I posted a really easy recipe on how to make funnel cakes.
Lately I have been craving corn dogs.  I had one at the fair this year but honestly it was not very satisfying because the hotdog part looked a little questionable.  Honestly, I really just love the crunchy corn batter.
One night I decided to make corn dogs for my 2 boys.  I knew they would love them as much as I do because they love anything on a stick.  These are so much better than what you can get at the fair because you can use higher quality hot dogs.  They are very easy to make and take no real prep so if you have all the ingredients you can make them really quickly.
I like to make mini corn dogs because they are easier to manage for the kids, there is a higher corn batter to hotdog ratio and I do not need to use as much oil.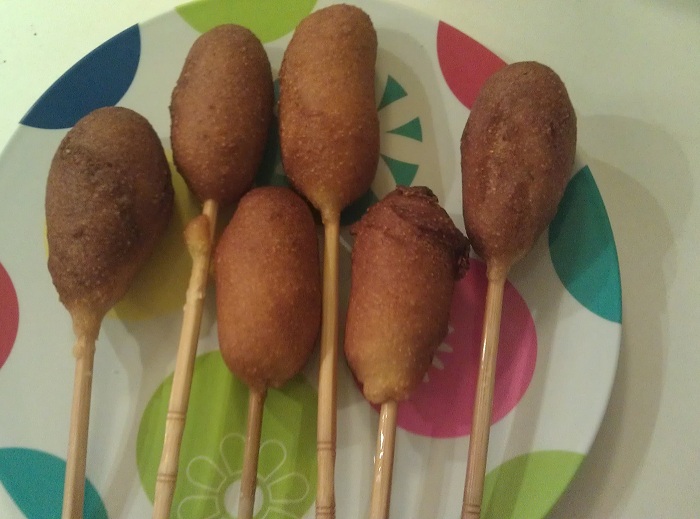 Corn Dog Recipe
3/4 cup cornmeal
3/4 cup flour + 1/4 for dusting hotdogs
2 tsp baking powder
1/2 tsp salt
2 tb sugar
1/4 cup honey
3/4 cup milk
1 large egg
1 pack of hotdogs
3-4 cups of oil (not olive oil)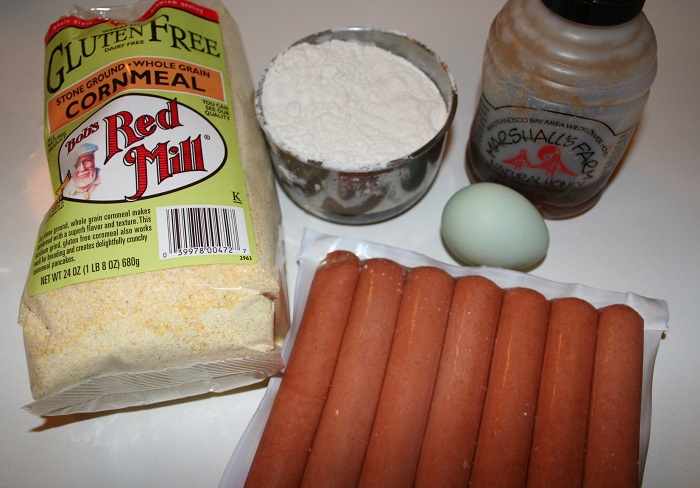 1. Put oil in a deep pot.  I use a small/medium pot because I do not want to use too much oil so I just cook the corn dogs in 3 batches instead of all at once.  Heat over medium heat.
2. Open the hotdogs and place them on some paper towels to dry off.  I like to also take another paper towel and hand dry them.  It helps the batter stick to the hotdog better.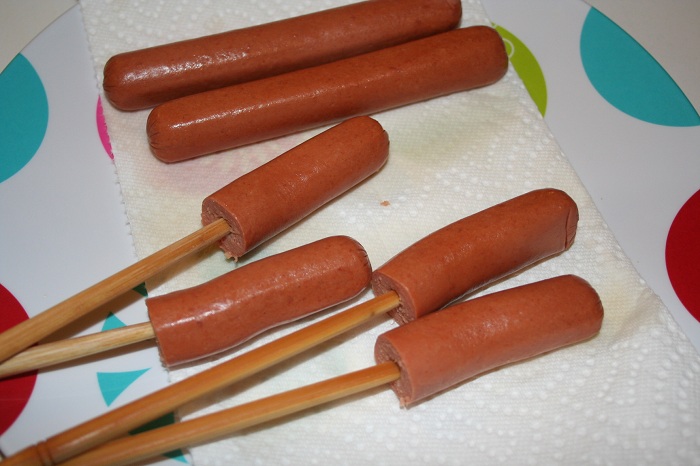 3. Mix cornmeal, 3/4 flour, milk, egg, salt, baking soda and honey together.
4. Cut each hot dog in half and put on stick.  You can use those disposable chopsticks that you get from takeout sushi or chinese.  They work perfectly and most people have extra lying around the house.
5. Lightly dust the hotdogs with flour.  This will help the batter stick to them better.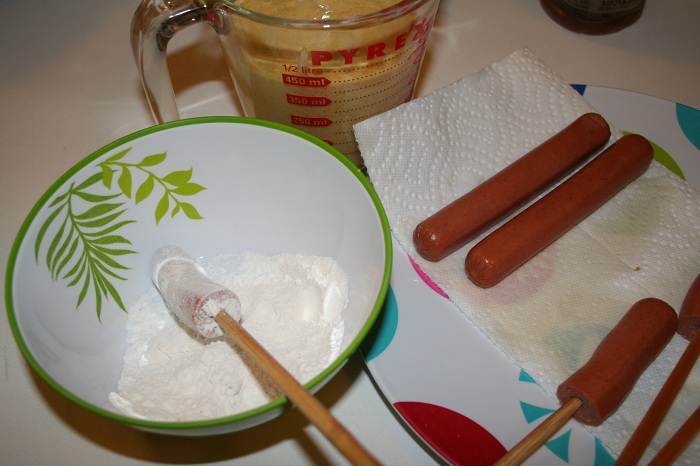 6. When the oil has come up to about 375 degrees (If you put one of the chopsticks in and see bubbling around the chopsticks it usually means the oil is hot enough) dip each hot dog on a stick one at a time into the cornmeal batter and gently put into the oil.  Do this with 3-4 more hotdogs and cook until coating is golden brown about 4-5 mins.  Cool and eat!